Have you noticed how the focus on "generative AI" has become more commonplace in recent times? For a while now, the world has been watching Generative AI advancing and taking artificial intelligence applications to new heights. ChatGPT, which is powered by Generative AI, only marks the beginning of an upsurge of new use cases. People are resorting to Generative AI for work automation, resume assistance, study support, and even enjoyable conversation, which is impressing both consumers and business executives.
While businesses, consumers, as well as regulators struggle with keeping up, generative Artificial intelligence has unlocked Pandora's box. Now, there are infinite possibilities. Consumers all over the world are benefiting from this developing technology. How? It's because of Microsoft's use of generative Artificial intelligence to enhance its Bing search engine or to increase office productivity applications such as Outlook, Word, and Excel.
At the same time, organizations of all sizes and sectors are investigating and developing their generative AI use cases to permanently transform the way they— as well as their customers—interact with technology.
Customer operations, software engineering, marketing and sales, and R&D account for over 75% of the added value that generative AI use cases could generate. According to a study, 63 use cases across 16 business functions in which the technology may handle business difficulties in ways that result in one or more quantifiable outcomes. Among many other things, generative Artificial intelligence may enhance customer interactions, develop creative material for marketing and sales, and write computer code according to natural language indications.
Generative AI – Impact and Potential
Banking, high technology, and life sciences are a few of the areas that might experience the greatest effect from generative AI in terms of income. If the use cases were completely implemented, the technology could provide an additional $200 billion to $340 billion in worth to the banking industry. The potential impact on retail and consumer packaged products is similarly enormous, ranging from $400 billion to $660 billion per year.
Present generative AI along with other technologies, can automate labor processes that currently use 60% to 70% of people's time. Previously, we projected that technology could automate half of the time that workers spend working.4 The growing capacity of generative AI to grasp natural language, which is essential for labor tasks that account for 25% of total work time, is primarily responsible for the acceleration in the potential for technological automation. As a result, generative AI has a greater influence on knowledge employment linked with higher salary and educational requirements than on other forms of labor.
Three ways businesses are leveraging generative AI to revolutionize the digital consumer experience –
Chatbots

Chatbots may be used to communicate with consumers in real-time, answering their queries and giving help 24 hours a day, seven days a week. Generative AI builds a semantic layer on top of the chatbot to make conversational replies and manage inquiries in the same way that a person would. This allows organizations to cut customer support expenses while increasing the customer experience by delivering rapid assistance. Generative AI may also be used to produce XML for bot training, allowing companies to improve their self-service choices even more.

Personalization

Generative AI evaluates the customer data and offers tailored suggestions and solutions. This results in a more personalized consumer experience. For example, generative AI can propose additional things that a consumer may be interested in if they have a history of purchasing particular products.

Likewise, generative AI can translate languages, allowing businesses to interact with clients all over the world and breaking down boundaries to provide outstanding service and satisfaction.

ROI

Generative AI will be especially important for firms aiming to increase corporate efficiency. When generative AI is combined with brand-specific information and guardrails, as well as an AI solution trained on recorded customer interactions, it may provide tailored actions and next steps for elevating company processes and driving outcomes.
There are several potentials for generative AI models, and when used appropriately, they will enable enterprises to deliver finely constructed, precisely trained, scalable customer support. Out-of-date search engine results will no longer mislead customers. They will not have to waste time and effort determining which help center article will best address their problem.
How ChatGPT-4 is enabling language learning
Duolingo, a language-learning website, makes use of the ChatGPT-4 technology to help users practice language skills and comprehend when they have made a mistake. Human curriculum specialists created practice situations for users to evaluate their abilities with a virtual conversation partner who answers with natural-sounding speech.
Explain My Answer, a distinct service, employs AI to provide feedback when a user commits a mistake, including clarifying grammatical rules. Responses are checked regularly, and according to Duolingo, it employs OpenAI's ChatGPT since it is the most accurate and quickest version of the technology available.
Use Case – Coca-Cola using generative AI in advertising
Coca-Cola is among the first major corporations to hire a worldwide CEO entirely responsible for artificial intelligence, and it is already displaying how it wants to lead the application of AI in novel and innovative ways.
One of its first initiatives was to create an advertisement in which renowned artworks (like Andy Warhol's 1962 portrayal of a Coca-Cola bottle) came to life in a museum setting courtesy of Open AI's DALL-E2 generative picture tool.
Another campaign saw the brand launch a call to artists to contribute fresh artwork paired with famous images from the Coca-Cola archives, with chosen contributions appearing on digital billboards in New York's Times Square and London's Piccadilly Circus. It was a wise advertising strategy and a good example.
Getting Next-Generation Results
Companies who wish to provide better chatbots and more tailored customer service need to practically merge two distinct AI capabilities. One example would be to use generative, conversational AI like ChatGPT to assess linguistic intents and generate humanlike outputs, and then mix that with focused AI for CX, which has been trained using recordings or transcripts of the best customer interactions to deliver best practices that a GPT-like AI would not be able to deliver.
These AI technologies, when combined, may be deployed in a CX chatbot with brand-specific guardrails to offer best-practice answers to customer inquiries utilizing generative and human-like semantics. By leveraging underlying specialized AI for CX, enterprises may utilize generative conversational AI for human-like interactions while ensuring replies are faithful to the brand, conform to rules, and act in the best interests of the consumer based on best CX practices.
This success formula can help businesses compete with others who are already adopting this technology while enhancing operational efficiency and driving client retention.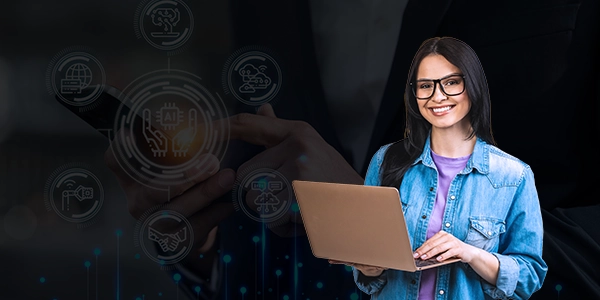 Explore an Article: Project Management in the Age of Artificial Intelligence
Generative AI Is Here To Stay
Generative AI is firmly entrenched in every sector and organization's growth trajectory, profoundly altering how humans engage with technology and receive information.
Although the buzz around ChatGPT may lead some to assume it is a fad, we are witnessing the convergence of multiple technologies, including artificial intelligence NLP and data lakes, into something much more powerful and disruptive. This trend will profoundly alter the way we engage with unstructured data, making it more accessible and helpful to both employees and customers.
The era of generative AI isn't the future; it's the here and now. Businesses that recognize the power of generative Artificial intelligence and technologies like ChatGPT and act on its possibilities to design a solution tailored to their customer experience stand to benefit from this breakthrough. Consumers already want smart, intuitive customer service and are inclined to stick with companies that provide it.