A Scrum Master's position and diversity are varied. A skilled Scrum Master is familiar with these tools and understands when and how to use them based on the scenario and context. Everything to assist individuals in understanding the spirit of Scrum and thus better applying the Scrum methodology.
A Scrum Master is a change agent who is essential in any organizational transformation. Scrum masters assist scrum teams in becoming more productive and delivering 'useful' products by leading different changes (for example, altering the organizational structure, obtaining a specialized SME for the project, or even pushing the enhancement of office lighting).
Who is a Change Leader?
A change leader is a professional who assists an organization in its transformation by emphasizing organizational efficiency, growth, and development—basically, a professional who acts as a catalyst for change.
Leading change can be challenging, time-consuming, and often unappreciated work, but it is a necessary talent for SMs, who need not only do it but also educate others on how to become "change agents." Leading change is an approach that further breaks down into six major steps:
Determine the need for change
Form a group of supporters & influencers (consisting of stakeholders, leaders, teammates, sponsors, colleagues, and scrum masters)
Highlight the advantages, causes, and obstacles of driving the change; give a fair and open assessment of all existing and prospective process advantages and downsides
Implement the change
Share an overview of change and its impact on the organization
A Scrum Master's 8 Preferred Stances
The Impediment Remover removes roadblocks to the team's development while considering the Development Team's self-organizing skills
The Facilitator establishes the tone and defines the parameters within which the team can interact. Facilitating Scrum events to ensure they reach the desired result. More importantly, it provides transparency for meaningful examination and adaptation
The Coach works with individuals on mentality and behavior, teams on continuous improvement, and organizations on actually engaging with the scrum team
The Teacher to make sure that students are aware of and using scrum and other pertinent techniques
The Servant Leader focus on the needs of team members and those they serve (the customer) to generate results that are consistent with the Organization's values, beliefs, and business objectives
The manager that's in charge of removing barriers, eliminating waste, controlling the process, monitoring the health of the team, managing the boundaries of self-organization, and managing the culture
The Change Agent to foster an environment in which Scrum teams may thrive.
An Agile coach who imparts agile expertise and experience to the team
You can render opportunities to the Development Team, Product Owner, as well as the organization by completing the Scrum Master duty according to the eight recommended stances. In addition, you can advance your job as a Scrum Master from "my team" to "relationships" to "entire system."
A Scrum-Friendly Environment
"A good Scrum Master helps a scrum team survive in an organization's culture. A great Scrum Master helps change the culture so scrum teams can thrive." – Geoff Watts
The Scrum Master should be a change agent to foster a culture in which scrum teams may thrive.
A Scrum-friendly culture is one that:
Appreciates team achievement more than individual accomplishment
Encourages experimentation and constant development
Promotes "agile contracts"
Promotes a consistent team makeup
Values and rewards behavior and morality over achievements
Levels of a Scrum Master
My Team
Scrum Masters function virtually as team members. They look at things through the eyes of the development team, discussing different agile techniques, leading Scrum meetings, assisting in the removal of obstacles, guiding the team, and making the team fantastic.
Relationships
Scrum Masters view the team from a significantly deeper perspective, emphasizing their teaching, guiding, facilitating, and coaching talents on improving connections between the team and external entities. Mentoring the Product Owner to develop a strong vision, fostering discussions with other teams, and creating a larger self-organized eco-system.
The entire system
Scrum Masters must view the Organization as a system from ten thousand feet away. In search of organizational enhancements. They are becoming servant leaders, assisting others in becoming leaders, building communities, and healing relationships. Bring agile values into the organization.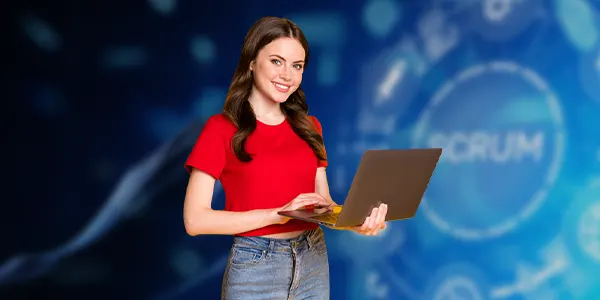 The Scrum Master as the Change Leader
Scrum Masters are actual leaders who empower the Scrum Team & the organization.
It is the Scrum Master's responsibility to assist foster such a Scrum-friendly mindset. The good news is that the Scrum Master is in an ideal position to lead the company towards creating an environment in which the Scrum Team can flourish. The Scrum Master may bring about change from within. As a member of a Scrum Team, the Scrum Master understands exactly what has to be changed and, more importantly, why change is required. The Scrum Master can help other Scrum Teams by facilitating dialogues and cooperation.
Together with other Scrum Masters, (s)he might spark required changes in the organization by influencing the system from the inside. So, from the Scrum Team's standpoint, the Scrum Master is the change leader.
You should work with personnel from the HR, Finance, as well as Sales departments as a Scrum Master. The Scrum Master is fully aware of what is going on in his or her Scrum Team. As a result, from the viewpoint of the Scrum Team, the Scrum Master should demonstrate leadership and impact the organizational system.
Begin your Scrum Master journey with Cognixia
Take advantage of online certified scrum master training if you want to pursue a profession in project management. Scrum Alliance awards the CSM credential to learners who have completed a Certified ScrumMaster course and verified their expertise through the CSM test.
As a Certified Scrum Master, you can perform the following functions:
Assist your project teams in effectively implementing Scrum
Contribute knowledge beyond that of a project manager
Assist your team with cooperation and structure by acting as a 'servant leader'
Defend your team against both internal and external distractions
The need for Scrum Masters has grown tremendously as more businesses adopt agile methodologies. Therefore, the CSM certification course is already so popular. As a result, getting a scrum master certification online is highly advised.
Get enrolled in certified scrum master training online with Cognixia – the world's leading digital talent transformation company.
We are dedicated to assisting learners in shaping their professions and futures in this competitive world by offering them comprehensive digital technology training and certifications. We're here to provide each aspirant with the finest online learning experience possible. We help them expand their knowledge through interesting training sessions and add value to their resume. Cognixia provides highly engaging instructor-led courses to both individuals and organizations.
Under this online certified Scrum Master training, you will cover the following –
Agile Thinking
The Scrum Framework
Implementation Considerations
Scrum Roles
The Scrum Team Explored
Agile Estimating and Planning
The Product Owner
The Scrum Master Explored
Prerequisites
Participants must have a basic understanding of software development concepts to take this Scrum Master course from Cognixia. This CSM course is mainly for –
Members of Scrum teams – developers, Scrum Masters, and product owners
Managers of Scrum teams
Teams transitioning to Scrum
Professionals intending to pursue the Professional ScrumMaster certification