Cloud services benefit the retail industry in multiple ways, including reduced infrastructure, storage, processing costs, and real-time accessibility to operational & inventory data. Cloud computing is reshaping the retail industry in a variety of ways, including improved data security, inventory management, a better user experience, increased profitability, and disaster recovery.
And today, adopting cloud retail solutions is a must-do for the retail industry.
With the ever-increasing need for online retail and greater competition, retail enterprises must employ all innovative technology at their disposal to thrive. Cloud computing is one such technology that streamlines operations, decreases IT expenses, and enhances user experience.
Ambient computing appears to be the way forward for several industries. Some refer to it as the next step in the growth of IoT, while others refer to it as a method of "putting the IoT to work."
Just as cables are gradually phasing out of consumer devices in favor of wearables, IoT for retail can also become more invisible as devices bury away in the process of consuming the data they generate. Wiliot, a Qualcomm and Amazon-backed business that creates single-use tags for inventory management, is one forward-thinking startup.
What is ambient computing?
Ambient computing is a broad term that refers to an environment in which smart devices, machine learning (ML), artificial intelligence (AI), data, and human activities collaborate to achieve a solution without human participation or command. The idea is to move away from static, pre-defined processes, control scripts, and operational procedures. Instead, it focuses on allowing computer behaviors that are undetectable, in sync, & symbiotic with ordinary life. In other words, it seeks to incorporate technology into daily life to the point that it is unrecognizable from it.
How is ambient computing different?
The evolution of the Internet of Things is more about the user experience than a hardware breakthrough. Their tags are small, basic electronics using passive RF energy and Bluetooth. The cloud is the most important aspect for organizations that may employ this.
It, in particular, provides new applications for an old technology — radio. It might be handy for temperature-sensitive items such as vaccinations or certain meals.
Temperature sensing is performed in the cloud rather than on the chip. There is a tiny antenna instead of a MEMS chip. The cloud then saves the tag's data. The tags lack batteries, instead depending on energy harvesting to progressively accumulate stores of energy from radio waves in the air over time. Unlike UHF RFID, it does not require a proprietary reader and does not transmit only when asked. Instead, it transmits continually to a Bluetooth device, and the cloud translates it.
Retailers may use IoT Pixel tags to trace things from their origin to their store. For example, they would be able to detect whether a piece of fruit had been frozen numerous times throughout its travel.
In terms of privacy, cloud computing also offers end-to-end encryption. The merchant controls the tag and can establish various regulations for data ownership as it moves from chip to cloud.
A cloud service connected with tags is another example of a "headless" software layer. Data moves from the device to the cloud and then to a customer inventory system, allowing customers to continue using the software of their choice. The goal is to get real-time automated visibility of the supply chain.
Although processing can now be dispersed amongst chips, edge devices, and the cloud, defining how that distributed process works or which products operate collectively is still in the works.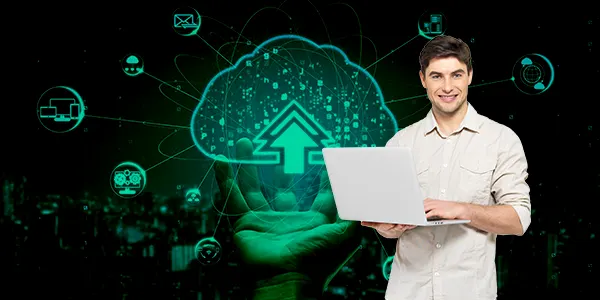 Read a blog on: Disruptive Technologies and Our World
Addressing supply chain concerns
Over the last few years, supply chain issues have gotten significant enough to be discussed over the water cooler. Delays and misplacing things destroy client confidence.
One of the recurring themes at the National Retail Federation in the United States was that retailers seek to minimize consumer disappointment caused by things showing on the shelf on the store's website but not be available for pickup. Solutions differ, but more accurate tracking and speedier data — though not always in real-time for all enterprises — are critical components of the strategy.
The goal is to get real-time automated control of the supply chain.
Looking forward, to being able to convert the supply chain into a "demand chain." IoT devices might gather demand or market signals from a retailer or home via a smart store and order more instantly.
Sustainability
Many IT companies talked at the NRF about minimizing environmental impact without affecting inventory or demand.
There are two perspectives on this. One approach is to bring retail closer to customers to gain more efficient insights into when and what they need to buy. A smart wardrobe, for example, might monitor which articles of clothes a consumer uses and does not use and recommend higher quality products they will use more frequently to solve the fast fashion problem.
The second sustainability issue is that ambient IoT assesses carbon consumption across the supply chain. At the executive level, carbon accounting is becoming increasingly significant. At an end-of-year meeting, they might use a tag to give a "carbon dashboard" that illustrates the overall carbon cost of the organization's transportation footprint.
Ambient cloud computing reshaping the retail industry
Ambient computing can also help to simplify business processes. Beyond automation, companies can complete jobs without human interaction or control. Sensors on industrial equipment, for example, may check functionality & automatically schedule maintenance, or sensors can detect when items are short in stock and order a new shipment. This is without the requirement for humans to inspect equipment or inventory. In principle, sensor intelligence will also indicate the number or volume of goods, as well as the maintenance facility to contact for repairs. Organizations save time, money, and people by relying on sensors to communicate critical operational information.
The future
Ambient computing is evolving and progressing towards a phase that necessitates greater seamlessness & integration. This stealth shift creates as little interruption as possible while allowing for gradual quality-of-life improvements.
Cognixia is the world's leading digital talent transformation company, committed to helping you shape your future & career by providing insightful digital technology training and certifications. Our online instructor-led Azure DevOps certification course, i.e., AZ-400: Designing and Implementing Microsoft DevOps Solutions, includes the skills and ideas needed to create and execute Azure DevOps procedures and practices.
In this AZ-400 training, participants will learn how to prepare for DevOps, scale Git for an organization, use source control, and consolidate artefacts. Further, they will learn how to design dependency management plans, manage secret info, integrate continuous integration, enact a container build strategy, establish a release management workflow, apply a deployment pattern, and optimize feedback mechanisms.
The Azure training covers the following –
Planning for DevOps
Getting started with source control
Managing technical debt
Working with Git for enterprise automation
Configuring Azure pipelines
Implementing continuous integration using Azure pipelines
Managing application configuration and secrets
Implementing continuous integration with GitHub actions
Designing and implementing a dependency management strategy
Designing a release strategy
Implementing continuous deployment using Azure pipelines
Implementing an appropriate deployment pattern
Managing infrastructure and configuration using Azure tools
Third-party Infrastructure-as-Code tools available with Azure
Managing containers using Docker
Creating and managing Kubernetes service infrastructure
Implementing feedback for development teams
Implementing system feedback mechanisms
Implementing Security in DevOps projects
Validating code bases for compliance
Prerequisites for AZ-400 training –
Learners enrolled in the AZ-400: Designing and Implementing Microsoft DevOps training must have basic knowledge and awareness of the following topics:
Cloud computing principles such as PaaS, IaaS, and SaaS deployments.
Azure management and development with at least one of these areas of experience. This would need either the Microsoft Azure Administrator Associate or the Microsoft Azure Developer Associate certifications.
Agile software development, Version control, and basic software development concepts are all critical considerations.
Experience in a software delivery organization is advantageous but not required.