What is Mix Reality?
Mixed Reality (MR), a combination of Augmented Reality (AR) and Virtual Reality (VR), holds immense potential for organizations by helping them create countless effective workforce solutions.
In a recent survey by TechRepublic, over 56% of respondents reported not currently using virtual reality technology while 54% claimed they do not currently use augmented reality technology in their organization. Despite this, a large majority of respondents had experience with AR and VR, either as hobbyists or as IT professionals.
While AR and VR may not have gained widespread applications in organizational settings, however, it holds immense value for businesses all over the world. Augmented reality can be extremely useful in simulation exercises for employees while virtual reality can be a great tool for employee training and testing. Mixed reality can also add great value to manufacturing operations, as well as be really helpful in sales, GPS applications, GIS applications and also in computer analytics.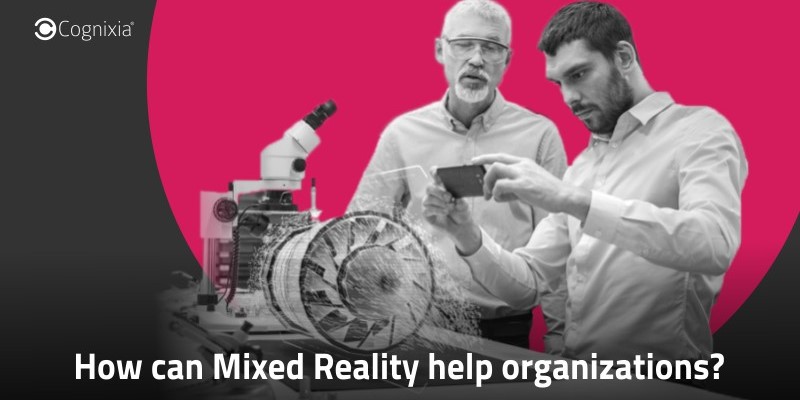 What are the most common uses of AR/VR in organizations?
Employee testing and training
Simulation exercises
Computer modelling
Sales operations
As part of products
GPS applications
GIS applications
Computer analytics
Other value-adding applications
Mixed Reality in Training
Using Mixed Reality, organizations can build experiential training solutions, helping employees experience real-life situation in a simulation environment, thereby simplifying complex learning without threatening or risking any of the tangible and intangible assets of the organization. This approach is a lot more beneficial than having employees to study through heavy manuals, SOPs and protocols, and encourages hands-on learning in a smart and efficient way.
Mixed Reality in Project Development
For organizations that operate a lot of projects that need careful planning and designing, mixed reality is a boon. For instance, architects and builders can develop a dynamic 3D blueprint to not improve the planning and designing of their projects, but also enabling their clients to get a better picture of what the business is offering them. Mixed reality could help business improve their customer interactions and overall client experience manifold by helping them visualize the solutions being offered to them.
Mixed Reality in Sales
What's the point of any technology if it can't directly or indirectly help the topline, isn't it? How about helping customers buying apparel online to see how that outfit they are eyeing would look on them when they wear it to that office party next week? Or how about helping someone planning to redecorate their home understand how the page 72 of your home décor catalog actually look in their living room? Such initiatives are already being put in place by huge brands like IKEA and Warby Parker.
What are the common mixed reality devices available in the market today?
There are quite a few amazing mixed reality devices available in the market today that the organizations can capitalize on, such as –
Microsoft HoloLens 2
Vuzix M400
Magic Leap
Google Glass Enterprise Edition 2
DAQRI
AR and VR today, is where desktops were a few decades ago. The consumption and popularity of the desktops wasn't led by gaming or by the ability to watch videos or even the internet. Desktops became immensely popular because of their ability to help enhance productivity and revolutionize communications, especially owing to features like the Microsoft Office. Mixed reality is also expected to be revolutionized because of its enterprise applications, even more than its abilities to transform the world of gaming and entertainment. With time, it wouldn't be much of a surprise, if mixed reality collaborated with other revolutionary technologies, such as, machine learning, artificial intelligence, Internet of Things, cloud computing , etc. to create path-breaking, high-tech, extremely intelligent enterprise and customer solutions. Though, these are developments of the future, technologies these days are moving at an extremely fast pace, and innovations are occurring all around, boosted by necessity and creativity.



Cognixia – World's leading digital workforce solutions company, constantly strives to contribute to the ongoing transformation of the world by emerging technologies. Our band of immensely experienced trainers have worked to carefully craft our wide range of courses across different emerging technologies which would help individuals as well as organizational workforce to imbibe the latest skills and knowledge that would help them excel in their careers, while staying competitive and relevant in the fast-paced markets of today. To know more about our training programs, reach out to us today.