There is a growing need for data translators , a job that involves interpreting data and devising actions that can drive change or fix problems.
The amount of data available and generated in the world grows manifold, each minute of each day. Unfortunately, data literacy among managers and executives hasn't grown at the same pace. This is probably why the Harvard Business Review classifies the role of a data translator as a "must-have analytics role". People who can interpret data for practical use are being recruiter like hot cakes, and their titles may vary – data translator or something fancier, their role is integral to the success of an organization, now, more than ever.
The McKinsey Global Institute predicts that there could be a demand for 2 million to 4 million data translators in the United States alone!
But hiring data translators is no easy job. They belong to a category that recruiters commonly refer to as 'unicorns'. Becoming a data translator isn't an easy task either. It requires an individual to have a complex blend of skills – they need to have a strong understanding of the concepts of data science and they need to be able to simplify complex ideas and data into simple, easy-to-understand, practically useful choices or statements. While artificial intelligence can do some part of the data translator's job of advising the line managers, however, there's only so much it can do. There are always a lot of data-related questions and issues that are best understood by humans, way better than they would be understood by machines. Often data isn't complete, and decisions need to rely on creativity or intuition or both, without wasting much time; all of which requires human intervention, as machines wouldn't be too effective in such situations. This is why a data translator needs to be immensely strong in using both their left-side as well as the right-side of their brains effectively. This is also probably why liberal arts graduates working closely with data analysts make for great data translators. They may not always be great with performing a linear data progression, but they sure can be great at spotting patterns from studying historical data and draw inferences as to where the data is leading them.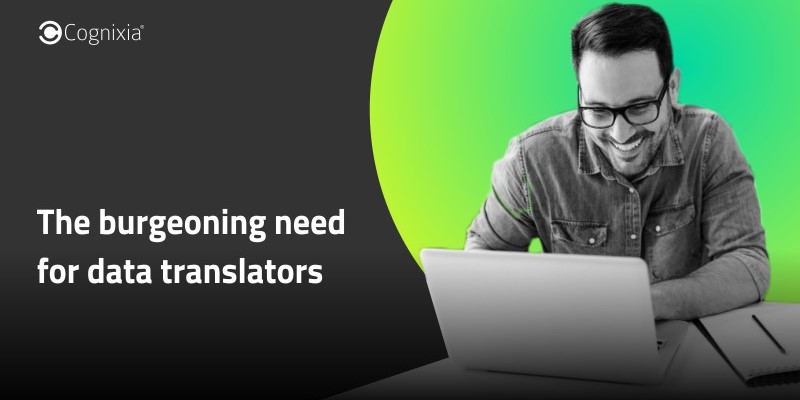 A good data translator doesn't just need to be strong at mathematics and communication, they also need to have a thorough understanding of the business/industry they are employed in. if they lack that, they would not be able to give the line managers the precise information they need to make suitable informed decisions. They also won't be able to infer the data appropriately because they won't be able to figure out which inferences are important and which are not. Such scarcity is there of such skilled professionals in the world right now, that organizations are increasingly giving up on trying to look for such rare unicorns, instead choosing to train professionals in-house and hone their skills in the field.
In Nancy Duarte's new book – "Data Story: Explain Data and Inspire Action Through Story", Marc Benioff, CEO, Salesforce states that in the years ahead we would need a new generation of executives who would understand how to manage and lead through data. He also says additionally, we would need employees who can help us organize and structure our businesses around this data.
To put it into perspective, he means, that in the future, every job would necessitate some extent of data translation skills that most employees today haven't used or needed till date.
While some people are naturally gifted at being able to weave stories and plots around data, some find it increasingly difficult to do so, while there are also some, whose brain shuts down the moment they see numbers or percentages or charts. When plain, boring, dizzying amounts of data is converted into vivid, colorful tales, audiences stop and take notice, understanding it better, in fact, putting in greater effort trying to understand it even. MRI studies have shown that when a person is told a story based on data, their brain lights up brilliantly, something that would never be possible if the data alone was narrated to the same person. Data always becomes more valuable when it is sharpened further with human experience and intuition, as well as informed judgement on the part of a data translator.

Cognixia – world's leading digital workforce solutions company offers carefully crafted data science programs that are immensely helpful for individuals planning to make a career as a data translator. Our expert trainers ensure that all the important concepts are thoroughly discussed with ample practical real-life examples and exercises to ensure better retention of the concepts learnt. We regularly update our curriculum to ensure all the latest developments get added to the training program, which coupled with the globally recognized certification we offer, makes for a formidable mention on any individual's resume. So, what are you waiting for? Reach out to us today to know more about data science training programs and be on your way to have a successful career in data science. You can write to us at join@cognixia.com or call us at +91-85111-35819 for more information.