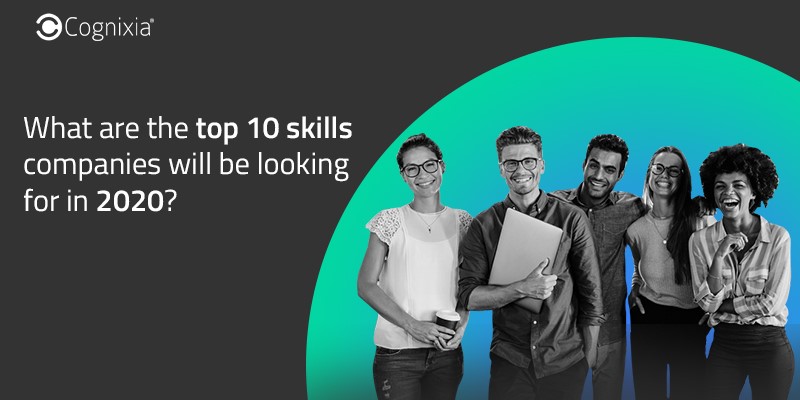 2020 is expected to be a great year for technology with Industry 4.0 reaching new heights, 5G being rolled out on larger scales and a lot many more developments becoming mainstream.
So, what would be the top job skills that employers will be looking for, in 2020?
Data literacy and data analytics
DevOps
5G
Internet of Things
Amazon Web Services
Microsoft Azure
Artificial intelligence
Cybersecurity
Blockchain
Flexibility to learn something new
Data literacy and data analytics
If 5G is going to be the heart of Industry 4.0, then data is undoubtedly the fuel for it. Data literacy and data analytics is one skillset that has made it to all the top 10 IT job skills lists across the world, without a miss. Anyone who doesn't harness the power of data is sure to be left behind. So, experts in understanding, analyzing and translating data are going to be in very high demand in 2020.
DevOps
In 2020, organizations would need to work on their timelines, and shorten them significantly to remain competitive in the market. This would need faster planning to production cycles, while also ensuring that the releases are bug-free and work perfectly. One very effective way to make this happen is to embrace the DevOps culture and practices, and if you are a professional have the skills to implement and work in a DevOps environment, there will be no dearth of employers looking for you in 2020.
5G
2020 is going to be the year when maximum telecom companies plan to begin their roll-outs of the revolutionary 5G technology. As mentioned earlier, 5G is going to be the heart of Industry 4.0, being the chief driver for countless other technologies and innovations. To fuel this transformation, there would be a need for a very large number of professionals who are skilled in working with 5G, who understand 5G and can help organizations embrace it and use it to their advantage.
Internet of Things
When 5G roll-outs begin, there would be an exponential rise in demand for connected devices, enabled by Internet of Things. There is also going to be great advances in the world of autonomous vehicles, with many companies planning to launch their models in 2020. There couldn't be a better time to be an IoT specialist than 2020!
AWS
Amazon's AWS is the market leader when it comes to cloud computing platforms in the world. It offers mobile-friendly access, serverless cloud functions, economical and flexible storage options and maximum security options for users, making it a popular choice for customers. With such huge demand for AWS, with an already established base of such a large number of customers, the demand for professionals skilled at working with AWS and managing solutions on AWS will also be high. Top it with a certification from AWS, and it will be a bigger feather in your cap.
Microsoft Azure
Second only to Amazon's AWS in the present, Microsoft Azure  is a tough competitor in the cloud computing platforms market. Azure offers flexible cloud solutions for users, allowing users to pay what they need right now, and not for what they would need 5 or 10 years down the line. Its unique features have made it a popular choice for customers in the market. There are different specialties that professionals can pursue in regards to working with Microsoft Azure. If you have any of those skills, you will be sought after in 2020 for sure. Top it with a Microsoft certification and you just beat everyone else to success.
Artificial Intelligence (ML, DL, RPA, etc.)
2020 is going to be the year of man-machine collaboration, where machines increasingly take up the roles that were earlier performed by humans. This would need experts to create and implement. Automation is going to be everywhere, and precision is top priority. It would become essential to eliminate human intervention in repetitive redundant jobs in workplaces and instead have AI do it. It could be through bots, through algorithms, through robots, or through mixed reality. Professionals with skillsets in any of these fields are going to highly regarded and needed in 2020, for sure.
Cybersecurity
Stating any facts and figures to emphasize the importance of cybersecurity skills at any time in the future would undoubtedly be an understatement. With increasing advancement in technology, there are increased vulnerabilities and an increased risk of cyberattacks and data breaches. Professionals in cybersecurity are not going to go out-of-demand anytime in a long time to come, for sure.
Blockchain
2020 is going to be a great year for blockchain, especially with the projected launch of Facebook's Libra slated to be in mid-2020. In recent times, blockchain has moved beyond the financial arena, and has found widespread applications in a diverse range of fields, from agriculture to education. There is going to be a huge demand for trained blockchain specialists in both the public as well as private sector to be able to help the organizations and governments innovate and implement using blockchain.
Flexibility to learn something new
In the competitive, fast-paced times like now, what is trending today, becomes obsolete tomorrow. So, people who are eager to keep learning new technologies and embrace change whole-heartedly would definitely be in vogue in 2020.


Cognixia – world's leading digital workforce solutions company is dedicated to providing comprehensive learning solutions for individuals as well as corporates, helping them take the necessary steps towards upskilling themselves and their workforce. Our training solutions cover a wide range of emerging technologies and are delivered by industry expert trainers keen to teach their craft. To know more about our offerings, visit https://cognixia.com/