In a world where cybersecurity, data security and privacy are being emphasized significantly, data breaches are a common occurrence. Why, after all?
It has been reported that about 61% of IT professionals have experienced a serious data breach at some point. This is, by no means, a small number. Blame it on the increased reliance on technology, increasing vulnerabilities in an organization, rapidly growing and evolving hackers, or anything else, it is important to take note of the fact that no organization's and no individual's data is completely secure today. Hackers generally use a combination of data mining, artificial intelligence and many other methods & technologies to explore vulnerabilities in data and take advantage of it. Their target entryways could be cloud, could be specific devices or directly the data. The threat for cyberattacks and data breaches is only going to increase manifold with the increasing 5G rollouts and full-fledged application of IoT.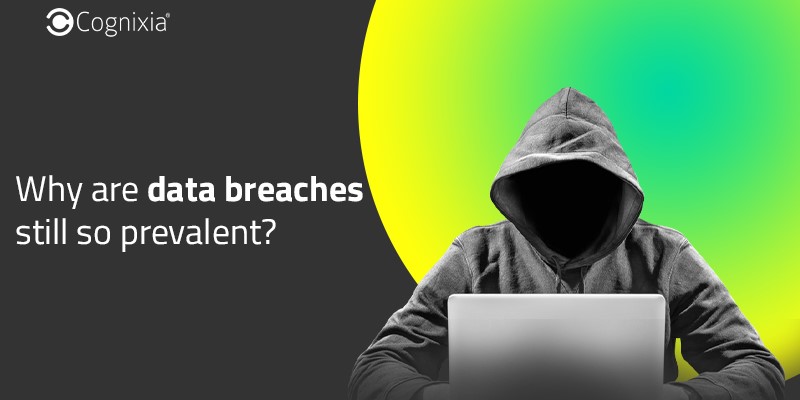 A large majority of organizations still lack proper protocol and protections to help mitigate risks not only for themselves but also for their customers. On top of that, companies have been found lacking in the having the necessary reporting standards in place which would help provide valuable information and insights into how the data breach actually occurred in their organization. While government regulations are definitely helpful in defining the standards that organizations must maintain to make this happen organizations must also active research and review their policies and standards on a regular basis to keep them relevant and effective.
In essence, just having data at hand is not enough. It is also important to have sufficient means and abilities to be able to secure all the data. Just as analyzing the structured and unstructured data could lead to the derivation of valuable insights which could help businesses make important strategic decisions in an informed way, it is also important for organizations to understand the breached data to be able to use it for shaping up the severity modeling, and be able to eliminate the faulty models while using the good ones.
The rate of education about the risks posed by data breaches and cybersecurity is also too low when it comes to the top and middle management. When the top and middle tier of an organization does not fully understand the risks involved, a stage of complacency and even stagnation is reached, which makes the company even more vulnerable to an attack, since the hackers are always evolving their methods and techniques. Companies need to take effective steps to protect their data. For example, encryption could be a possible method that can be adopted by an organization to secure the data. However, only 41% of the organizations have a proper encryption strategy in place, as reported by Thales.
Once a data breach happens, it is very important to inform all the stakeholders involved, as the news always gets out eventually, and if the company announces it themselves, they get a chance to explain and state the facts. However, it has been found that many organizations are extremely reluctant to report a data breach, out of fear of negative publicity, loss of confidence in the company, impact on the organization's reputation and total worth, etc. It is extremely important that companies embrace the act of reporting the breaches and take a confident stand against it.
As technology progresses, especially with the application of IoT, cars, refrigerators, even the lights and fans in a house can be hacked. Once the world embraces 5G, the number of cyberattacks and data breaches is only going to go up. With increasing demand, cloud providers are also scaling up, leading to them sharing cloud servers to save on costs, thereby increasing the risk of attacks for countless organizations to an unimaginable level.
As newer advances in technology emerge to the fore, newer methods of cyberattacks and stealing data would also be developed by the unscrupulous elements. When an organization implements a technology or takes up an initiative without fully understanding the risks involved, it could create significant vulnerabilities for itself. A thorough risk assessment, appropriate education of all parties involved and development & implementation of strict protocol before embracing any new technology or transformation  is essential.
While organizations work on this front, government and regulatory bodies would need to come up with proposals for new reporting procedures aimed at improving the processes for organizations. No form/level of government would be exempt here – be it at the district-level, state-level or Federal level, everyone would have to take note of the risk involved and take adequate steps for it. At the same time, law enforcement bodies need to improve reporting time and procedures to enable addressing of the attacks faster and prevent its spreading or repetition.


According to IBM, 27% of data breaches are caused by human error. This implies that more than a quarter of the data breaches could have been avoided had the workforce been rightly educated about the processes and the risks involved. Cognixia – world's leading digital workforce solutions company constantly strives to deliver cutting-edge training programs for workforce as well as individuals. Our programs in the field of machine learning, data science, cloud computing, internet of things, etc. have been recognized among the top training programs available in the country, and in the world. We also offer customizable training programs for organizations tailor-made to meet their specific requirements and needs across multiple training modalities – public and private on-site, live virtual, etc. Reach out to Cognixia today, to know more.