Business analysts are crucial to a business as they effectively serve as a bridge between IT and business functions. They assess processes, understand the various requirements, and deliver recommendations & reports that are data-driven. The engage with different teams – management as well as users to understand how various processes, products, services, software, hardware, etc. can be changed and improvement to be more effective and efficient, while also being aware of what would be technologically feasible, as well as financially and functionally reasonable.
The International Institute of Business Analysis (IIBA) defines business analysis as a disciplined approach for introducing and managing change to organizations, whether they are for-profit businesses, governments or non-profits.
ITIL or the Information Technology Infrastructure Library is a set of practices and frameworks that help organizations align their IT services with their business needs. ITIL brings together ITSM best practices along with a thorough understanding of diverse business requirements, ensuring that organizations who follow the ITIL practices not only achieve continual service improvement and better overall ITSM, but also a great competitive advantage in the market.
Business analysts form a valuable part of a software and product development lifecycle, and are crucial to efficient development cycles. It is absolutely essential for business analysts to stay abreast of all the latest developments in the market and industry around, so as to ensure the organization stays competitive and relevant. One such development is ITIL 4. ITIL 4 set of practices are highly beneficial for all IT service function roles, including business analysts.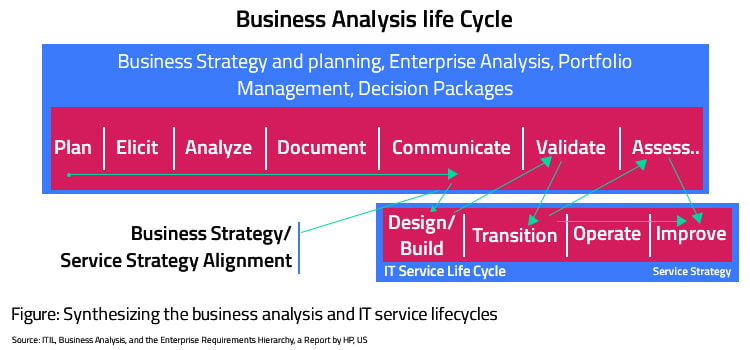 How is an ITIL 4 Foundation certification beneficial for business analysts?
Better perform the job responsibilities
A large part of a business analyst's role involves understanding business requirements, translating it into actual action items for the IT functions in a logically, financially and technologically feasible way, getting an ITIL 4 Foundation certificate could prove to be immensely beneficial for business analysts. The skills and knowledge acquired while undergoing the ITIL training would enable the business analysts to minimize response times, increase product efficiency, improve the user/customer experience as well as bring down costs for the IT functions.
Expand knowledge and skills
An ITIL 4 Foundation certification can also help business analysts expand their knowledge and understanding of how the IT functions perform in a business environment, and how it can be aligned better with the business requirements on an end-to-end basis. Moreover, by getting ITIL certified business analysts are able to figure out how they can contribute more effectively towards the overall business lifecycle. IT services are generally always been established to support the business functions, enabling the latter to be able to cater to a diverse range of business requirements that get generated in order to implement and fulfill the business strategies.
Increased hire-ability
Organizations today are gradually becoming increasingly aware of how individuals with ITIL 4 certifications are proving to be great assets for the organization. Owing to this, they often insist on hiring ITIL certified individuals. Sometimes, even when it is not a prerequisite for specific roles, individuals with an ITIL 4 certificate would be given greater preference over someone who doesn't have the same credentials. This is an added benefit of earning an ITIL 4 Foundation certification for business analysts.
Better support the organization
Business analysts with a thorough understanding of ITIL practices and frameworks are better empowered to support the management by helping evaluate the performance of the IT functions in the organization. They are able to employ the best practices in an effective manner to improve the efficiency of operations and deliver more positive & promising results.
Empowered to manage data better
Getting trained and certified in ITIL 4 Foundation can help business analysts simply the data management techniques and practices that are employed by the organization, which would in turn, improve the overall effectiveness of the different functions. It would also encourage a smoother, seamless communication between different functions within the organization, and also improve communication with the customer. Once the organization begins reaping the benefits of improved data flow in the IT channels, occurring due to the valuable efforts of the ITIL certified business analysts, it is sure to bring unimaginable growth opportunities for the individual.
Equipped to optimize service delivery across the supply chain
Equipped with the skills and knowledge learnt in the ITIL training, business analysts are able to facilitate dialogue and work better with customers, business partners, suppliers, and stakeholders, thereby leading to improved & informed decision making. In turn, this helps in optimizing costs and better risk management. Organizations with ITIL certified business analysts have been able to derive optimum value from their service portfolio while reducing expenses as well as risks.
Be a significant competitive advantage and asset
Business analysts with an ITIL 4 Foundation certification  have helped organizations globally to optimize their business operations and streamline IT functions, observing minimized cycle times for changes and project by 30-50%, maximized success rates in crucial business changes, and minimized risks from late and unwarranted changes. ITIL certified business analysts prove to be a great asset for organizations in the midst of change management, and are generally highly sought after by organizations to onboard in their teams.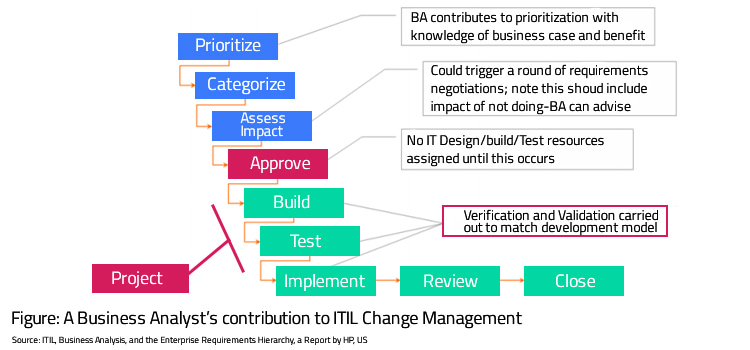 In this way, we can understand how important a role an ITIL 4 foundation certification and ITIL training can play in a business analyst's career. Cognixia – world's leading digital talent transformation company has been at the forefront of delivery path-breaking ITIL trainings to ITIL enthusiasts all over the world, especially since ITIL 4 was launched in 2019. Our ITIL 4 online trainings have been highly sought and have been immensely popular across the country. Our ITIL 4 Foundation public schedule trainings have always achieved a 100% pass rate for all participants. Cognixia's ITIL 4 Foundation online training and certification course is also covered by a 100% moneyback guarantee*, ensuring every participant is equipped to clear the ITIL 4 Foundation certification exam in the first attempt or get their course refunded.
* Terms and conditions apply.