Netflix continues to grow as a global entertainment giant in the digital era, revolutionizing the way we watch films and TV series. However, many people are unaware of the key role that Amazon Web Services (AWS) has played in enabling Netflix's huge expansion and success.
AWS, the world's top cloud computing firm, has been an important partner for Netflix, supplying the infrastructure and technologies that enable its streaming platform. And in this blog, we will go into further detail on how AWS has assisted Netflix in transforming the entertainment sector and achieving unrivaled scalability, innovation, as well as customer satisfaction.
Leveraging AWS for Scaling
To know the impact of Amazon Web Services on Netflix, we first need to understand the scale on which Netflix works. Netflix had the enormous job of offering a flawless streaming experience to a broad and ever-growing audience with over 200 million users worldwide. Traditional infrastructure methods would have struggled to meet such demands, resulting in buffering, long load times, and a negative user experience. This is where AWS became a game changer.
Netflix understood the need for scalable and dependable infrastructure, and Amazon Web Services was the ideal option. By shifting its operations to the AWS cloud, Netflix got access to a broad range of services and capabilities that enabled flawless streaming at any size. AWS provided an excellent foundation for Netflix's complicated architecture, letting the company concentrate on content delivery and user experience rather than infrastructure maintenance.
Meeting the Demand & Ensuring Continuous Streaming Experience
One of the primary benefits AWS provided to Netflix was flexibility and scalability. Using AWS's auto-scaling features, Netflix may dynamically alter its resources based on customer demand. Amazon Web Services automatically scaled up the infrastructure during peak hours or popular releases, guaranteeing a seamless streaming experience for millions of spectators. This adaptability removed the need for resource overprovisioning, resulting in cost savings and increased efficiency.
AWS's worldwide infrastructure greatly aided Netflix's ability to deliver seamless streaming services. AWS delivered high availability and resilience for Netflix's platform by using several availability zones and redundant systems. Even in the face of hardware failures or network outages, AWS kept the streaming service running smoothly, minimizing downtime and increasing user satisfaction.
Cost Optimization: Pay Per Use
Traditional infrastructure architectures may need significant upfront hardware and maintenance expenses. AWS provided Netflix with a pay-as-you-go approach, which allowed them to pay only for the resources they used. This adaptability allowed Netflix to adjust its infrastructure depending on actual demand, saving wasteful costs. If prices were reduced, Netflix could devote more resources to content production and innovation.
Content Delivery: Reaching Audiences Worldwide
Without AWS' worldwide infrastructure, Netflix's global expansion would not have been conceivable. Netflix was able to effectively deliver its material to viewers all around the world thanks to AWS's Content Delivery Network (CDN) capabilities. By utilizing AWS ' broad network of edge locations, Netflix reduced latency and offered high-quality streaming experiences independent of a viewer's geographical location.
AWS and Netflix's Collaboration: Innovation, Analytics, and Machine Learning
AWS and Netflix's relationship extends beyond infrastructure assistance. Amazon Web Services provides a variety of tools and services that have enabled Netflix to develop quickly. AWS's serverless computing offering, AWS Lambda, for example, has enabled Netflix to rapidly design and deploy apps, reducing time-to-market. The two firms' strong collaboration has developed an innovation culture, generating constant upgrades and new services for Netflix subscribers.
Netflix thrives on data-driven decision-making, and AWS's comprehensive range of data analytics and machine learning features has been critical to its success. Netflix can handle vast amounts of data, generate important insights, and personalize suggestions for its viewers by utilizing AWS services such as Amazon Redshift, Amazon SageMaker, and Amazon EMR. Netflix's ability to understand customer preferences and offer personalized content has been strengthened by AWS's powerful machine-learning capabilities, significantly improving the streaming experience.
The Future of Netflix and AWS Partnership
Netflix's alliance with AWS will be important as it continues to dominate the streaming scene and expand into new territories. Netflix will be able to push boundaries, drive customer pleasure, and remain ahead of the competition thanks to AWS's ongoing innovation and increasing variety of services. Netflix can concentrate on what it does best – delighting millions of people across the world – with the help of Amazon Web Services.
Here are some major areas where their partnership will affect streaming's future:
Enhanced Personalization: Netflix will be able to give even more personalized content suggestions, responding to individual interests and improving the overall user experience, thanks to AWS's powerful machine learning capabilities.
Improved Streaming Performance: AWS will assist Netflix in maintaining smooth streaming experiences by eliminating buffering and latency concerns and assuring high-quality playback through continuing infrastructure updates and optimizations.
Continued Innovation: The collaboration supports an innovation culture, allowing Netflix to experiment, iterate, and launch new solutions using AWS's latest services and capabilities, keeping them at the forefront of the streaming business.
Global Expansion: With AWS's global infrastructure, Netflix can comfortably enter new territories, utilizing AWS's data centers and edge locations to reach a larger audience while assuring consistent content delivery.
Advanced Analytics: Netflix will gain greater insights into user behavior, content performance, and market trends thanks to AWS's extensive analytics capabilities, allowing data-driven decision-making for content acquisition and targeted marketing tactics.
Sustainability Initiatives: Netflix and AWS are both devoted to sustainability. Netflix can reduce its environmental footprint while providing outstanding streaming experiences by using AWS's green initiatives and renewable energy investments.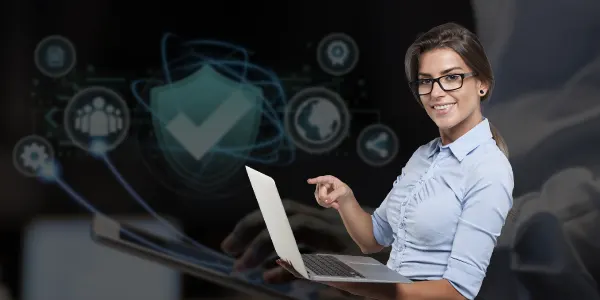 Read a Blog post: Top Mistakes Cloud Engineers Must Avoid
To Sum Up
The partnership between Netflix and AWS has transformed the entertainment business. AWS's scalable infrastructure, cost optimization, global reach, new services, and strong cooperation with Netflix have enabled the streaming giant to give a flawless streaming experience to millions of consumers globally. This collaboration illustrates the transformational potential of cloud computing and establishes a new benchmark for scalability, dependability, and creativity in the streaming business. As Netflix continues to influence the future of entertainment, AWS will remain a valued friend in its goal of global dominance.
The future of streaming is brighter than ever before, thanks to the combined strength of Netflix's captivating content and AWS' cutting-edge technology. They have revolutionized the way we consume entertainment and opened new avenues for the industry. One thing is clear as the entertainment environment evolves: the Netflix and AWS alliance will continue to revolutionize the way we consume digital entertainment.
Getting AWS Cloud Computing Training may open a world of possibilities, allowing professionals to fully use AWS and drive innovation in a variety of sectors. With a growing need for cloud knowledge, investing in an AWS certification will help you further your career and open doors to new positions in cloud architecture, migration, and optimization.
Get AWS Cloud Computing Training
As more organizations transition to the cloud, there is a greater need for AWS solution architects. Architecting on AWS is a fantastic method to leverage market needs and use your IT abilities for high-paying employment. If you are an IT professional wanting to enhance your career, here is your opportunity to shift gears and take it to the next level.
AWS offers all the benefits of the cloud, including flexibility, shorter time-to-market, and elasticity, among other things. AWS exceeds other cloud service providers on the market regarding data availability and high transfer stability.
Enroll in Cognixia's cloud computing with AWS training course and upgrade your skill set. You can influence your career and future with our hands-on, live, highly interactive, and instructor-led online course. You may benefit in this competitive market by providing an extremely user-friendly online learning experience. We will assist you in improving your knowledge and adding value to your talents by offering engaging training sessions.
Cognixia's AWS cloud computing certification course discusses the basics of AWS & cloud computing, then moves on to more advanced concepts, like service models (IaaS, PaaS, SaaS), Amazon Private Virtual Cloud (AWS VPC), and more.
This online AWS cloud computing course will cover the following concepts:
Introduction to AWS & Cloud Computing
EC2 Compute Service
AWS Cost Controlling Strategies
Amazon Virtual Private Cloud, i.e., VPC
S3 – Simple Storage Service
Glacier
Elastic File System
Identity Access Management (IAM)
ELB (Elastic Load Balancer)
Auto Scaling
Route53
Cloud Formation & Cloud Former
Simple Notification Service (SNS)
CloudWatch
Relational Database Service (RDS)
CloudFront
Elastic Beanstalk
CloudTrail
AWS Application Services for Certifications
Prerequisites
All you need to know to enroll in this course is basic computer skills. Some experience with Linux would be advantageous, but it is not required.
The course is perfect for network engineers, system administrators, and aspirants who have a solid understanding of coding principles or procedures and wish to further their expertise.