In the modern hyper-connected world, where data reigns supreme, protecting sensitive information has become a top priority for people, businesses, and governments. With a growing number of cyber threats and the rising frequency of data breaches, the need for strong information security measures has never been stronger.
In this blog, we will go deep into information security. We will analyze its definition, relevance, important components, best practices, and the developing setting of cyber threats.
Defining Information Security
Information security involves the practices, technologies, policies, and processes that work to secure sensitive data against unauthorized access, use, disclosure, interruption, alteration, or destruction. It is a continuing process that includes detecting vulnerabilities, analyzing risks, putting measures in place, and monitoring future security issues. Information security uses a multi-layered method to secure data confidentiality, availability, and integrity.
The Importance of Information Security
The significance of data security cannot be stressed. Financial losses, reputational harm, regulatory fines, and legal obligations can all result from data breaches and cyber assaults. Furthermore, in an age where data is a valuable commodity, businesses must prioritize safeguarding consumer information, intellectual property, trade secrets, and financial records. Information security is not simply an issue of complying with rules and industry standards; it is also a critical component of establishing trust and retaining a competitive edge in the digital arena.
Key Components of Information Security:
Confidentiality :

Confidentiality guarantees that only authorized persons or institutions have access to sensitive information. Data is protected from unauthorized disclosure via encryption techniques such as symmetric and asymmetric encryption. Access restrictions and secure communication routes, including Virtual Private Networks (VPNs), transport layer security (TLS), or secure sockets layer (SSL), help to ensure secrecy even further.

Integrity :

This ensures that the information is accurate, comprehensive, and unmodified throughout its existence. Data integrity technologies, such as cryptographic hashes, digital signatures, and checksums, validate data and protect it from unauthorized changes. To ensure integrity, robust data validation methods and version control techniques are required.

Availability :

Availability guarantees that authorized users may access and utilize information whenever they need it. Organizations use redundancy measures, backup systems, and disaster recovery plans to minimize downtime and maintain ongoing access to essential data. Furthermore, load-balancing techniques and scalable infrastructure architectures help to provide high availability.

Authentication :

Authentication confirms the identification of persons or organizations attempting to access information systems. User identities are validated via passwords, biometrics (such as fingerprint or iris scans), hardware tokens, and multi-factor authentication (MFA) techniques. Strong authentication procedures, such as using public key infrastructure (PKI), improve authentication process security.

Authorization :

Authorization governs the privileges and level of access allowed to authenticated users. To implement authorization policies, role-based access control (RBAC) and access control lists (ACLs) are often utilized. Granular permissions and the concept of least privilege guarantee that users only have access to the resources required for their responsibilities, reducing the danger of unauthorized acts.

Auditing and Monitoring :

Methods for auditing and monitoring are critical in recognizing and responding to security problems. Intrusion detection systems (IDS), security information and event management (SIEM) technologies, and log analysis all give real-time insights into system activity, allowing organizations to discover abnormalities, policy breaches, and suspicious behavior. Regular security audits and vulnerability assessments are required to keep these monitoring systems effective.
Best Practices for Information Security
Organizations should use the following recommended practices to improve their information security posture:
Employee Education and Training :

Human error is frequently a substantial contributor to security breaches. Regular training programs foster a security-conscious culture by teaching staff about possible threats, social engineering methods, password hygiene, and safe surfing habits.

Security Assessments and Vulnerability Scans regularly :

Conducting frequent security assessments and vulnerability scans aids in identifying flaws in systems, networks, and applications. Organizations may then handle vulnerabilities proactively by performing timely patching, system hardening, and vulnerability repair.

Enforcing strong password regulations :

such as complexity requirements, password length limitations, and regular password changes, enhances authentication processes. Encouraging the usage of password managers and advocating the use of multi-factor authentication (MFA) improves security even more.

Patch Management :

It is critical to regularly update software, operating systems, and firmware with the most recent security patches to reduce vulnerabilities. Automated patch management solutions streamline the process and ensure that fixes are applied to the organization's infrastructure on time.

Data Encryption :

Encryption adds an extra degree of security to sensitive data. Using encryption methods and protocols for data at rest and in transit, such as disc encryption, SSL/TLS, or IPsec, helps protect data from unauthorized access or interception.

Incident Response Planning :

Creating an incident response plan creates an organized method of dealing with security problems. It describes the processes to be done, the roles and duties, the communication channels, and the post-event analysis to identify lessons learned and improve future incident response capabilities.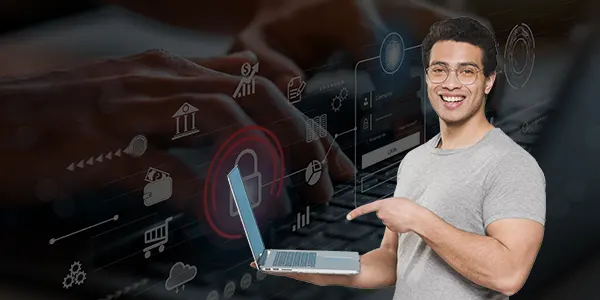 Read a blog on: How does malware threaten information security?
Conclusion
Data security is a crucial discipline that guards against unauthorized access, use, disclosure, disturbance, alteration, or destruction of data. Organizations and people may manage risks, secure sensitive information, and preserve trust by implementing strong information security practices in the digital era. Comprehensive measures, such as maintaining data security, integrity, and availability, as well as powerful authentication and authorization procedures and constant monitoring, are required to protect important assets. A solid information security framework must include regular training, vulnerability assessments, strong password restrictions, patch management, data encryption, and incident response preparation. We can assure a safe digital future for ourselves and our organizations by remaining aware, proactive, and adapting to the dynamic threat landscape.
Getting a Certified Information Systems Security Professional (CISSP) certification will considerably improve your knowledge and competence in information security. The CISSP certification verifies your mastery of essential security principles, techniques, and best practices, making you a sought-after industry professional and placing you for career progression in the ever-growing field of information security.
Final words
Professionals wanting to further their careers and education can take this course to advance their practical knowledge and managerial skills and concentrate on cutting-edge problems and opportunities in the field of management information systems.
Eliminate the chances of system failures and reduce the chances of losing important data with official CISSP training.
Once you have employees with the CISSP certification, they will demonstrate their skills to benefit your business with –
Full understanding of how to secure or protect confidential business data from hackers.
Skills to analyze risks and be aware of the common hacker strategies that can affect your business. They can determine the weak point of the organizations and work on them.
Aptitude in improving not only the customer but also employee privacy ensuring all the information stays with the business only.
Get (ISC)2 CISSP Training & Certification and increase your business visibility as well as credibility in the cybersecurity market. Cognixia is the world's leading digital talent transformation company that offers a wide range of courses, including CISSP training online with a comprehensive CISSP study guide.
Here's what you will cover in this course –
Learn and apply the concepts of security & risk management
Gain an understanding of security engineering to protect information by exploring and examining security models and frameworks
Learn how to identify, categorize, & prioritize assets
Examination and security network architecture and its components
Learn how to identify & control access to protect assets
Designing and conducting security assessment strategies, logging, & monitoring activities
Developing a recovery strategy and maintaining operational resilience
Learn how to secure the software development cycle