In the rapidly evolving landscape of quantum computing, Microsoft stands resolute at the forefront, ushering in a new era of innovation through its pioneering Azure Quantum platform. Recently articulated by Microsoft's forward-thinking CEO, Satya Nadella, is an audacious mission that underscores the platform's transformative potential: "To compress 250 years of chemistry and material science progress into the upcoming quarter-century." As quantum computing achieves pivotal milestones, this ambitious endeavor appears increasingly within reach. In this article, we delve into the profound impact of Azure Quantum on accelerating drug discovery and explore its profound influence on the trajectory of scientific exploration.
Azure Quantum Elements
Central to Azure Quantum's potency is the amalgamation of high-performance computing, artificial intelligence, and quantum computing under the banner of Azure Quantum Elements. This confluence has catalyzed a paradigm shift in scientific breakthroughs, notably in the realms of quantum chemistry simulations and the expansion of the material exploration domain. The integration of AI models, meticulously trained on extensive datasets, has engendered a remarkable acceleration in quantum chemistry simulations, achieving feats of up to 500,000-fold faster simulation times. This meteoric advancement, as substantiated by an internal Microsoft study, signifies a monumental leap beyond conventional methodologies.
Azure Quantum Elements: A Forerunner for R&D Advancement
The domain of research and development (R&D) experienced a seismic transformation with the advent of Azure Quantum Elements. The intricate choreography inherent to chemical reactions, often involving millions of conceivable steps, necessitates a computational infrastructure as robust as that of Azure Quantum. Nihit Pokhrel, a distinguished computational chemist from the Azure Quantum team, accentuates the significance of this synergy, reaffirming that the intricacies of such computational processes find their ideal match within the expansive capacities of Azure.
Empowering Researchers with Copilot
Analogous to the supportive role that GitHub Copilot plays for programmers, Azure Quantum introduces Copilot as an indispensable aide for researchers navigating intricate scientific workflows. Copilot stands as a sentinel of collaborative exploration, facilitating natural language conversations through which scientists deftly navigate complex conundrums in quantum chemistry and material science.
Copilot's capabilities transcend interactive dialogue; it is instrumental in automating intricate calculations, orchestrating simulations, querying complex data repositories, and proffering guided explanations. This comprehensive functionality eradicates the conventional challenges associated with juggling multifarious tools, thereby fostering an environment of streamlined and productive scientific inquiry.
Microsoft's Quantum Odyssey
Microsoft's trajectory toward quantum pre-eminence is meticulously charted across three Quantum Computing Implementation Levels:
Foundational :

This preliminary stage mirrors the nascent days of classical computing and is characterized by the existence of noisy qubits, akin to the formative phase of vacuum tubes. While confronting challenges in scalability, the Noisy Intermediate Scale Quantum (NISQ) computers serve as a bedrock for the quantum voyage.

Resilient :

A significant transition emerges at this level, transcending the realm of noisy qubits to embrace the realm of reliable logical qubits—a quintessential stride toward realizing scalable quantum computational architectures. Recent advancements, such as logical qubits built on the foundation of Majorana particles, encapsulate the essence of this phase's criticality.

Scale :

The zenith of Microsoft's quantum expedition pivots on performance quantified by the metric of reliable Quantum Operations Per Second (rQOPS). Diverging from a mere quantitative focus on qubit count, this metric underscores the profound pursuit of quantum processing potency.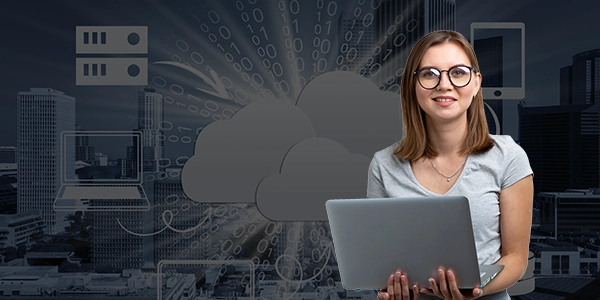 Explore an Article: Five Tips to Secure Your Azure Resources
A Quantum Competition
While Microsoft's Azure Quantum unfurls as a harbinger of transformative possibilities, it is but one participant within the wider panorama of quantum computing. Competitors, exemplified by Alphabet's SandboxAQ and AWS, stand in contention for quantum supremacy. Collaborations with Accenture, 1QBit, and IBM underscore the collective race to harness quantum-inspired capabilities in expediting drug discovery for complex afflictions. Amidst this dynamic backdrop, the sentiments expressed by Microsoft's Corporate Vice President, Jason Zander, resonate—a journey akin to the evolutionary trajectory of classical computing, steadfastly proceeding through stages of foundational, resilient, and scaled excellence, all coalescing toward the ultimate ambition of a versatile, programmable quantum supercomputer.
Conclusion
Azure Quantum's unequivocal commitment to accelerating drug discovery and expanding scientific horizons manifests as a testament to the monumental potential of quantum computing. The profound resonance between Azure Quantum Elements and Copilot exemplifies their transformative impact on research paradigms. Within this climate of perpetual innovation, competitors contribute to the quantum revolution, heralding a future laden with promises for drug discovery and beyond. As the journey unfolds, mirroring the quantum particles' inherent potential and possibilities, the trajectory toward revolutionary scientific accomplishments remains firmly charted.
Enrolling in the AZ 104; Microsoft Azure Administrator course can greatly improve your skills in handling technologies, like Azure Quantum. This comprehensive course will equip you with the knowledge to navigate the complexities of Azure Quantum Elements, enabling you to utilize its potential for drug discovery and scientific exploration. By becoming proficient in Azure administration, you'll be well prepared to optimize quantum computing applications within your organization's cloud ecosystem.
Cognixia's Microsoft Azure training is designed to help professionals prepare for the AZ-104: Microsoft Azure Administrator certification examination. With the AZ-104 training, professionals will get an upper hand in the field of a highly competitive IT job marketplace.
Enroll in Cognixia's Microsoft Azure 104 training and upgrade your skills. Shape your career and future with our hands-on, live, interactive, instructor-led course. In this competitive world, we are here to provide you with an extraordinarily intuitive online learning experience, help you enhance your knowledge with engaging training sessions, and add value to your skill set. Cognixia caters to both the individuals and corporate workforce with our online interactive instructor-led courses.
This Azure training teaches IT Professionals how to manage their Azure subscriptions, administer the infrastructure, secure identities, configure virtual networking, manage network traffic, connect Azure & on-premises sites, implement storage solutions, implement web apps & containers, create and scale virtual machines, back up & share data, as well as monitor the solution.