The daily Sprint meeting is the regular meeting of your software development team in which they provide project status updates. This is where the team discusses what has been done, what's yet to be done, and what or where there are challenges. In theory, these should sessions help the team collaborate and generate a better product, yet they frequently fail. People become sidetracked, diverted, and before you realize it, what should have taken 15 minutes turns into an hour.
Your daily sprint meetings are most likely done concurrently. This means attempting to have everyone in the same meeting room or on the same video conference at the same time. This strategy, however, is not always effective, and we've discovered that it is the core reason teams perceive their daily sprint or sprint as a waste of time.
In this blog, we'll discuss how to run asynchronous sprint meetings productively, highlighting the four most common issues with synchronous ones.
Daily Sprint Meeting Questions
A daily sprint meeting is not for discussing project issues or fixing problems. These are topics for future sprint ceremonies. A daily sprint meeting may be divided into three parts:
What did we do the day before?
What are we up to today?
What is standing in our way?
Each team member responds to the three questions briefly before passing the baton to the next person. This is a straightforward, efficient, and quick technique to determine what has been completed and what remains to be completed. This is not to be confused with a status report. This is not a race to see who is ahead, behind, or on schedule. It is more important to get commitments from the team members.
The 4 Big Problems of Daily Sprint Meetings
They go on for too long
They're distracting or disruptive
They are hard to schedule
The upgrades aren't always applicable or relevant to everyone on the team
Tips for Running a Productive Sprint Meeting
Maintain the meeting's goal

Making sure that everything stays on topic is the first step toward an efficient sprint meeting. To do this, the only topics that should be discussed at this time are what each team member is working on and the challenges they are facing. Many people recommend that each team member commit to answering only the three questions that we mentioned above throughout the daily sprint.

When it is their time, your team should respond to each of these questions without prompting. If one of the questions is missed, make sure you have their response before going on to the next individual. Only by answering each of the three questions will the team get a complete picture of what everyone is up to.

Meetings should not discuss how to solve the issues

One thing to keep in mind is that for these meetings to be productive, problem-solving must not be addressed during the sessions. While the third question raises difficulties to the surface, they may not affect the entire team. As a result, taking too much time to discuss these concerns with everyone is a waste of team time. Put the problems on hold for the time being. Schedule another problem-solving meeting with the persons concerned, after the daily stand-up. Such a strategy will enable focused problem solutions.

Each member needs to prepare ahead of time

To make this happen, you must specify what you expect to hear from the team members daily. Once you've established those expectations, your team members should be prepared to respond to the questions daily. Reward those who comply while excluding those who do not. Explain how having these responses prepared helps the team, and consequently, the project, stay on track.

Be strict with the time and keep meetings brief

Excessively long daily sprints are ineffective. People become sidetracked, quit paying attention, and ramble on for much too long. As a result, your staff comes to despise these sessions, and communication breaks down. That is why it is critical to keep your meetings brief. People are more likely to pay attention and find them useful if they are shorter.

The daily stand-up should last around 15 minutes for an efficient meeting. Some people use the formula 2n plus 5 minutes, where n is the number of people on your team. In any case, by adhering to the 3-question rule, the team can gather all the information they require within the time constraints.

Stand, don't sit

To physically stand up is one of the simplest strategies to maximize your standups. Standing keeps you awake and attentive, but sitting tells your brain it may rest and makes individuals complacent.

According to research, many teams have productive standups when they are standing. You may accomplish the same effect by having your staff stand during meetings or by eliminating all seats from the room. By encouraging your staff to stand, you demonstrate a commitment to keeping on track, and your meetings will be more productive as a result.

Don't make everyone wait

Did you say the sprint meeting began at 8:30? Then do it at 8:30. Waiting for everyone to arrive wastes time, and the meeting becomes less successful as a result. Begin the meeting exactly when you said you would and give people time to arrive.

This is not to say that you should let individuals get away with being late. You can provide incentives or simply appreciate your employees to arrive on time or disgrace those who are late. Anyone who arrives after the meeting has begun should explain why they were late. Nobody enjoys getting called out constantly for being late.

Include remote workers in the meetings

Because remote employees are not physically present with the rest of the team, they should still participate in the daily sprint. During the meeting, they can conference call in or, even better, video chat. Of course, there are logistical considerations to weigh, since you must account for many time zones. Check that you are not asking a team member to attend a meeting at an inappropriate hour (for example, 3 a.m. their time).

Keeping remote workers involved benefits both team morale and project progress. Requesting that they dial in once a day guarantees that your team is functioning as a unit.

Keep a sheet with the sprint backlog

It is critical to have a sprint backlog that is thoroughly prepared. Most of the time, you will discover that there are backlogs that are stacking up, but do not let this be your exclusive emphasis. Ensure that its progress is recorded, and devise strategies for quickly completing backlogs. In this scenario, being obsessed with stats would simply put undue strain on every team member.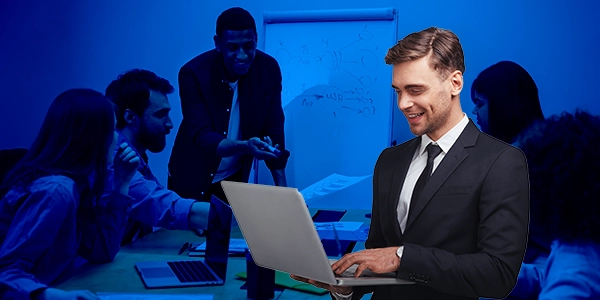 Read a Blog Post: Scrum Master vs. Scrum Product Owner – what is the difference?
Wrapping it up
Sprint meetings, when conducted properly, can bring significant value to the company. It will help you regularly achieve company goals, and it is a process you will be thrilled you followed in the first place. It is also an excellent technique to establish a long-lasting team culture. Because stand-up meetings are regular, it is your responsibility to make them as interesting and productive as possible.
Make sure that the stand-up or sprint meetings are no longer than 15 minutes. It should not interfere with people's ability to do actual tasks. Make it lively, engaging, and brief; you will see the benefits very fast.
Become a Certified Scrum Master
Take advantage of online certified scrum master training if you want to pursue a profession in project management. Scrum Alliance awards the CSM credential to learners who have completed a Certified Scrum Master course and verified their expertise through the CSM test.
Get enrolled in certified scrum master training online with Cognixia – the world's leading digital talent transformation company.
Our online CSM certification course covers all the important concepts, including why we need scrum or scrum Masters, how to implement scrum in any organization, how to instruct the product owner to develop products in increments, and how to guide and encourage teams to become learning teams. This CSM online program can help you in mastering agile practices, demonstrate your attainment of fundamental scrum knowledge, learn all about the scrum foundation as well as the scope of the job, and engage with agile experts who commit to continuous progress.