While there are multiple tools available for business intelligence and analytics, the Gartner Magic Quadrant ranks Microsoft Power BI and Tableau at the top. Even though there are several options on the market, the Microsoft Power BI tool is one that you can rely on. Let's take a closer look at this tool.
What is the Power BI tool?
Power BI is a collection of software services, applications, and connections that work together to transform disparate data sources into coherent, interactive, and visually engaging insights. The data might be an Excel spreadsheet, a collection of cloud-based data warehouses, or hybrid on-premise data warehouses. The Power BI tool enables simple access to data sources, as well as visualization and identification of what is relevant, which can then be shared with anybody.
Microsoft Power BI is built on a simple yet powerful promise: "Visualise your data and share insights across your organization, or embed them in your app or website." This adaptable solution consists of numerous interconnected goods and services, resulting in a synergistic ecosystem that enables consumers to realize the full value of their data.
Elements of Power BI
Power BI contains multiple components that operate together, beginning with the three essentials listed below:
Power BI Desktop – An application for Windows.
Power BI service – A SaaS-based online solution.
Power BI mobile apps – Available for Android, iOS, and Windows devices.
The three factors listed above enable one to efficiently produce, consume, and communicate business insights based on their needs.
There are two more components:
Power BI Report Builder – Assists in the creation of paginated reports for distribution via the Power BI service.
Power BI Report Server – An on-premises report server that assists in the distribution of Power BI reports created in Power BI Desktop.
Why Choose Power BI for Business Intelligence?
Power BI is a cloud-based business intelligence solution launched by Microsoft in 2014. It draws on years of expertise with SQL Server, Access, MS Excel, and other programs. It helps organizations to extensively analyze data to clean and turn it into relevant insights.
Look at Gartner's Magic Quadrant below, which shows Microsoft as the industry leader in this domain to this day.
Let's look at some of the reasons why Power BI is such a hit with its users.
Ease of Use

Power BI features a highly user-friendly interface. Power BI may be used even without prior programming knowledge or expertise. Its built-in intelligence makes it possible to choose attributes for reports by recommending the optimal reporting element.

Let's take an example of how simple Power BI is. After selecting the appropriate data source and selecting sales and category, the program will automatically determine the column chart. Similarly, for sales and location, it will automatically display the map chart.

Power BI's user interface (UI) is straightforward and simply connects to the data source. After selecting the data source, drag and drop allows the report's details to be selected. Furthermore, QA makes it exceedingly simple to have written questions answered by Power BI through numbers or graphs based on the query given. An inquiry like "What was this year's revenue by month?" will get a graph displaying the monthly revenue. Power BI provides a variety of reporting options.

Supports a Wide Range of Data Sources

Businesses frequently need to gather information from numerous online and offline sources to gain data-driven insights. Microsoft Power BI shines in this area, with over 70 distinct data sources supported.

Power BI combines data from Microsoft's programs like Excel and Azure, as well as third-party services like Dropbox and Salesforce. SQL databases, for example, find their appropriate position in this data-rich environment, allowing you to access and analyze a wide range of data.

Data protection

Power BI's built-in security features allow customers to secure sensitive data while meeting various compliance and security standards. You can monitor and govern where your data flow with Microsoft's Cloud App Security feature, as well as identify and prevent cyber risks across all your Microsoft and third-party cloud services.

Admins may use the sensitivity labels functionality in Power BI to instruct users and customers on which data and information should be handled differently. The Microsoft program's encryption capabilities protect data even further.

Row-level security (RLS) capabilities in Power BI enable developers to design and assign separate responsibilities to different users. This option is a godsend for businesses that have sensitive information that should only be available to a small number of personnel.

Seamless Integration with Excel

Many businesses rely on Microsoft applications, and Excel is their preferred tool for computation and bookkeeping. Knowing this fact, Power BI interacts smoothly with Excel, allowing for a simple transition for employees who are used to spreadsheet software. The self-service Power Query tool, which is similar to Excel's capability, feels like an old friend, allowing users to harness existing Excel expertise in the Power BI environment. This seamless connectivity boosts productivity, optimizes data preparation, and speeds up the process from insights to action.

Collaboration is easy

Power BI has features that make it extremely simple to collaborate. In-app workspaces, users may collaborate with others to create interactive reports and dashboards. They can even be published to a bigger audience. With Power BI, you can also share these dashboards or reports with a limited audience via the mobile app.
The reports may be printed and exported as a PowerPoint presentation by the user. The reports and dashboards may be put on public websites and accessed and interacted with by anybody around the globe.
Power BI has powerful tools
Visualization –

Microsoft's Power BI SDK includes a large library for creating bespoke visualizations. This enables users to tailor the UI to their own needs.

Data transformation –

Power BI's Query Editor tool is extremely versatile and packed with functionality. It is self-documenting and allows you to go further into the DAX language for data modeling.

Data modeling –

Power BI's data modeling solutions are extremely efficient. It is based on SQL database and Cube technology experiences, making Power BI a strong solution.
If you look at the Gartner Magic Quadrant again, you will notice that Power BI has many competitors, including Google Analytics, IBM Watson Analytics, Sisense, and ZOHO reports, just to mention a few. However, Power BI stands tall in the market due to its ease of use and prompt help from Microsoft.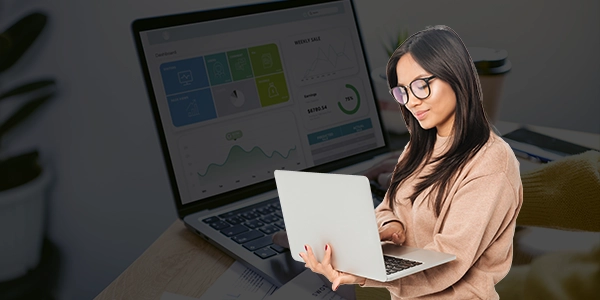 Read a Blog post: Analytics and R
Other reasons why users choose Power BI over similar solutions include:
Power BI insights and Office 365 work together with Excel and Microsoft Teams.
With the support of Power Query, you may connect to data from anywhere using a huge variety of built-in connectors.
The ability to swiftly construct intelligence systems using Power BI and Microsoft Azure Synapse Analytics.
Using Microsoft Power Platform to turn insights into action.
Data loss protection is built in via Microsoft Information Protection and Microsoft Cloud App security.
AI is at the forefront of the industry and aids in the rapid discovery of solutions.
Power BI Mobile provides the best mobile experiences.
Cloud maturity—one of the largest and fastest-growing BI clouds.
User-driven innovation entails releasing new features every week depending on user feedback.
Creating a data culture that anybody can use.
Upskill Your Workforce with Power BI Online Training
Cognixia's Analyzing Data with Power BI course will introduce you to the principles of data analysis. It provides users with data warehousing tools to help in organizing data, data exploration, and interactive dashboards.
Power BI is now one of the world's largest and fastest-growing business intelligence clouds. Microsoft was named a leader in the Gartner Magic Quadrant for analytics and business intelligence solutions for the 14th year in a row.
Cognixia's Power BI looks at the many methodologies and best practices for modeling, analyzing, and visualizing data using Power BI that are following business and technical needs.