Have you wondered if the jobs that exist today will survive ten years from now? If they do, how much will they have transformed due to automation and cognitive technologies of Industry 4.0? If they have gone obsolete, what would the jobs of the future be like? And most importantly, what will be the skills required to perform them?  The critical thing to note here is that most of these jobs will not just evaporate, but will transition into other technologized skills with the touch of emerging technologies.
The ITeS industry in India is facing a significant skill gap, claims Nasscom. It further states that there is a shortage of 140,000 skilled technologists for 500,000 jobs in the industry across multiple verticals. The demand-supply gap for skilled workforce has hit all industries hard last year. The gap between the jobs to be filled and the skilled talent pool competent to fill them is widening at an alarming pace. By 2021, the industry is expected to face a shortage of 230,000 skilled technologists as jobs in Artificial Intelligence and Big Data will increase to 780,000. Individuals and enterprises both must have cutting-edge skillsets to stay relevant and lead the competition.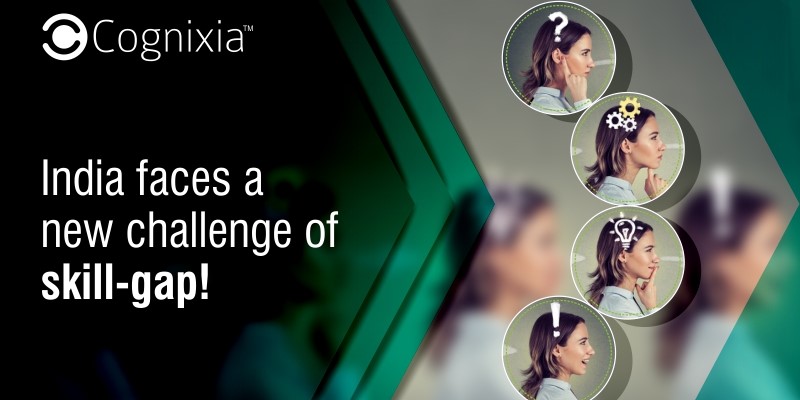 The must-have skills in Gen-Z!
Technology is inescapable! As the days, months, and years go by, technology only gets better and better. Adapting to emerging technologies will be the way forward. The need of the hour is to have the right workforce having the right skills trained with the right tools and technologies.  The rise of Machine Learning and Artificial Intelligence has changed the dynamics of learning by creating more personalized and relevant experiences for learners. With Augmented Reality (AR) and Virtual Reality (VR), the learning and development industry can go deeper into conceptualization with real-time simulations. Edge Computing and IoT have brought forth smart devices that can be favorable for hands-on experiments. Resting on the huge chunks of data generated every second around the world, Big Data Analytics can provide meaningful insights that can be leveraged to make significant amendments in the learning and development platforms.
"According to Forbes, the top 5 technologies implemented by most of the companies globally are Big Data/Analytics (58%), mobile technologies (59%), private cloud (53%), public cloud (45%) and APIs and embeddable technologies (40%)."
Mitigating the skills gap!
The L&D industry globally, has increased their budgets and has started to provide executive support to pave the way for technology training companies to play a more strategic role in tackling the skills gap. At such a time, having a professional technology training provider can mitigate the challenges that aspiring individuals and corporate workforce often face while deciding to upskill.
An article by The News Minute claims that the L&D industry is spending about Rs 10,000-crore for re-skilling and human resource development in 2019.
The graph represents the comparison of budget constraints over the span of 3 years: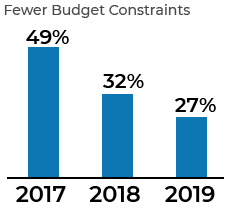 Source: LinkedIn Learning – 3rd Annual 2019 Workplace Learning Report
There is more budget for online learning than instructor-led training. Since 2017, it is estimated that 59% of talent developers spend more of their budget on online learning while 39% say they spend less on instructor-led training (ILT).
Source: LinkedIn Learning- 3rd Annual 2019 Workplace Learning Report
"82% of L&D pros say that their executives actively support employee engagement in professional learning."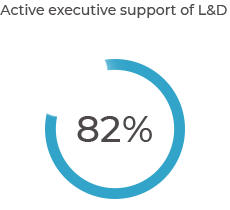 Source: LinkedIn Learning- 3rd Annual 2019 Workplace Learning Report


Cognixia, the world's leading digital workforce solutions company, helps organizations bridge the critical skills gap by providing industry-ready, trained and certified workforce. With industry experts as trainers who have years of experience under their belt, Cognixia formulates courses and training deliverables with a futurist disposition. The curriculum is well-planned, customizable, and systematic, keeping in mind the busy working schedule of the corporate workforce. These courses also incorporate the latest updates in the technologies and are blended with different modes of interactive learning so employees develop the most relevant and latest skills.