The year 2014 had seen a lot of new things happening in the world of cloud and the market for cloud computing this year continues to soar as it comes to an end. According to the recent study, the market of the cloud will persist to grow recognition and turn out to be a key element in delivering IT services. It helps in generating tremendous interest among users of all types and has turn out to be a promising business opportunity to venture in and explore.
By the year 2020, around 78% of the U.S. small business will have fully adopted cloud computing in compare to 2015 which is noted more than doubling the current 37%.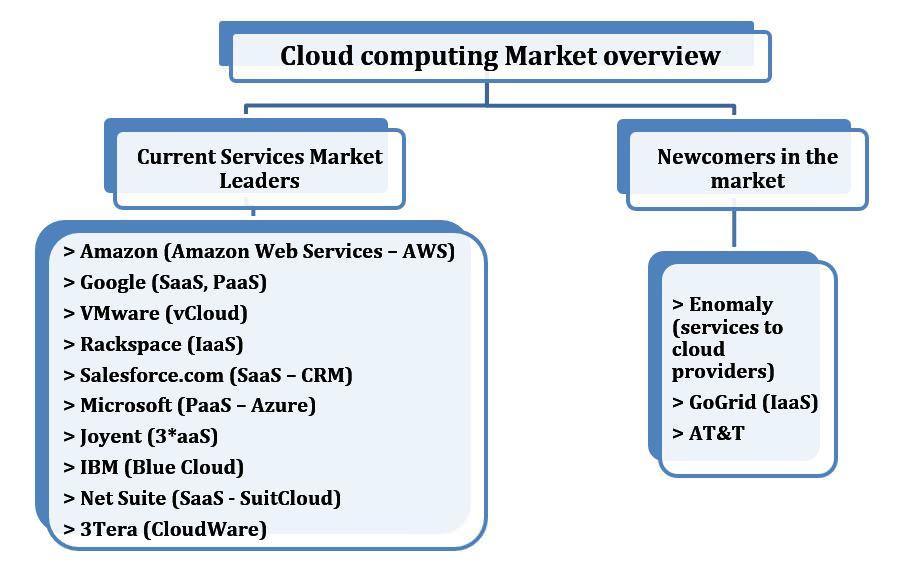 And by next year the market growth of Small & Medium Business (SMB) cloud computing and service will grow from USD 43 billion to USD 55 billion, with a CAGR of around 30%, as per the sources. Whereas the SMB cloud services market in Europe is expected to rise from Euro 18.9 billion in 2015 to Euro 30.1 billion in 2018, with a CAGR of around 17%.
Cloud Computing Market services
Based on Service types (*aaS), the cloud computing service market can broadly be segmented into SaaS (Software as a Service), IaaS (Infrastructure as a Service) and PaaS (Platform as a Service), out of which SaaS is anticipated to grow the fastest followed by IaaS.
This year the application software sales are anticipated to rise by 7.5%, before exceeding
USD 200 billion in 2019 and with this lashing growth it will be the key IT upgrades to core enterprise applications as well as the shift towards subscription-based software models, as per Gartner.
According to the recent study published early this year, the revenue of global SaaS software is forecasted to reach USD 106 billion in 2016 with an increase of 21% over projected 2015 spending levels.
Infrastructure-as-a-service (IaaS)
This year in 2015, the providers of Cloud infrastructure-as-a-service (IaaS) are raking in the dough, but the market is looking ever more turbulent, as per the Gartner.
In comparison to the last year 2014, there will be a rise of 33% in 2015 when global spending on cloud IaaS will reach nearly USD 16.5 billion, as businesses move more of their IT workloads to the cloud, according to the recent study. For the next four years until 2019, the compound annual growth rate (CAGR) of 29.1% has been forecasted as the market for cloud IaaS shows no signs of slowing down.
Currently, the market of cloud IaaS is dominated by three service market leaders – Microsoft Azure, Google Compute Engine and Amazon Web Services and in 2015 the majority of public cloud IaaS workloads will run in the data center of the big three.
Platform-as-a-service (PaaS)
The cloud Platform-as-a-service (PaaS) enables rapid development of applications through mobile, web or enterprise. It is defined as a service over the internet as a platform for managing, developing and running an application.
According to the recent study, by the year 2020, the global market of cloud Platform-as-a-service (PaaS) is estimated to rise by USD 7.5 billion driven by growing popularity of "Develop Your Own Applications" (DYOA) amid the enterprises.
Globally, the United States represents the largest market of PaaS, whereas over the analysis period Asia-Pacific stands out to be one of the fastest growing markets with around 20.9% CAGR.
Lastly, as per Goldman Sachs, early this year the recent study forecast the expenditure on cloud computing infrastructure and platforms that will grow at around 30% CAGR from 2013 through 2018, compared with 5% growth for the overall enterprise IT.
According to the market experts, this year it is forecasted that cloud will become a major motivator for both small businesses and large enterprises. As the competition becomes fiercer between cloud and traditional on-premise software vendors, the cloud software is expected to drive IT spending up to USD 3.8 trillion in 2015.
With this, we can say that there is a huge scope for the IT professionals in Cloud Computing at Cognixia can help you to boost your skills and help you in getting better jobs.