With the advent of new technologies, devices and modes of communication, the amount of data generated online is increasing exponentially over time. The total amount of data since the dawn of digitalization was 4.4 zettabytes in 2003. If you pile up this data in form of disks, it might take a space of dimensions similar to that of a Football field! The same amount was created in every two days in 2011, and in every ten minutes in 2013. As per the matter of facts, each minute of every day the followings happen on the Internet:
That is a staggering amount of data and information created each day on the internet and the rate is still growing enormously making data really a "BIG DATA". Though this enormous data is useful, it often gets neglected due to lack of skills and resources needed to manage it. If this huge amount of data is utilized in a meaningful manner under the supervision of Big Data and Hadoop professionals, it will help organizations to make smarter decisions and get an edge over their competitors.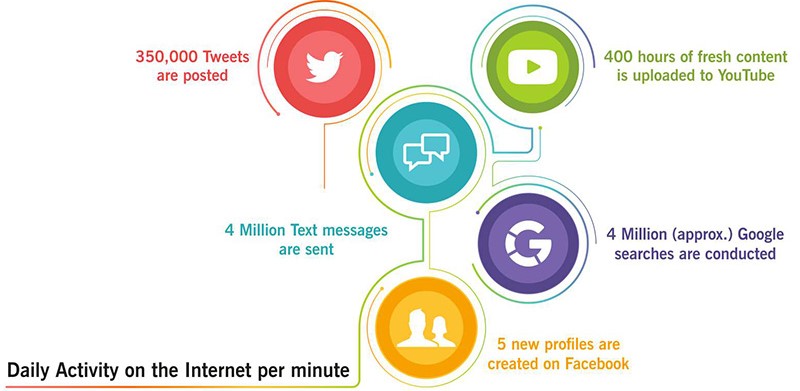 Today, almost every organization is collecting, storing and analysing the huge amount of data. This data is referred to as "Big Data" because of its volume, the speed with which it generates, and the variety of forms it takes. Big Data is a term that also defines large and complex datasets that cannot be processed using traditional computing techniques. Big data is floating everywhere around us and therefore Big Data jobs are everywhere. Enterprises- big or small realize the potential value addition that Big Data and aligned technologies like Hadoop can bring to their normal routine work, therefore, the demand for skilled talent in both the domains has steeply risen in the past few years. Not only those Big Data Hadoop professionals are handsomely paid, but also pursuing a career in Big Data and Analytics has an ocean of opportunities out there.
The remuneration band for Big Data specialists depends upon factors like:
Years of experience in working on core Big Data
Skill sets. There is an on-going demand for programmers, analysts, and managers with rich skills in Hadoop,Spark, Scala, Python, R NoSQL and traditional RDBMS with a strong foundation in math and statistics. In the case of data scientists, those who are skilled in data mining, machine learning, data warehouse, Python, Java etc. earn approximately 8 % higher than their peers. In addition, the four most important skills that boost the salary individually by the below-cited figures are:

 Microsoft SQL Server Database Skills: Add 8% to total
Hadoop Skills: Add 7% to total
Oracle Database Skills – Add 6% to total
ETL Skills: Add 6% to total

Big Data Hadoop Administrator Certification from vendors like Cognixia is an add-on.
Average base salaries for the different roles played by a Big Data specialist
The increasing number of startups, the boom in the e-commerce industry, consumer-driven market and growing economy are all set to create huge big data job opportunities with commanding salaries.  But as a matter of fact, there is a huge gap between the demand and supply of these skills. Companies like Google, Amazon, Facebook, KPMG, Accenture, and IBM among others are hunting for professionals who are skilled at Big Data Analytics. India, which is the second biggest market for such professionals reserves 20% of the total IT jobs in India for Big Data professionals.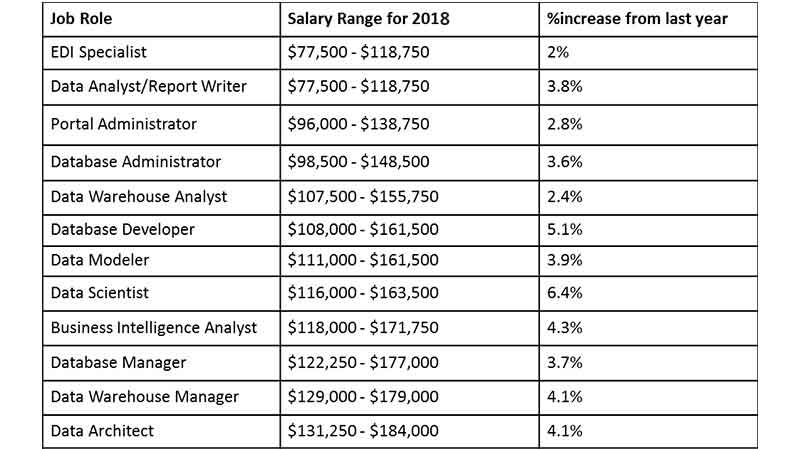 An overview of the roles, and the salaries in USD as per the US market.