As the adoption rate of Hadoop increases in the industry, the need for Hadoop Administrators also takes a surge. Companies need these professionals to manage their large Hadoop clusters. Hadoop Administrators have a substantial role, and the career path is well-carved. As of 13th September 2016, there were on average 4300 Hadoop Administrator jobs in the US alone. It is not a glamorous profile but a necessary one.
A Hadoop Administrator keeps the Hadoop cluster running effortlessly in production thus making him the nut and bolt of business. Only a few people have clarity about Hadoop Administration jobs, what they need to do and how to become one? This post is intended to shed some light on the roles and responsibilities of a Hadoop Administrator and a prospective career trajectory in Hadoop Administration.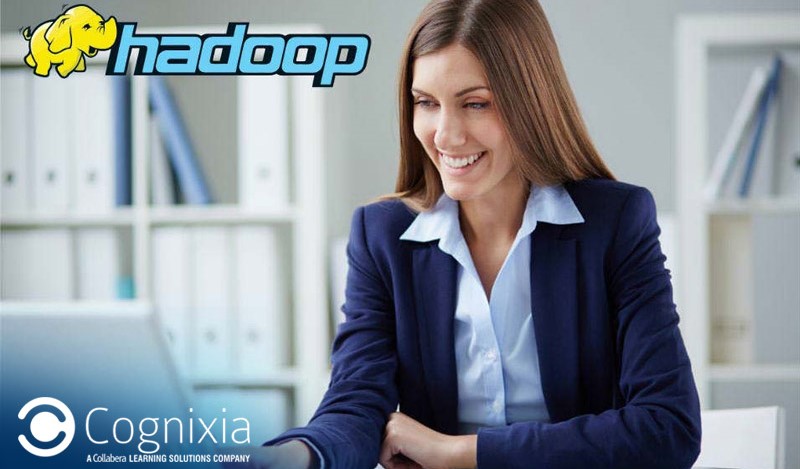 Who is a Hadoop Administrator?
You guessed it right; a Hadoop Administrator is a professional who administers Hadoop clusters and every other resource in a Hadoop ecosystem. The work done by a Hadoop Administrator does not meet the eye of other IT groups and end users. The job involves installation and monitoring of Hadoop clusters. The work of a Hadoop Administrator is vitally necessary to carry on the efficient operation of Hadoop clusters, to keep problems at bay and increase the level of performance. It is the duty of a Hadoop Administrator to run the Hadoop clusters of an organization in a safe and efficient manner.
Roles and Responsibilities
Hadoop Administrators face a number of challenges while managing Big Data and Hadoop clusters. These challenges can be running test data through various machines. It has been observed on many occasions that the Hadoop deployment has failed because the Hadoop Administrators have tried to repeat the process tested on two different machines in relatively complex clusters. The roles of a Hadoop Administrator are manifold and can include tasks such as Database Analysis with HBase and Hive, Security and Cluster Administration, etc. it is advisable to understand the scope of work of Hadoop Administrators rather than limiting their job to everyday tasks.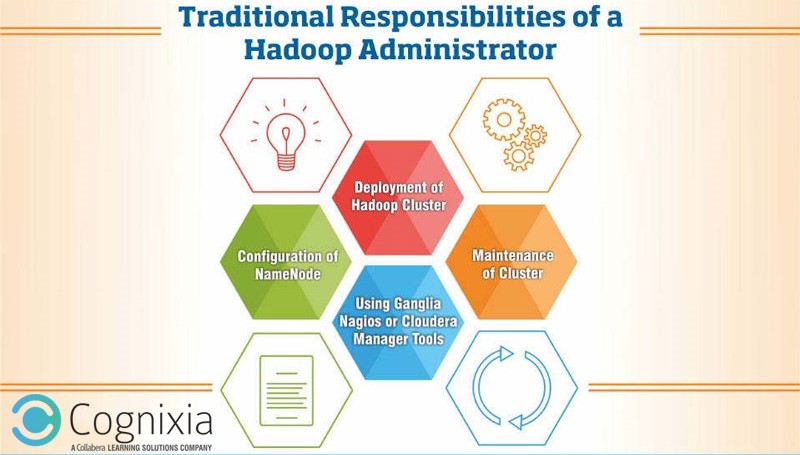 The traditional responsibilities of a Hadoop Administrator are such as – deployment of Hadoop cluster, maintenance of cluster, using Ganglia Nagios or Cloudera Manager Tools to add or remove nodes, the configuration of NameNode and tracking the working of various Hadoop jobs. Other responsibilities include – implementation, management, and administration of the entire Hadoop infrastructure.
A Hadoop Administrator is required to work close to the database team, Business Intelligence team, applications team, and network team. It is done to achieve high availability of big data applications and ensure expected performance.
A Hadoop Administrator has to be involved in capacity planning and making estimates of requirements understand whether to increase or lower the capacity of the Hadoop cluster. Besides this, there is the responsibility of deciding the size of the cluster according to the data which has to be stored in HDFS (Hadoop Distributed Filing System).
There are a few other roles and responsibilities pertaining to Hadoop Administration such as:
Ensuring the health of Hadoop cluster
To keep an eye on the connectivity and performance of the cluster
Managing and reviewing the log files
Backup and Recovery
Managing resources and security
Troubleshooting application errors and avoiding their recurrence
There is one quality which every Hadoop Administrator should have, and that is – the curiosity to get to the base of a problem and identify an optimal solution which prevents its recurrence. Besides this, there are certainly other skills which help a professional in becoming a Hadoop Administrator. They are –
Good know-how of UNIX/LINUX operating systems as Hadoop is Linux based framework.
Knowledge of automation tools like Puppet or Chef.
Should understand the working of cluster monitoring tools such as Ganglia or Nagios.
Though it is not necessary, knowledge of Java is an advantage.
Knowledge of Operating System concepts, process management, and resource scheduling.
Knowledge of networking, memory, storage and CPUs.
Knowledge of Shell Scripting.
An understanding of various components of the Hadoop ecosystem such as Pig, Hive, and Mahout Etc. is essential to carry a Hadoop Administration job. It is a highly technical job and hence requires a special training course to develop the skills of managing and monitoring of Hadoop clusters. Cognixia provides one of the finest training on Hadoop Administration. If you think you have the skills as mentioned above and have an inclination towards Big Data and Hadoop, then join Cognixia's Hadoop Administrator Training today. For further information, you can write to us