The show off of the latest technologies has been quite persistent and is seen coming to the fore at various levels. Any advancement made is touted as a step forward and adds to the list of "next big things." It is not like that every disruptive technology changes the industrial or social model – but there are a few who actually have the ability to alter the routine and change the way people are living and working presently. That is why it is important for business leaders to learn about technologies which would work in their favour and prepare in accordance.
McKinsey Global Institute has published a report which shares a list of twelve disruptive technologies which will transform and disrupt the economy in the coming years. The report as mentioned above also throws light on the reasons behind the impact of these technologies on the world, their advantages and roadblocks, thus, helping the business leaders and leaders from other institutions to respond.
The estimation of the size of impact that these twelve technologies might have on the economy is said to be between 14 trillion USD to 33 trillion USD by 2025. This estimate is not holistic but has been laid down after a thorough analysis of critical applications and their significance regarding value-addition in various ways, which also includes the increase in a number of consumers, which is a result of better products, decreased prices, clean surroundings and better health.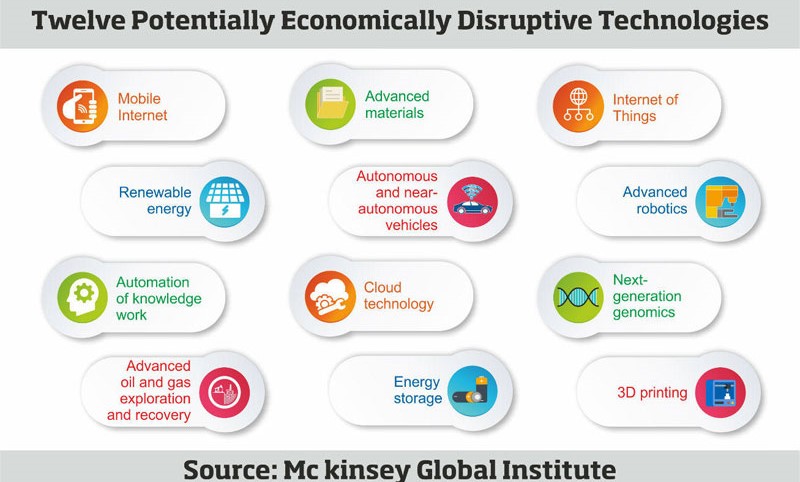 You might have heard about some of these technologies as they have been prevailing for some years. Others might come as a surprise.
Following are a few examples of these twelve technologies:
ADVANCED ROBOTICS
This refers to robots with high capabilities and amazing robotic tools with enhanced senses, dexterity, and intelligence. These robots can perform tasks which we considered too delicate some years back and were said to be uneconomical to automate. There are some advantages to the society which also root from these technologies like the robotic surgical systems, which facilitate in making procedures less invasive. Besides, these are prosthetics or exoskeletons which help the physically challenged as well as elderly people.
NEXT GEN GENOMICS
Amalgamates with science which is used for imaging nucleotide base pairs (the DNA forming units) with constantly increasing computational and analytic capabilities. With time as we gain more knowledge about the human genome, simultaneously will we understand how to manipulate genes and better the health diagnoses and treatments. Next-gen genomics will give us the similar kind of understanding for plants and animals which would give us means to improve the performance of agriculture. Thus, cultivating high-value substances, for example, ethanol and biodiesel from basic organisms like E. Coli bacteria.
ENERGY
Storage devices or physical systems preserve energy so that they can use it later. These technologies include lithium-ion batteries and fuel cells, power electric, and hybrid cars/bikes, along with various mobile consumer electronics. In the next ten years, as the energy-storage technology makes advancements, it can make electric vehicles cost-competitive and can get electricity to the rural areas in developing nations and also better the performance of utility grid.
The real gains of these technologies are amazing – but at the same time, it has significant challenges of preparing for their impact. It will get too late to harness the benefits of these technologies or even react to the consequences if the government or businesses wait for these technologies to reach their full potential. Although the actual response will be affected by factors like stakeholders and techniques, still we have found certain guiding points which can assist businesses and governments with their strategies to handle the effects of disruptive technologies.
At Cognixia we train students and professionals on various disruptive technologies and prepare them for the coming years. For further information, you can write to us .