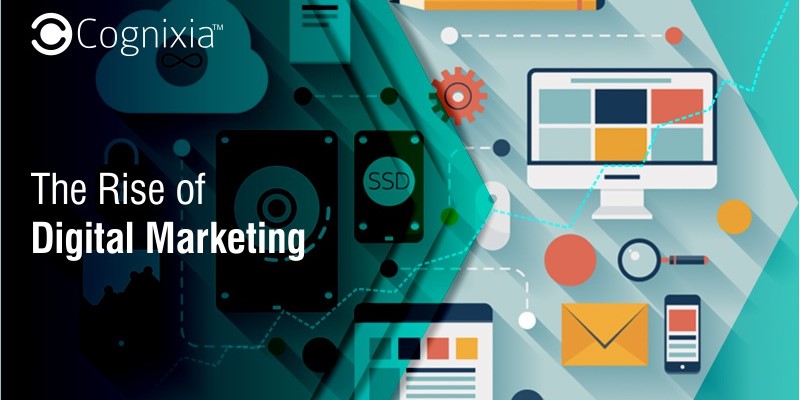 Gone are the days when people saved the creative flyers that were found in-between the newspapers with advertisements of offers and discount coupons. Today, seeing a flyer around is surprising. The art of enticing people is an old practice. What's new is the medium.
Times have changed, so has the marketing approach. From traditional marketing strategies that encouraged door-to-door marketing to Digital Marketing strategies that include worldwide coverage at once, marketing industry has been revolutionised. The advancements in technology combined with the digitization in industries have led to the rise of digital marketing. Today, marketing has become more impactful, creative, and the bearer of faster results.
The interest of online users on Digital Marketing since 2004 worldwide: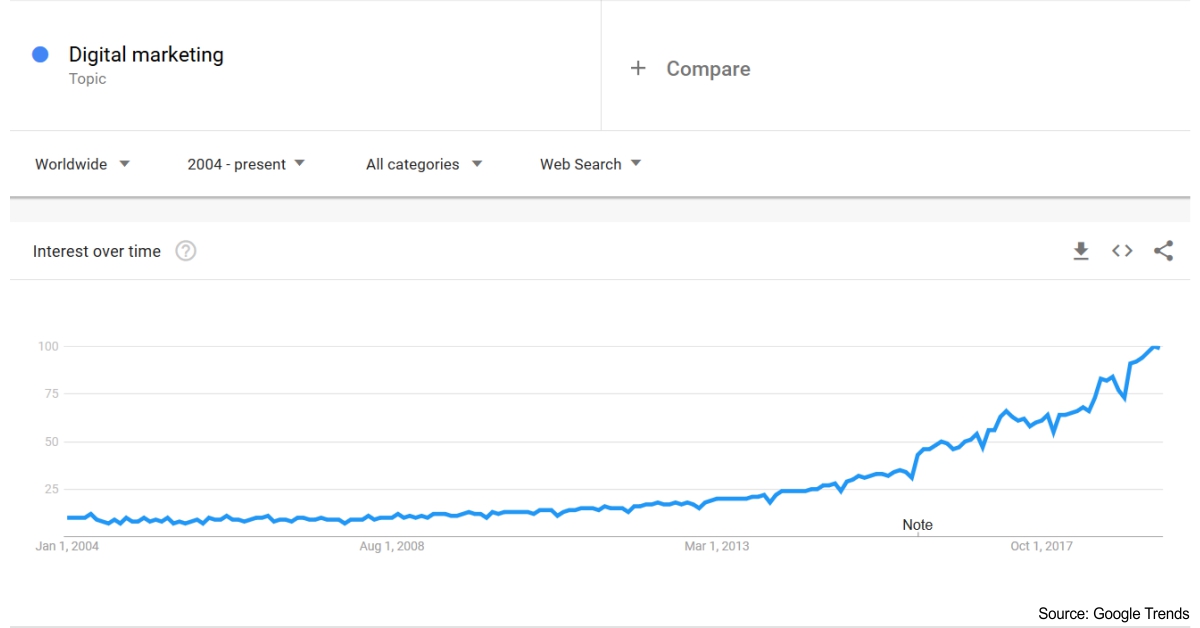 According to Statista, almost 4.4 billion people were active internet users as of April 2019, encompassing 58 percent of the global population. As the majority of the people spend their time online, the best way for enterprises to reach them is by promoting their business online, thus adopting the Digital Marketing  approach. From small-scale businesses to giants in the business world, Digital Marketing has its way to bring them the right audience and customers that accelerates the growth of the company in every way.
"Digital advertising is expected to increase by 32%, the CAGR, to reach around 19,000 Crore by 2020."- The Economic Times
Marketing spending as percentage of company revenues by industry: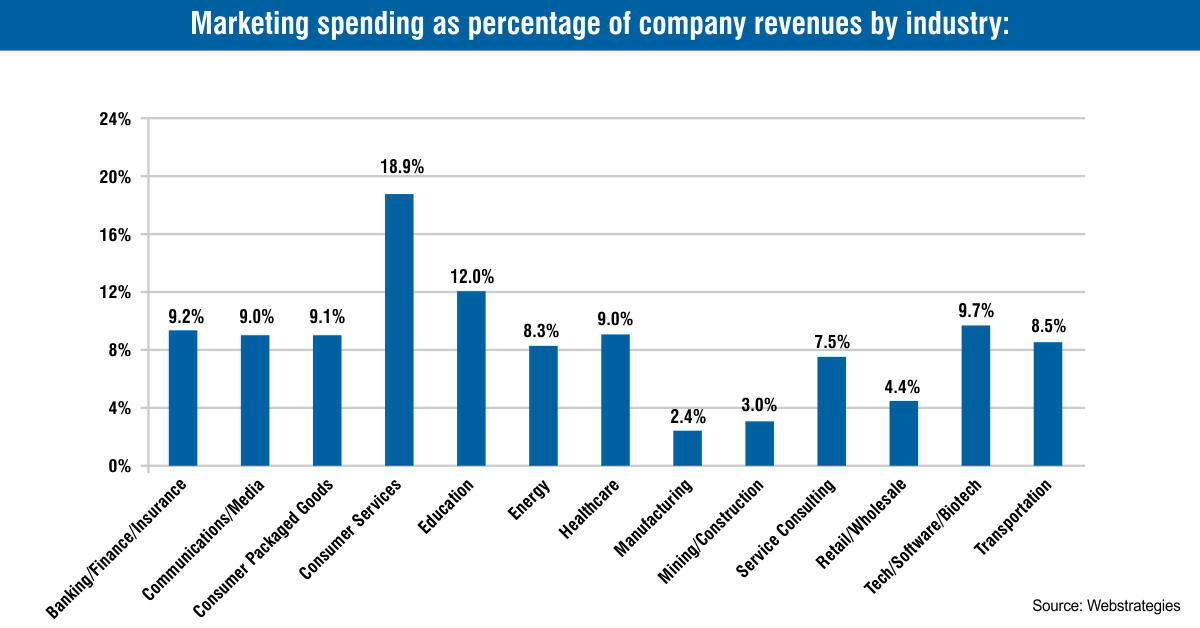 The emergence of Digital Marketing field has given rise to more specialised roles and skills in the industry such as Social media Specialist, Digital marketing strategist, Web Content Manager, Digital marketing executive, e-Commerce Specialist, Online reputation manager etc.  Creative, calculative and analytical minds that can carry out impactful Digital Marketing practices are on high demand these days. And certified professionals always rank top in the priority list of any employer.
"India's digital advertising industry is growing at 33.5 (2015-2020) percent (CAGR) and by 2020; its value will exceed the INR 255 billion marks. And the Digital Industry will produce more than 20 lakhs job in India by 2020" –A combined study by CII (Confederation of Indian Industry) and KPMG
Importance of technical skills by 2020: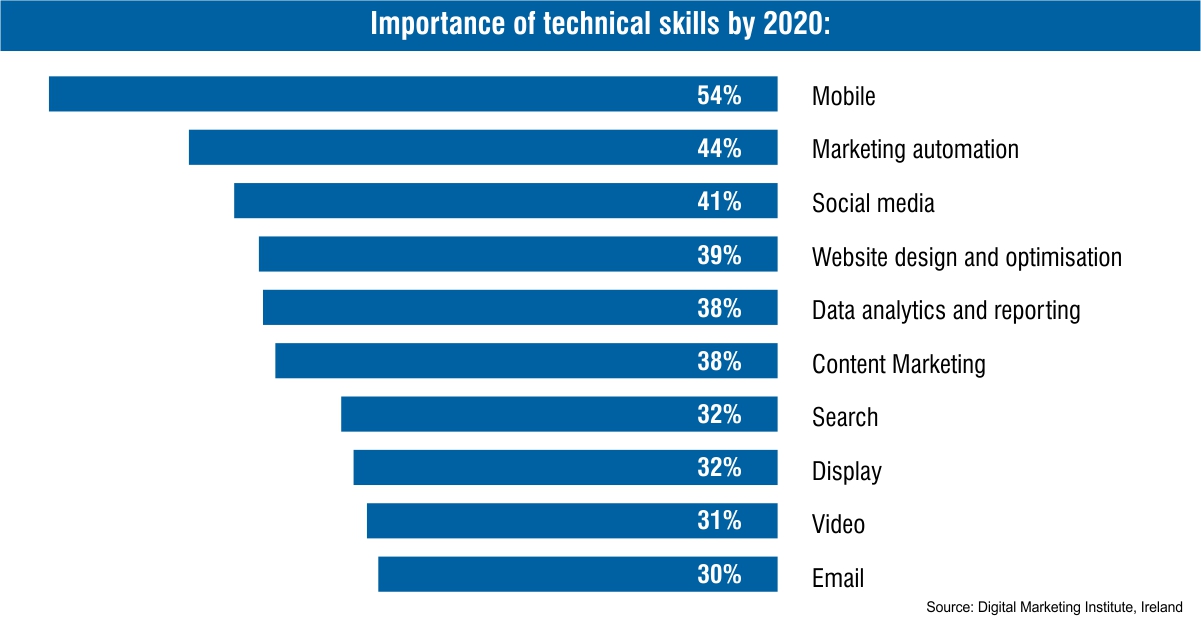 Wondering where to start?
Cognixia- The world's leading digital workforce solutions company provides world-class training and internationally recognized certification on digital technologies including Digital Marketing. Together with the Digital Marketing Institute, Ireland, Cognixia has framed a program that embarks in training participants to be Digital Marketing professionals. Here are the major modules taught in the CDMP program:
Introduction to Digital Marketing Content Marketing
Social Media Marketing
Search Engine Optimization (SEO)
Paid Search (PPC) Using Google Ads
Display and Video Advertising
Email Marketing
Website Optimization
Analytics Using Google Analytics
Digital Marketing Strategy
The world is changing, and technology is taking the lead. Today, every company in every sector is going digital, thereby, giving rise to the online marketing. Employers on a global scale are seeking out skilled employees who can fill the skills gaps in their organizations and drive business objectives such as leads, revenue, and brand awareness. To keep up with the ever-changing scene, professionals need to stay updated with the evolving digital marketing trends.
~ Sunny Shah