Azure, Microsoft's cloud service, has grown rapidly over the last decade.  Azure's hybrid compatibility requires many IT experts to obtain a Microsoft Azure certification.
The top 10 benefits of obtaining a Microsoft Azure certification
Flexibility in Career

A Microsoft Azure certification allows you to explore a variety of employment opportunities. You have the option of becoming a cloud architect, a developer, or a solution architect. Furthermore, the qualification allows you to operate in a variety of sectors and places.

Companies from many industries are migrating to the cloud because of its advantages in storage, processing, and networking. An Azure certification can lead to positions in fields including healthcare, banking, and entertainment.

Reduced IT costs

Azure enables seamless integration of data centers as well as cloud infrastructure. As a result, small & mid-sized organizations can host the whole infrastructure in the cloud.

As a certified Azure expert, you can help your organization cut costs on IT by efficiently expanding & managing hosted assets. Also, qualified personnel can minimize expenses in important areas like power consumption, new software designs, and data security system maintenance.

Higher salary packages

Azure certification validates that you have specialized technical talents as opposed to general skills. Certified cloud specialists are more likely to be recognized than those in other technological sectors.

The annual pay for Azure Developers is predicted to be around $136,000. An Azure Architect's annual pay is projected around $152,000 on average. You can boost your compensation by completing extra courses and advancing to the level of senior Azure professional.

Keep in mind that wages vary by country and company, and an Azure expert may earn anywhere from $40,000 to $172,000 per year on average.

Better Security Standards

Microsoft Azure-104 certification provides you access to more secure services, such as the Security Development Lifecycle (SDL). SDL ensures that your Azure apps are fully protected and secure. Secondly, the European data protection authorities see Azure as a legitimate and trustworthy cloud provider.

Azure contains cloud privacy protections compliant with the ISO 27018 international standard. Instead of worrying about security, the standard allows firms to focus on growth and other commercial factors. The Azure certification equips you with the knowledge you need to safeguard your data.

Rapid Learning Methodology

Microsoft Azure offers a condensed learning strategy for certifications, allowing for faster learning. You are not required to learn how to utilize all Azure tools. Several additional simple-to-learn tools are available, such as Hadoop, Xcode, and Eclipse. Due to this, beginners to the platform can learn and use Azure services easily immediately.

To study for the Azure certification exam, you can utilize online resources, including books, tutorials, videos, and other courses. On the other hand, professional offline courses are more helpful in developing practical expertise.

Professional Development

Every day, the demand for Azure services increases. Different forms of certification make a definitive foundation for professional advancement. These credentials cover a wide range of topics for developers and solution professionals. Further, Azure cloud services are used by over six million government entities. This implies that you may be able to obtain a position in a government agency.

Support of Enterprise Agreements

The Microsoft enterprise agreement offers lower rates for tools & software in exchange for an agreement to spend a particular amount of money. Generally, the more the volume purchased, the greater the discount.

Discounts for enterprise agreements range from 15 to 45 percent. For commercial businesses, the minimum specified commitment is 500 additional users or devices. As a certified Azure specialist, you may find work in a firm that makes the most of this arrangement and benefits from discounted tools and services rates.

Enhanced DevOps Skills

Azure provides a DevOps certification for individuals who already have some basic Azure skills. There are two ways to apply for the Azure DevOps engineer expert certification.

An applicant should have an associate-level certificate as an Azure developer or administrator. First, newcomers need to pass the Microsoft Azure Fundamentals examination. However, you cannot simply qualify as a DevOps engineer after passing the certification exam. You must first get some hands-on experience.

Proof of Commitment

An Azure certification shows your power to commit because it requires a significant amount of effort to obtain it. You must enroll in Azure training, study, and then pass all examinations to obtain a certificate. This means that you can devote your time & resources to reaching a goal and that you are committed to long-term professional advancement.

Employers value a sense of dedication and commitment above all other traits. The certification might help you stand out from the crowd. Compared to other applicants with the same work experience, the Azure certification can also help you perform better during job interviews. Employers often prefer certified experts.

Boosted Artificial Intelligence Skills

The demand for skilled Artificial Intelligence (AI) experts is skyrocketing. As a result, there is an excellent need for AI developers that are happy working with Azure.

To become a certified Azure AI engineer, you must first complete a certification exam that assesses your Azure and AI abilities. The test is designed for experienced AI developers who want to create AI solutions on Azure. The certification exam assesses your understanding of natural language processing, speech recognition, computer vision, and bots.
Read a Blog post: Top 5 cloud migration challenges and how to overcome them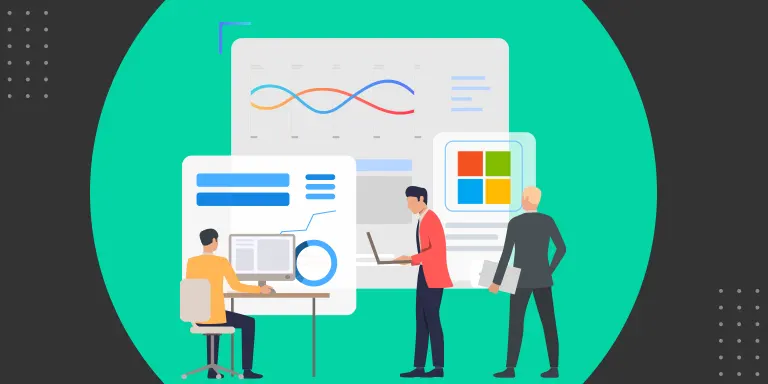 Getting Microsoft Azure Certification
The increasing demand for a profession in cloud computing is motivation enough to obtain an Azure certification. It can also assist you in gaining better employment chances in many areas and regions. Furthermore, the certificate provides several professional development opportunities to assist you in achieving your objectives. Hopefully, this blog has helped you understand whether or not you require an Azure certificate.
Microsoft Azure is a trusted cloud service that enables customers, both organizations and individual developers, to optimize the efficiency of their operations while also benefiting from its low cost. It is encouraged that you invest time and effort in getting Azure training to optimize the business processes and achieve new levels of success.
The Azure training provides you with technical knowledge and prepares you for the opportunities that are currently in demand. It helps you gain critical thinking and problem-solving skills, along with technical capabilities and hands-on experience that further upskills you as per the in-demand job roles.
Get Microsoft Azure training and boost your career
Cognixia's Microsoft Azure training is designed to help professionals prepare for the AZ-104: Microsoft Azure Administrator certification examination. With the AZ-104 training, professionals will get the upper hand in the field of a highly competitive IT job marketplace.
Knowing your Cloud budget and properly leveraging Azure is critical whether you're setting up a short-term trial workload or progressively shifting production capabilities. With thorough Azure training, you will learn how cloud computing works and how to enhance your career.
Cognixia's Microsoft Azure training prepares learners for the Microsoft AZ-104: Microsoft Azure Administrator certification exam.The course offered prepares you for the Microsoft AZ-104: Microsoft Azure Administrator certification exam.
The course teaches IT, professionals, how to manage Azure subscriptions,  configure virtual networking, secure identities, administer the infrastructure, and connect Azure & on-premises sites. That's not all. It also enables them to implement storage solutions, create & scale virtual machines, manage network traffic, implement web apps & containers, back up and share data, and monitor their apps or programs.
In this AZ-104 training, you will learn the following –
Module 1: Identity
Module 2: Governance and Compliance
Module 3: Azure Administration
Module 4: Virtual Networking
Module 5: Intersite Connectivity
Module 6: Network Traffic Management
Module 7: Azure Storage
Module 8: Azure Virtual Machines
Module 9: Serverless Computing
Module 10: Data Protection
Module 11: Monitoring