The Information Technology Infrastructure Library (ITIL) is a body of knowledge and the de facto standard for IT service management. ITIL is designed as a set of best practices to standardize IT processes and frameworks for an organization. The most recent version of the ITIL framework, ITIL 4, was released in February 2019. This version is a significant upgrade from ITIL V3 and guarantees a practical and flexible digital operating model. ITIL V4 integrates the best practices of Agile and DevOps to instil the value of co-creation and tackle the challenges brought on by the digital disruption of the fourth industrial revolution.
ITIL 4 has taken a major leap in ITSM and witnessed a paradigm shift from waterfall to agile. There has been a change in value systems as the priority has shifted from enterprise to organization and people. This brings us to the key components and function of ITIL 4 framework – the service value system (SVS) and the four dimensions' model.
"The ITIL SVS describes how all the components and activities of the organization work together as a system to enable value creation. Each organization's SVS has interfaces with other organizations, forming an ecosystem that can, in turn, facilitate value for those organizations, their customers, and other stakeholders."
– AXELOS, "ITIL Foundation: ITIL 4 Edition" (2019)
Core Components of ITIL SVS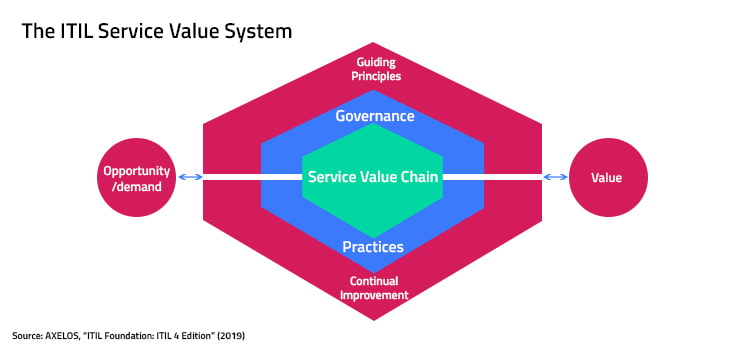 The ITIL service value system offers a flexible operating model with the following core components:
ITIL guiding principles
ITIL service value chain
ITIL practices
Governance
Continual Improvement
ITIL Guiding Principles
ITIL 4 is a step-up from ITIL V3 in an umpteen number of ways. One of the major criticisms surrounding ITIL V3 was the lack of a set of guiding principles to execute the ITSM process. ITIL 4 goes above and beyond in seeking to drive value creation for their organizations. These guiding principles play a strategic role in the execution of ITSM processes. Below are the seven guiding principles of ITIL 4:
Focus on value – ITIL 4 makes a clear and simple statement. Value is not just financial. This guiding principle caters to experience – User experience and customer experience.
Start where you are – This principle guides on preserving the value of what you already have and start from there. This approach focusses on being less wasteful and supporting the changes you need to the contributions already been made.
Progress iteratively with feedback – This approach focusses on organizing work into small and manageable sections rather than large investments for both cost efficiency and a guarantee of quality.
Collaborate and promote visibility – Adapting to change is the key to breaking silos and can be effectively achieved by collaborating with customers and partners. Collaboration helps in creating more value for yourself and for the people you collaborate with.
Think and work holistically – Working holistically means working together as an organization and all the departments contributing together towards the creation of value.
Keep it simple and practical – This approach focuses on the use of simple and minimum steps rather following long and complex processes.
Optimize and automate – This principle emphasizes on automating wherever you can.
ITIL Service Value Chain
There are six key activities of the service value chain contributing to value creation.
Plan – Plan involves creating plans, policies, portfolios, etc. for the use throughout the service provider organization.
Engage – Engage involves collaboration with stakeholders such as end-users, customers and suppliers. These stakeholders are imperative to value creation and therefore people involved in this activity should be well equipped with concepts of user experience and customer experience.
Design & transition – Design and transition revolve towards the creation and release of new and improved services. People involved in this activity need a comprehensive understanding of service management.
Obtain/build – Obtain / Build involves software development, management of cloud infrastructure, procurement of third-party hardware, software, and services. This activity requires people who are technically skilled with expertise in the field involved. They have to master methodologies such as agile, lean, DevOps, or PRINCE2 project management.
Deliver and support – Deliver and support, as the name suggests, ensures that services are delivered and supported to meet the stakeholder expectations. This activity also involves incident resolution, generating reports, and analyzing problems and other ongoing activities.
Improve – Improve includes the creation of plans for continuous improvement of products and services.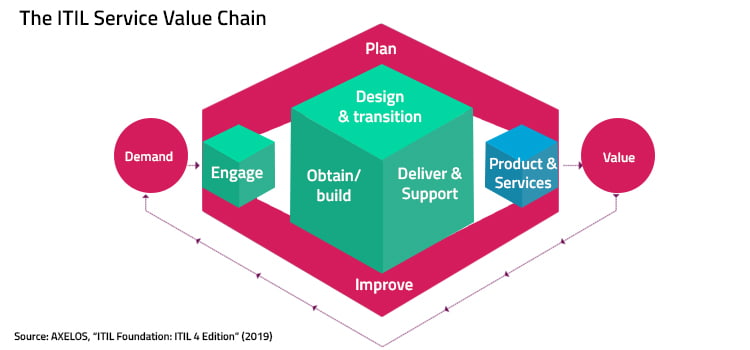 ITIL practices
ITIL V3 processes has been replaced with ITIL 4 management practices. ITIL V3 comprised of 26 practices which have now been replaced with 34 management practices divided into three main categories:
General management practices
Service management practices
Technical management practices
Below is a quick summary of the management practices.

The Four Dimensions Model
Organizations and People
Information and Technology
Partners and Suppliers
Value Streams and Processes
The four dimensions model and the core components reflect the significant evolution of ITIL 4 from its previous iterations, shifting focus to value creation and customer satisfaction. Service is the king and ITIL 4 is designed to provide a seamless transition to organizations by not effecting its existing ITIL investment and offer an adaptive and flexible approach to ITSM frameworks. 
Impact of ITIL 4 on you and your organization
A recurring theme throughout ITIL 4 is improvement and value creation. These practices and components may seem like a lot in theory but if applied effectively can work wonders for the service improvement of your organization. If you are already acquainted with ITIL principles, then it is easier to level up and quip your skills for ITIL 4. Similarly, if your organization provides IT service management within your company, you may have already adopted many processes under ITIL V3. These processes have now been updated to reflect the latest and best guidance.
Earn an ITIL 4 certification
AXELOS has shared the following ITIL 4 certification levels
ITIL Foundation
ITIL Specialist modules x3
ITIL Strategist
ITIL Leader
ITIL Master
The ITIL 4 certification scheme offers two designations, namely:
ITIL Managing Professional (ITIL MP)– For IT practitioners working within technology and digital teams.
ITIL Strategic Leader (ITIL SL)– Positioning ITIL not just for IT operations but for all digitally enabled services.
Cognixia – world's leading digital talent transformation company is offering a fully developed portfolio of AXELOS accredited formal ITIL 4 training classes, ranging from the ITIL 4 foundation to intermediate and expert levels. We offer live, instructor-led, online training session with round the clock technical support and learning material. We are the only authorized training organization for ITIL 4 Foundation with a proven record of a 100% pass rate for all its public schedules of the ITIL 4 Foundation online training till date. Our trainers are highly experienced ITIL Masters, with decades of experience in service management and training. Out ITIL online training ensures every participant is thoroughly prepared to clear the ITIL certification examination in their very first attempt. Our ITIL 4 Foundation training is also covered by a 100% moneyback guarantee*, whereby any participant who is unable to clear the ITIL certification exam in their first attempt, will get a full course fee refund from us.
*Terms and conditions apply
To know more about our ITIL training, click here.