In today's digital landscape, data holds the reins of power. The ability to analyze, interpret, and harness data has transformed from a mere competitive advantage to a strategic imperative. Amidst this paradigm shift, the concept of embedded analytics emerges as a beacon of innovation, reshaping the way organizations perceive and interact with data.
Understanding Embedded Analytics
Embedded analytics is a multifaceted functionality that seamlessly integrates analytical content from standalone platforms into applications, portals, or websites. The driving force behind this integration is to furnish organizations with a cohesive data experience. By amalgamating reports, dashboards, data visualizations, and sophisticated business intelligence (BI) tools into a unified interface, embedded analytics facilitates comprehensive data exploration, insightful observations, and agile, data-driven decision-making.
A Glimpse into Embedded Analytics Applications
The value of embedded analytics becomes evident when scrutinizing its practical applications. In the modern data-driven world, accessibility to relevant insights stands paramount. However, the complexities of data management, analysis, security, and dissemination often hinder the seamless integration of data into decision-making processes. Embedded analytics addresses these challenges by serving as an intermediary.
Both large corporations and nimble independent software vendors (ISVs) leverage embedded analytics solutions to infuse fresh context, efficiency, and value into their existing data infrastructure. Corporations, for instance, utilize embedded analytics to centralize data sources and BI tools, providing users with a coherent, easily navigable interface. Meanwhile, software firms use integrated reporting solutions to integrate analytical aspects into their programs, saving time and money.
Benefits of Embedded Analytics
Embedded analytics provides a variety of advantages, ushering in an era characterized by well-informed decisions, boosted operational efficiency, and a distinctive competitive edge. These benefits encompass:
Optimization of Time and Resources:

The integration of embedded analytics streamlines the intricate process of building analytical content from the ground up. This strategic choice empowers product teams to allocate their efforts towards core features, accelerating the path to market. Furthermore, the utilization of automated monitoring and deployment tools minimizes resource utilization.

Empowering User-Centric Data Accessibility:

Embedded BI platforms often provide in-app, self-service analysis, eliminating the need for user intervention. This level of accessibility nurtures familiarity with data, amplifies insights, and fosters a culture anchored in data-driven decision-making.

Elevating the Data Experience:

The hallmark features of embedded analytics include interactive reports and dashboards, which bestow an immersive data interaction experience. This heightened interactivity translates into more profound insights, elevated user satisfaction, and an unparalleled level of engagement within the application.

Amplifying Productivity:

The amalgamation of analytics within a single interface eradicates the inconvenience of toggling between disparate platforms. The result is a pronounced boost in productivity, culminating in a significant return on investment and a substantial augmentation in value creation.Top of Form
Distinguishing Embedded BI from Traditional BI: A Comparative Insight
Traditional Business Intelligence (BI) tools have long been the stalwarts of data analysis. These tools encompass the spectrum of data collection, transformation, visualization, and secure dissemination. Embedded BI, while building on these foundational aspects, introduces an innovative dimension – embedding BI content seamlessly within applications.
Consider a sales team seeking real-time insights. Embedded BI enables them to seamlessly integrate a live data feed into their CRM or messaging app, fostering a harmonious blend of data and workflow. This harmonization paves the way for robust in-app integrations, catalyzing efficient collaboration.
Embedded Analytics: The Role of APIs
Embedded analytics' prowess hinges on Application Programming Interfaces (APIs), the backbone of modern software interaction. APIs facilitate communication between applications through standardized protocol requests, enabling seamless integration of third-party components. This integration not only circumvents the need for in-house development but also ensures the coherence of data flow.
Leading organizations embrace APIs as the linchpin of streamlined workflows, rapid innovation, and elevated security. These APIs empower the integration of BI content, dictating its embedding, management, and customization within interfaces. The interplay of APIs enables robust authentication, data encryption, and secure transmission, guaranteeing a seamless user experience.
Navigating the Implementation
Crafting an embedded analytics solution necessitates a strategic approach. Initiate by articulating your organization's overarching objectives and understanding the scale and nature of your business. Determine whether streamlining operations or expediting app launch is your primary goal. Delve into your end-users – decipher their interaction patterns, preferences, and value points.
With this foundation, evaluate your existing infrastructure, pinpointing areas that demand enhancement. The pivotal decision of build-vs-buy hinges on factors like desired functionality, budget, resource availability, and the potential return on investment. Should you opt to purchase or prioritize solutions with API integration, ensuring smooth embedding?
Security, authentication, and data protection are cornerstones of any embedded analytics implementation. Consider access management for internal and external users, method of authentication, and encryption protocols. Regulatory compliance and data residency requirements must be seamlessly integrated into your strategy.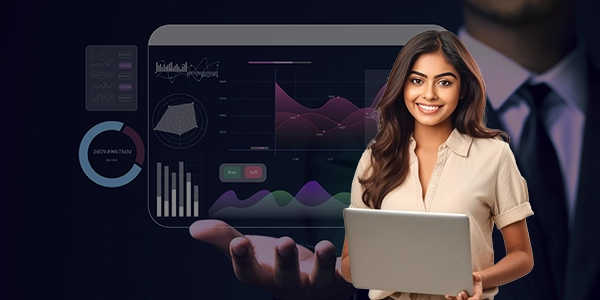 Explore an Article: What is multi-cluster Kubernetes?
Exploring Embedded Analytics Solutions and Software
The path toward embedded analytics concludes with the examination of several solutions and software packages. As your basis, a solid BI system should effortlessly combine different data sources while providing security. It provides unparalleled access to data, insights, and tools to users. Notable solutions, such as Power BI, demonstrate this blend of capability and security.
Cloud solutions like Power BI Premium support internal users in companies, whereas white-labeled solutions like Power BI Embedded assist external users. These solutions represent the ultimate level of usability and security, ensuring a smooth transition into the realm of embedded analytics.
In Conclusion
With the growth of augmented analytics – the use of machine learning (ML) algorithms & and artificial intelligence (AI) in analytics – more and more manual work in corporate intelligence and analytics is being mechanized.
If you have implemented analytics into the software product, this automation will be extremely beneficial to both you and your clients. Augmented analytics enables you to advertise an AI-enabled product and give data insights to your end consumers faster than ever before.
Embedded analytics is rapidly becoming a critical component of company operations. Embedded analytics help firms operate more effectively and make better decisions by giving employees rapid access to data.
For firms that require more advanced reporting and analysis, embedded analytics can relate to business intelligence platforms. This enables firms to have a comprehensive perspective of their operations and make the most of their data.
Upskill Your Workforce with Power BI Online Training
Cognixia's Analyzing Data with Power BI course will introduce you to the principles of data analysis. It provides users with data warehousing tools to help in organizing data, data exploration, and interactive dashboards.
Power BI is now one of the world's largest and fastest-growing business intelligence clouds. Microsoft was named a leader in the Gartner Magic Quadrant for analytics and business intelligence solutions for the 14th year in a row.
Cognixia's Power BI looks at the many methodologies and best practices for modeling, analyzing, and visualizing data using Power BI that follow business and technical needs.