In the ever-evolving landscape of project management, delivering excellence in terms of timing, budget, and quality remains a perpetual challenge. The traditional Critical Path Method (CPM) has long been the cornerstone of project planning, while Agile methodologies have gained momentum due to their incremental approach and customer-centric focus. Recognizing the strengths of both paradigms, an innovative solution has emerged — hybrid project management.
Hybrid Project Management: A New Paradigm
Hybrid project management is more than just a buzzword; it's a trend that's reshaping project execution. So much so that it secured the top spot in the 2021 Project Management Radar. Curious to explore this intriguing blend of strategies? This article is your guide to uncovering the depths of hybrid project management and addressing the questions that commonly arise.
Understanding Hybrid Project Management
In simple terms, hybrid project management marries the structured phases of the waterfall approach with the dynamic execution methods of Agile. Imagine crafting a solution where the best of both worlds harmonize. While the concept seems intuitive, achieving this fusion requires a well-defined roadmap.
The Choice Between Agile and Waterfall
In the bustling arena of project management methodologies, Agile and Waterfall stand out. They are the giants with inherent differences that have shaped countless projects. To make a strategic decision, let's delve into the unique characteristics of each:
Waterfall Essentials:
Change entails higher costs.
Learning curves are steeper, impacting adaptability.
The project's final goal is formed at the outset.
Rigorous planning and meticulous progress tracking are crucial.
Higher risk in projects laden with uncertainties.
Early value confirmation might take a backseat.
The project team's expertise plays a pivotal role.
The approach is outcome-centric, which can be a boon or bane based on project type.
Ideal for projects with well-defined and known outcomes.
Agile Essentials:
Project contracts become intricate.
Alignment between project sponsors and teams is a must.
Unsuitable for time-sensitive projects with well-known phases.
The project team's expertise remains crucial.
Initial tracking and estimation are more intricate.
Emphasis lies on satisfying customer needs, a double-edged sword.
Visual tools like Kanban boards enhance visibility.
Perfect for projects with vague goals or uncertain paths, where pivoting might lead to success.
Combining Agile and Waterfall
Before we dive into the tools that facilitate hybrid project management, let's outline a logical merger of these ideologies. Imagine seamlessly integrating Kanban and Gantt charts.
Waterfall for Strategic Planning
High-level deadlines, deliverables, and customer contracts are defined using the waterfall model.
Use waterfall exclusively for top-tier elements such as final deadlines, major milestones, and classical project phases.
Identify project phases suitable for Agile intervention. A rule of thumb could be switching to Agile for phases lasting more than a month while maintaining the classic approach for shorter phases.
Agile for Dynamic Execution
Agile execution cycles enter the scene for task-level operations.
Deconstruct project work into tasks spanning less than a day.
Create a prioritized work backlog aligned with project phases or overarching goals.
Embrace iteration cycles, typically 2 to 4 weeks long. Opt for shorter sprints if team experience is limited.
Plan each iteration by selecting tasks from the prioritized backlog.
Estimate task durations to allocate work for a single sprint.
End each sprint with a retrospective analysis, identifying successes and areas for improvement. Capture task completion metrics.
Leverage these metrics to refine subsequent sprint planning.
Metrics and Practices for Progress
Adopt project burndown charts to visualize progress.
Conduct regular status meetings to ensure alignment with sprint goals.
Assess project status against deliverables and goals.
Engage stakeholders by sharing progress reports after each sprint, showcasing delivered value.
Embrace Agile ceremonies for continuous enhancement.
Key ceremonies include daily status checks, backlog refinement, sprint planning, and sprint retrospectives.
Hybrid Project Management: IT Project Example
Consider a traditional IT project encompassing software development and infrastructure deployment. The software part aligns with Scrum's Agile principles, while the infrastructure aspect adheres to the waterfall model. This illustrates how hybrid project management seamlessly bridges diverse project components.
The Hybrid Project Management Manifesto
Just as Agile has its manifesto, a hybrid approach deserves one too. Let's outline our take on the Hybrid Project Management Manifesto:
Prioritize adaptability over rigid planning.
Channel efforts into creating value rather than bureaucratic formalities.
Embrace collaboration with customers, transcending contract negotiations.
Elevate high-level planning while welcoming continuous adaptation through smaller milestones.
This manifesto encapsulates our perspective, drawn from extensive experience. We welcome your input and suggestions for refining this approach.
Implementing Hybrid Project Management: When and How
To embark on the hybrid journey, consider these pivotal aspects:
Can you outline high-level project phases and goals?
Do you enjoy the flexibility to choose your work approach?
Is your team well-versed in Agile practices?
Can you align with stakeholders to prioritize high-level plans over detailed contractual commitments?
Does your project team grasp Agile methodologies, from backlog prioritization to sprint planning?
Answering 'yes' to these questions indicates the potential for successful hybrid implementation. If not, focus on building the necessary prerequisites before venturing into your inaugural hybrid project. Skill is indispensable, especially when combining methodologies. A proficient team, skilled in steering both in clear and challenging waters, is the true catalyst.
Hybrid vs. Agile vs. Waterfall: Making the Call
Hybrid project management symbolizes a paradigm shift, where tradition meets innovation, and adaptability reigns supreme. As you weigh your choices between Agile, Waterfall, and the exciting hybrid fusion, remember that success thrives at the intersection of strategy, collaboration, and foresight. The journey may be challenging, but the rewards are boundless. In this fast-paced landscape, it's not about choosing a singular path; it's about crafting a bespoke roadmap that steers your projects toward excellence.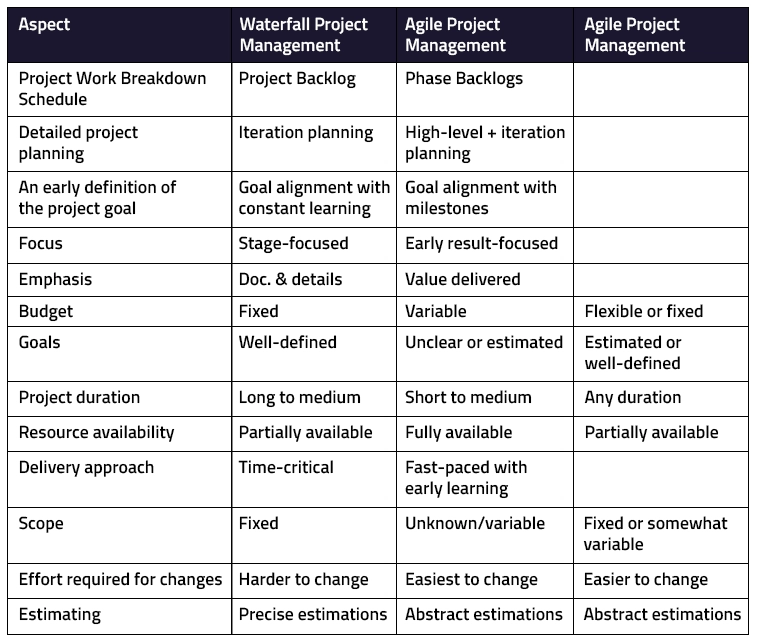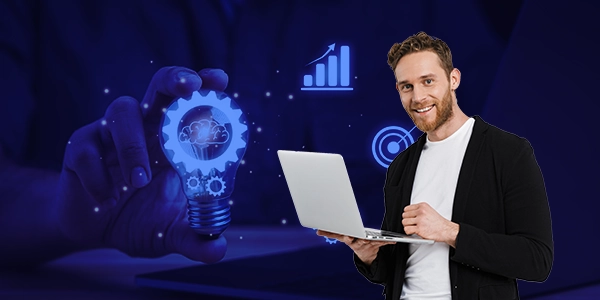 Explore an Article: Challenges of Project Management in Healthcare
To Sum Up
Hybrid project management indicates a paradigm shift in which traditional joins innovation and adaptation are supreme. When deciding between Agile, Waterfall, and the intriguing hybrid fusion, keep in mind that success thrives at the confluence of strategy, cooperation, and vision. The journey may be difficult, but the benefits are endless. In this fast-paced environment, it's not about picking a single path; it's about creating a customized roadmap that guides your initiatives to success.
Cognixia's comprehensive PMP training will help you improve your project management skills. Our training is designed to provide professionals with the knowledge they need to negotiate hybrid project management, Agile, and Waterfall techniques. Master the art of mixing techniques to flourish in the fast-paced world of project execution.
Learn PMP with Cognixia and upskill yourself
The Project Management Professional (PMP) certification is the most sought-after project management qualification. PMP certification enables project managers to operate remotely across several sectors and from anywhere globally.
This PMP online training includes a variety of concepts. It explains the distinctions between project management & and operations management. Cognixia's PMP Certification Training has been intended to assist managers/professionals in managing projects more efficiently and effectively by utilizing the Project Management Life Cycle.
Cognixia – the world's leading digital talent transformation company – offers learners the official PMP-PMI Certification Training. We provide an extensive online PMP training program that consists of multiple project management training modules. This PMP training course will cover a wide range of topics – taking you through various aspects of project management & operations management.