The famous words by the Greek philosopher Heraclitus stand just as true for technology as it does for human life –
"The only constant in life is change."
Similarly, the only constant with technology is its ever-evolving nature. IT processes are constantly upgrading and changing to adjust to the industry standards and norms. Businesses are rapidly evolving to meet the standards of industry 4.0. Technology acts as a conduit between business units for better communication and utilizing technology and operations to their full potential.
It is now imperative for businesses to keep themselves updated. It is also an absolute requirement for IT professionals to update themselves about the latest technologies and skills to stay relevant in the market. To do this, professionals need to train and re-train regularly.  One needs to train in their respective field and obtain the latest IT certifications to remain a valuable resource for their organization. One of the hottest certifications out there today is the ITIL (Information Technology Infrastructure Library) certification. ITIL at its core can be defined as a set of practices used for effective IT service management (ITSM), which focuses on aligning IT services with the needs of the business.
This lays great emphasis on ITIL training. The ITIL foundation training is beneficial for both individuals and organizations. It is designed to help businesses in defining the role and impact of ITSM on their organization and serve the end customers better by understanding and fulfilling their needs & requirements.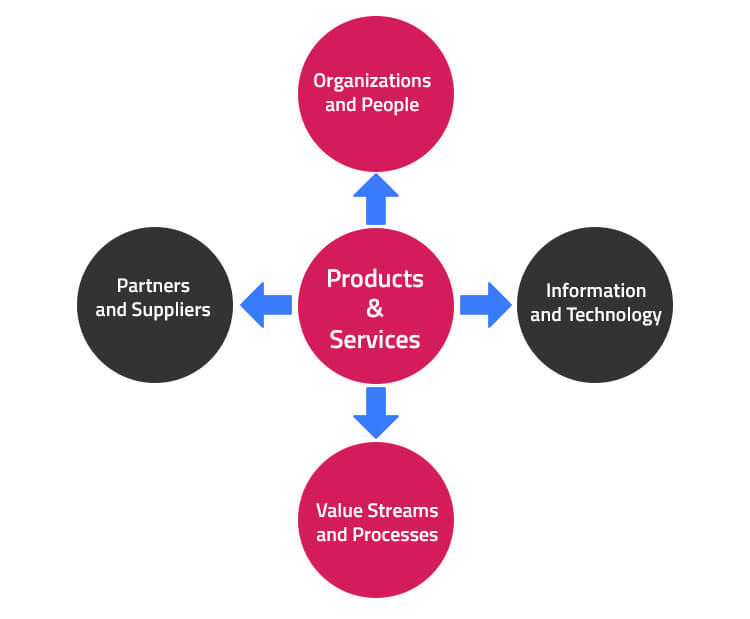 Benefits of implementing ITIL for organizations
Implementing ITIL can be highly beneficial for your business in creating a powerhouse collaboration between IT and operation. With the introduction of ITIL 4, businesses are leaning towards co-creation of value and focusing on creating a customer-centric environment. The key benefit for an organization by adopting ITIL practices and frameworks is the improvement in delivery and customer satisfaction. ITIL implementation also assists an organization in managing risk better and creating a more stable environment.
ITIL 4 offers four levels of qualification:
ITIL Foundation
ITIL Managing Professional (MP)
ITIL Strategic Leader (SL)
ITIL Master
Benefits of ITIL 4 Foundation training
The ITIL 4 Foundation training is key to efficiently manage and mitigate risks while improving the overall experience for the end customers. With ITIL, organizations can offer superior quality service delivery to customers and enable agile responses to the rapidly changing business needs. Individuals with ITIL 4 Foundation certification can help lead the change at their organizations. They become valuable assets in the service management lifecycle at the company.
Below are some of the reasons why an individual should take the ITIL 4 foundation training.
The ITIL 4 Foundation training course provides a modern outlook on IT service management
The ITIL course prepares you to pass the ITIL Foundation exam at the first attempt
The ITIL 4 Foundation course acquaints you to all the latest updates that form a part of ITIL 4 including ITIL Service Value System (SVS)
ITIL 4 is highly relevant for IT management teams
ITIL 4 training helps in creating a streamlined culture. This is one of the foremost reasons why most companies are highly reliant on IT-enabled products and services
ITIL 4 Foundation training helps you upskill and enhance your skills and ITSM knowledge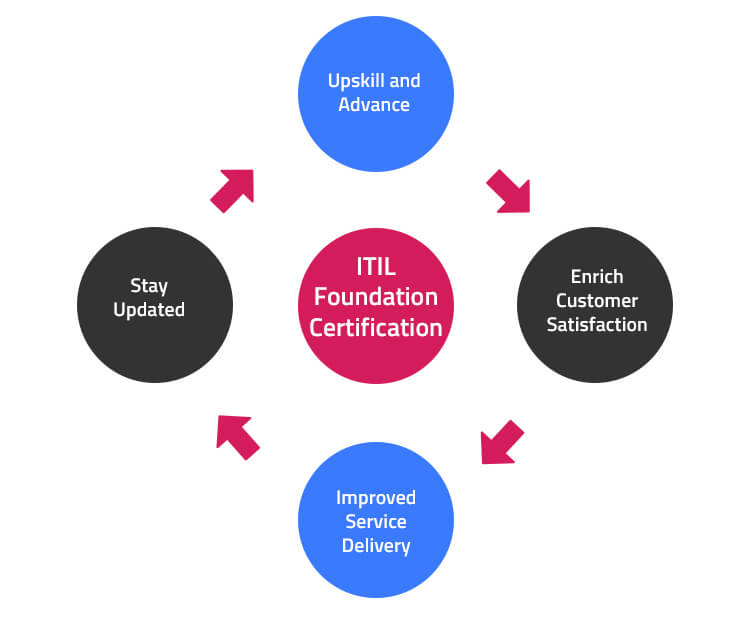 ITIL 4 Foundation Training and Certification
The ITIL 4 Foundational training program introduced with the release of ITIL 4 in February 2019, is a game-changer within the ITSM spectrum. Undergoing the ITIL 4 Foundation training and obtaining the ITIL certification puts you ahead in the game and helps you carve out a space for yourself in the value chain. The cohesive set of values and practices described in ITIL 4 can be integrated with business functionalities which would provide seamless delivery of high-quality services to the clients. The course is aimed at:
IT professionals passionate to learn ITIL and becoming a fully certified ITIL 4 Expert
Organizations who wish to adopt ITIL practices
Professionals hoping to pursue careers in IT management
Candidates can complete the ITIL 4 Foundation training by taking classes with AXELOS' Accredited Training Organizations (ATO). The ITIL 4 Foundation course typically involves practice sessions, handouts, quizzes and other learning material that help you prepare thoroughly for the ITIL certification examination.
Training with an ATO helps you gain a deeper understanding of the framework and practices. An ATO has all the official courses designed to meet the requirements anchored in the association certification. The ATO assists in providing classroom/online training with ITIL experts leading the sessions to guarantee full preparation for certification. A lot of ATOs also offer moneyback guarantees or refund policies if the candidates do not clear the exam in their first attempt.
One of the key benefits of training with an ATO is that it gives you access to comprehensive ITIL course materials, a good trainer and plenty of practice papers. Through ATOs, you also get access to sample papers and training resources complementing the actual ITIL lifecycle books. The training is delivered by highly qualified trainers who can be very helpful in opening up a channel of communication for exchanging helpful tips and industry-relevant nuances. An effective trainer can impart real-world experience and help you in successfully obtaining the ITIL 4 Foundation certification.
Cognixia – world's leading digital talent transformation company is offering a fully developed portfolio of AXELOS accredited formal classes, ranging from the ITIL 4 Foundation to intermediate and expert levels. Our ITIL 4 Foundation Training and Certification course focuses on helping organizations and individuals understand ITIL best practices and ultimately achieve the ITIL certifications. The more advanced courses take a deeper and more detailed approach to ITIL best practices, helping candidates prepare for more challenging roles within IT organizations. To know more about our ITIL training, visit here.