The digital age has brought with it a plethora of opportunities and challenges for businesses. On the one hand, digital technologies have enabled businesses to reach new markets, streamline processes, and improve operational efficiencies. On the other hand, these same technologies have also disrupted traditional business models and transformed entire industries.
To remain competitive in this digital landscape, businesses must embrace digital transformation. However, digital transformation is not just about adopting new technologies or implementing new processes. It is a complex and multifaceted process that requires a holistic approach and involves every aspect of a business.
In this blog, we will explore why digital transformation is more than just an IT decision and what steps businesses can take to embrace it.
The Holistic Approach to Digital Transformation:
Digital transformation is not just about implementing the latest technology or digitizing processes. It requires a holistic approach that includes people, processes, and technology.
It's not just an IT decision. It is a strategic decision that requires collaboration between various organizational departments. Business leaders need to work with IT professionals to identify technologies to help achieve their business goals. They must also collaborate with other departments, such as marketing, operations, and customer service, to ensure that digital transformation aligns with the organization's overall strategy.
It is about transforming the entire organization, from the top down, to embrace a digital-first mindset.
The key factors that businesses should consider when embarking on digital transformation:
Leadership:

Digital transformation requires strong leadership that understands the potential of technology and its impact on the organization. The leadership team should be committed to the transformation and lead by example.

Culture:

Digital transformation requires a cultural shift in the organization. It requires a change in mindset, from resistance to change to a culture of innovation and experimentation. It requires collaboration across departments and a willingness to learn and adapt.

Talent:

Digital transformation requires the right talent to drive it forward. It requires people skilled in the latest technologies, can think creatively, and can work collaboratively across teams. Businesses should invest in upskilling employees and attracting new talent to drive the transformation.

Processes:

Digital transformation requires a review of existing processes to identify areas that can be digitized or automated. It requires a focus on customer experience and an agile approach to process design and implementation. One approach to process design and management is the Information Technology Infrastructure Library (ITIL), a set of best practices for IT service management.

Technology

: Digital transformation requires the right technology to support the transformation. It requires an investment in the latest technologies, such as cloud computing, artificial intelligence, and the internet of things.
Benefits of Digital Transformation:
Embracing digital transformation has many benefits for businesses. It can increase efficiency and improve customer experience and new revenue streams. It can also help businesses to stay competitive in a rapidly evolving digital landscape. Some of the key benefits of digital transformation include the following:
Improved Customer Experience:

Digital transformation enables businesses to understand their customers better and deliver personalized experiences. This can lead to increased customer satisfaction and loyalty.

Increased Efficiency:

Digital transformations can automate processes, reducing manual effort and increasing efficiency. This can lead to cost savings and increased productivity.

New Revenue Streams:

Digital transformations can enable businesses to create new revenue streams by developing new products and services or entering new markets.

Competitive Advantage:

Digital transformations can help businesses to stay ahead of their competitors by adopting the latest technologies and processes. This can help them to innovate and to respond quickly to changes in the market.
ITIL and Digital Transformation:
ITIL is a framework for IT service management that can help organizations to improve their IT service delivery and align it with their business goals. The framework is designed to be adaptable to different organizational structures and guides how to manage IT services throughout their lifecycle. ITIL can be a valuable tool in digital transformation because it provides a structured approach to process design and management, which can help organizations identify improvement areas and implement changes more effectively.
The ITIL framework comprises five stages: service strategy, service design, service transition, service operation, and continual service improvement. Each stage has its processes and best practices, which tailors to meet an organization's specific needs. For example, the service design stage includes processes for designing new services, while the service operation stage includes processes for managing services on a day-to-day basis.
ITIL can be particularly useful in the service design stage of digital transformation. This is where organizations design new services and processes to meet their business goals. ITIL guides designing services aligned with business objectives, cost-effective, and delivering value to customers. By following the ITIL framework, organizations can create scalable, flexible services that it delivers consistently.
Another benefit of using ITIL in digital transformation is that it provides a structured approach to change management. Change management is essential to digital transformation because it involves changing processes, systems, and cultures. ITIL guides how to manage change effectively, including how to plan and execute changes, communicate changes, and manage risks associated with changes.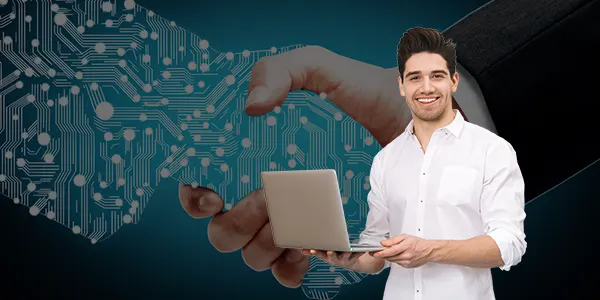 Read a Blog Post: How does OCM help in continual improvement?
To sum up
Digital transformation is not just an IT decision; it is a strategic decision that requires a holistic approach. It requires a focus on people, processes, and technology and a commitment to change. By embracing digital transformation, businesses can improve efficiency, enhance customer experience, and create new revenue streams. ITIL can be a valuable tool in digital transformation because it provides a structured approach to process design and management and can help organizations manage change effectively. Businesses can embrace digital transformation and realize their full potential by taking a holistic approach and using the right tools and frameworks.
Get ITIL Certification for Better Business-IT Management
Improve your skills and future career prospects with ITIL 4 certification @ Cognixia!
Cognixia is the world's leading digital talent transformation company, committed to helping you shape your future & career by providing insightful digital technology training and certifications. We are here to give you the best online learning experience possible by expanding your knowledge through immersive training sessions and increasing your skill set. Individuals and organizations can both benefit from Cognixia's highly engaging instructor-led courses.
We are an AXELOS Authorized Training Organization (ATO) that offers learners a complete portfolio of ITIL online training & certification programs. Our ITIL 4 Foundation certification course is considered one of our portfolio's most sought-after online training programs.
The ITIL training via Cognixia is provided by the industry's most experienced, expert ITIL trainers and is delivered in line with the official AXELOS guidelines & curriculum.
With Cognixia's ITIL 4 Foundation certification program, you get the hands-on practice that helps you clear the main ITIL certification exam effortlessly. Not just that, with our ITIL training course, you get the perk of lifetime access to the training's learning material & video lessons via our LMS.
Learn and improve from the comfort of your home with our intuitive & comprehensive ITIL 4 Online Training.
This ITIL training course will cover the following concepts:
The concept of a service
Services, costs, risks. and service management
Service relationship management
The 4 dimensions of service management
Guiding principles of service management
Service value system
Service value chain
General management practices
Service management practices
Technical management practices