The International Paris Air Show is staging its 53rd edition from 17 to 23 June 2019 in Paris, France. Organized by SIAE, a subsidiary of GIFAS, the French Aerospace Industries Association, the show brings together all the players from the global aerospace industry and showcases the latest technological innovations in the industry. Every year, more than 150 aircraft are presented during the show, showcasing the latest technology and innovations in the aerospace industry. The International Paris Air Show is over a hundred years old, and is the largest and longest running aerospace trade show in the world.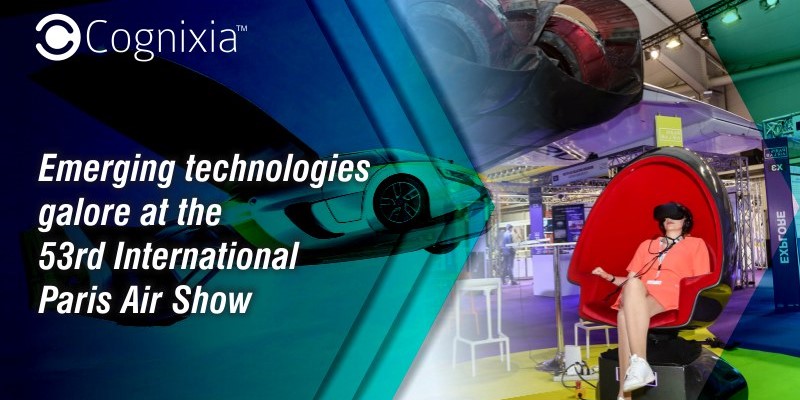 This year, the show is turning out to be a very successful event, with a focus on making the aerospace industry sustainable and employing the latest technologies to take the industry further ahead. Some of the amazing new products showcased at the International Paris Air Show 2019, that employ revolutionary emerging technologies are –
Select and Train with Virtual Reality
This revolutionary solution from Maser Engineering and Crit offers an unprecedented training solution in aeronautics, integrating innovative and educational tools, such as, virtual reality; which would help aerospace organizations to design effective training programs, security receptions or immersive custom recruitment scenarios.
REC
REC or Real-time Earth-observation Constellation is an innovation by Satrevolution S.A., which is a constellation of 6U CubeSats with a ground-breaking deployable optical instrument. It has a 30 min refresh rate, covers 1024 satellites, has a 50cm resolution and has an on-board processing which is based on machine learning and artificial intelligence.
MIP Junior 300
The MIP Junior 300 is a robotic arm that would work beside the human personnel to assist in various activities. This product by MIP Robotics SAS has an interactive touchscreen, a user-friendly interface and is easier to communicate with.
New 3D printers
3D printing has created quite a storm and the aerospace industry is keen to embrace it as soon as possible. UUDS Aero has installed new 3D printers in its facility for optimizing the cycles of cabin parts with 3D manufacturing, especially for cabin maintenance, and fast designing & prototyping. This would help optimize the entire cycle from design to release, including testing and certification.
Microsoft HoloLens 2
Microsoft and its partners are unveiling the latest innovations and use cases both in the industrial and military sectors. The Microsoft HoloLens 2 is a pair of mixed reality smartglasses, developed as a successor to the pioneering Microsoft HoloLens.
AsystomPredict
This turnkey universal, autonomous and scalable predictive maintenance solution for the industrial equipment of different ages and designs is capable of predicting anomalies and failures without the constraints of installation. It deploys a network of powerful, autonomous and connected multi-sensor beacons that collect and analyze the operating data on-site of the monitored devices. It also uses a secured cloud service for secure storage of all measurements, and a visualization platform for real-time viewing of the collected data.
SKEYETECH autonomous drone
This is a drone-in-a-box solution from Azur Drones that is revolutionizing security over sensitive sites. It has a docking station, which helps it be operational 24/7 for verification and patrols. It has even been approved by DGAC for BVLOS automated flights.
Automated Image Analysis
Cycleone has come up with this innovative image analyzing system for airplane safety that uses Smart Edge Computing technology to detect suspicious and dangerous gestures, and then transmit it as a real-time quantified alert.
Virtual Reality Simulators
Sogitec has brought out virtual reality piloted simulation demonstrators for fixed and rotary-wing aircraft crew, which implement simulation technologies for increased immersivity, realism and mobility.
Early Anomaly Detection System
CYM has brought out an innovative unsupervised method of identifying early signs of failure on industrial systems, using artificial intelligence. It detects degraded operations that need maintenance, and it also detects unusual behavior before failure or breakdown happens.
Robotized Acoustic Drilling
Europe Technologies has come up with a robotized micro-drilling cell for composite acoustic panels, which is equipped with compact and multi-spindles effector along with an automatic drill bit changeover for optimizing productivity and gain access to hard-to-reach areas on the parts.
Robotized and Cobotized sanding
Smart sanding solutions for composites and metal parts that use robotics and cobotics to drive the operation are in vogue in the aerospace industry this time.
These are just some of the products that are being introduced to the aerospace industry at this year's International Paris Air Show. There are numerous other products which are being introduced at the show that deploy artificial intelligence, machine learning, big data, robotic process automation, cobotics, cloud computing and other emerging technologies to drive those products. There is even the 2nd edition of Paris Air Lab that focuses on four key areas –
ENABLE: Focusing on innovative technologies in the aerospace industry
PROTECT: Dedicated to sustainable aerospace industry
TRAVEL: Focusing on the future of aeronautics mobility
EXPLORE: Featuring iconic space missions
This lab explores and delves upon innovations in emerging technologies and how they can help the aerospace industry be more efficient and sustainable.
The aerospace industry is in the midst of a major shakeup and drastic digital transformation. The industry also faces a widening skills gap, especially for the emerging technology associated skill sets, presenting a bright opportunity for trained professionals to scale up their future in aerospace. The industry offers global prospects and needs technically-skilled professionals from manufacturing to airline operations, from OEM support to maintenance and defense operations.

Cognixia, a digital workforce solutions company, offers path-breaking comprehensive training programs that focus on aerospace industry-specific solutions for organizations to make the most of Industry 4.0 and Manufacturing 4.0. The trainings can be customized and tailor-made to specifications of the organization, to ensure they get the precise results they are seeking. Reach out to Cognixia today, to know more.
~ Sunny Shah