Top five benefits of PMP certification
If you're a Project Manager, you might have wondered ten times whether a PMP certification is worth all the investment and efforts. Many people think that PMP is one of the most difficult exams to crack. They are unsure if it is worth the cost and time investment because of the years of experience required to qualify for the exam; most need additional education as well as exam preparation. Once prepared, the exam itself is rigorous and expensive. But once you clear the exam, do you even know what it can do to your career?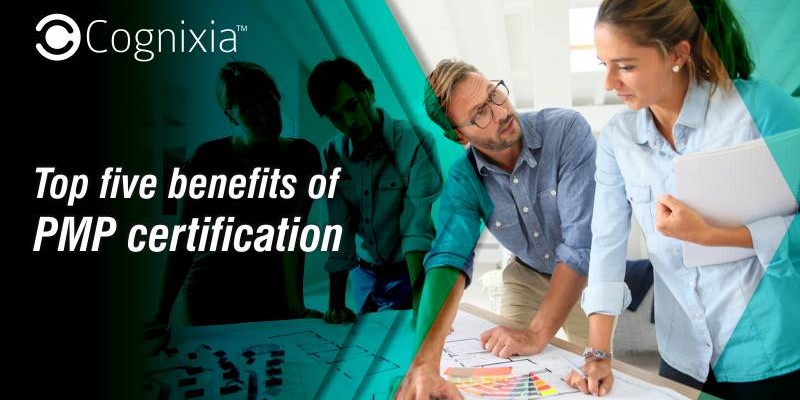 PMP is one of the paths worth treading upon! The Project Management Professional (PMP) is an internationally recognized title given by the Project Management Institute (PMI) to candidates who pass their certification exam. Let us throw some light on the benefits of PMP certification to prepare you for the exam with confidence.
Global Recognition

The PMP certification is globally recognized. It helps professionals to showcase their skills and expertise to employers across the globe. It is for those who dream to work and earn abroad as a project manager. The PMP certification can be highly rewarding, widely accepted, and internationally recognized.

Salary Hike

No matter how remarkable your career progress is; your paycheck should never make you feel inadequate. It is a well-established fact that PMP certified individuals always climb the salary scale higher and maybe even faster than the rest. When are a recognized expert in your domain, organizations will not be reluctant to pay you better. And having a PMP certification ensures that based on your level of expertise, your employer will never shy away from remunerating you on the best pay scale set by industry standards.
According to the PMI Salary Survey, PMP certified individuals earn 23% higher salaries across 37 countries of the world.

Better Job Opportunities

Any candidate appearing for a job interview would definitely desire to be better than the rest of them by showcasing their skills and experience on their resume. Then what would be the differentiating factor in the selection process? The answer is – the PMP certification. It will increase your prominence as someone who is not only experienced and skilled, but also certified. It also opens up extensive career paths and provides a better opportunity in the project management world.
About 80% of the projects that performed well had employed PMP certified project managers, according to a survey conducted by PriceWaterhouseCoopers.

Credibility

The PMP certification by PMI lends great credibility to your experience, knowledge-base, skillset, and portrays your overall commitment to your career. It vouches for your expertise in managing projects and leading them to successful completion and efficient management.

A better team builder

Being a project manager gives you a great opportunity to build your own team of professionals. You can build an award-winning team by evaluating your employees on the basis of their strengths and weaknesses, and then achieve the right mix of professionals. When you prepare for the PMP certification exam, you get ample insights on employee evaluation to make an effective and efficient team that will perform best under pressure.
Add value to your career today!


 Invest your time and money to become a PMP certified professional. And to make your investment a profitable proposition, PMP certified training and education can be a bet worth making! Cognixia, the world's leading digital workforce solutions company strives to offer valuable guidance to professionals who seek to take the PMP certification exam. With our state-of-the-art infrastructure and industry experienced trainers, our endeavors are directed towards taking the best out of you to triumph over the PMP certification exam successfully.