In the world of ever-changing cyber risks, a powerful coalition is developing, one that combines the intricate complexity of Artificial Intelligence (AI) with the malicious goals of hackers. This combination has given birth to a fresh wave of cyberattacks, complete with AI-driven complexity. From subtle password invasions to oddly convincing phishing attempts, the intriguing combination of AI and cybercrime has changed the dynamics of digital security.
In February 2023, T-Mobile, one of the largest wireless operators, faced a severe breach that disclosed confidential client information owing to a faulty API. This fits with a trend of rising cybercrime, which is predicted to cost $8 trillion by the end of the year—nearly one-third of the US GDP in 2022, plus double India's March 2023 forecast. As organizations and hackers alike leverage AI's power, vulnerabilities emerge between traditional cybersecurity and AI. Meanwhile, gaps in traditional AI and cybersecurity solutions occur and are exploited by both credible companies and criminals.
This increase in cybercrime takes advantage of the vast number of targets that the digital world is providing as it continues to grow. Cybercriminals cleverly employ artificial intelligence to hack into businesses and networks and drastically reshape modern civilization.
In this blog, we reveal the intricacies of AI-fueled malice while offering practical advice for defending your digital fortress.
The Evolution of Artificial Intelligence (AI)
Before delving into the crux of AI's malevolent exploits, it is imperative to grasp the essence of this technological marvel. Artificial Intelligence, or AI, represents a groundbreaking paradigm shift that empowers computing systems to emulate human-like intelligence. This emulation fuels a range of functions, from discerning intricate patterns to making complex decisions autonomously. Amidst this landscape, it is worth noting that pioneering AI entities like ChatGPT epitomize the culmination of human ingenuity and machine prowess.
The Nexus of AI and Cybercrime
In the contemporary narrative of cybersecurity, malevolent actors have adeptly harnessed AI as a potent tool to orchestrate an array of sophisticated cyberattacks. This unholy union has given rise to multifaceted threats that demand meticulous understanding and strategic countermeasures.
AI-Infused Password Cracking: The Art of Digital Intrusion

The age-old endeavor of password cracking has undergone a tectonic shift with the advent of AI. The ominous revelation by Home Security Heroes underscores AI's unsettling prowess in dismantling seemingly secure passwords. Enter PassGAN – an AI-driven force capable of deciphering common passwords with disconcerting ease. Shockingly, this digital marauder managed to breach 51% of such passwords in under a minute, underscoring the fragility of conventional safeguards.

AI-Enhanced Phishing: The Artful Deception

The quintessential phishing landscape has undergone a dramatic facelift, courtesy of AI's linguistic finesse. Cybercriminals now employ AI to craft meticulously nuanced phishing emails that mirror authentic communications in both tone and content. This departure from blatant errors challenges even the savviest of recipients, ultimately luring them into the deceptive embrace of cybercrime.

AI-Powered Impersonation: Vishing Unveiled

AI's encroachment into the domain of voice synthesis has paved the way for vishing scams of unparalleled sophistication. By creating lifelike imitations of familiar voices, cybercriminals perpetrate elaborate impersonation schemes, rendering even the discerning victim vulnerable to manipulation. This eerie manifestation of AI-driven deception continues to escalate, necessitating heightened vigilance.

The Enigma of Deepfakes: Distorting Reality

The AI-infused theater extends beyond voices to visual realms with the advent of deepfakes. These synthetic fabrications blur the lines between reality and deception, perpetuating falsehoods with unparalleled verisimilitude. As technology refines, even the keenest eye struggles to discern between authenticity and artifice, amplifying the risk of misinformation dissemination.
Guarding Your Digital Stronghold Against AI-Centric Onslaughts
To fortify your digital bastion in the face of AI-orchestrated threats, adopt a proactive stance and embrace the following prescient strategies:
Fortification Through Robust Authentication

Elevate your security posture by fortifying your digital assets with robust authentication mechanisms. Employ intricate, unique passwords while embracing Multi-Factor Authentication (MFA) to erect an impregnable bulwark against unauthorized access.

Eternal Vigilance Against Phishing Ploys

Navigate the treacherous waters of digital communication with unwavering vigilance. Verify sources meticulously, eschewing the divulgence of sensitive information to unauthenticated entities. In the event of suspicion, initiate direct contact through official channels to verify authenticity.

Resisting the Temptation of Suspicious Links

Fend off the siren call of unsolicited links and attachments, for they often conceal the seeds of malevolent intent. By exercising restraint, you thwart potential malware infiltration, safeguarding your digital domain from compromise.

Data Sentinels: The Power of Backups

Safeguard your invaluable digital assets through regular data backups. Leverage encrypted solutions such as Keeper Password Manager's Secure File Storage to preserve your data's integrity and privacy, curtailing the threat of cyber intrusions.

Software Vigilance: The Essence of Updates

Uphold a rigorous regimen of software and device updates, fortifying your digital apparatus against exploitable vulnerabilities. By remaining current, you neutralize cybercriminals' avenues of intrusion.

Codifying Trust: The Family's Defining Verbal Cipher

In the age of AI-driven vishing schemes, devise a familial codeword – an impregnable passphrase that sets apart genuine communication from nefarious manipulation. This veritable 'litmus test' empowers you to discern the authentic from the deceptive.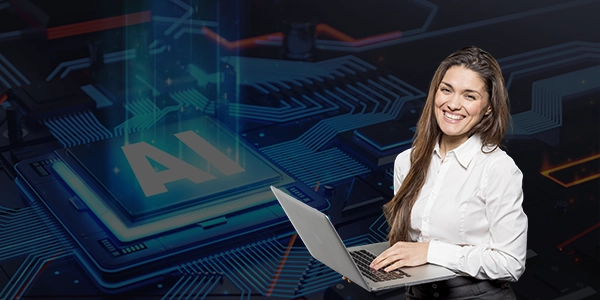 Explore an Article: How to use CISSP to give back to the cybersecurity community
Conclusion
As AI continues its inexorable advance into the realm of cybersecurity, a new paradigm unfolds. In this dynamic landscape, awareness, vigilance, and strategic adaptation emerge as the cornerstone of defense. By embracing the convergence of human acumen and AI-powered ingenuity, you insulate yourself against the rising tide of AI-enabled cyber threats, securing your digital legacy from compromise and ensnarement.
The CISSP (Certified Information Systems Security Professional) certification is an impressive testament to your knowledge of cybersecurity. CISSP prepares you to handle the ever-changing cyber threat landscape by providing thorough knowledge of important security topics.
This globally recognized certificate not only boosts your professional credibility but also enables you to orchestrate solid security measures, protect sensitive information, and reinforce digital infrastructures against a slew of cyber threats. As a CISSP-certified expert, you have a powerful toolkit at your disposal to lead the charge in safeguarding valuable digital assets and guaranteeing the resilience of modern digital ecosystems.
You can use your knowledge and skills to help the cybersecurity community by sharing them. A way to give back to the community and encourage beginners is to participate in volunteer programs. After all, you will ultimately be contributing towards the common goal of protecting the digital world.
Professionals wanting to further their careers and education can take this course to advance their practical knowledge and managerial skills and concentrate on cutting-edge problems and opportunities in the field of management information systems.
Eliminate the chances of system failures and reduce the chances of losing important data with official CISSP training.
Get (ISC)2 CISSP Training & Certification and increase your business visibility as well as credibility in the cybersecurity market. Cognixia is the world's leading digital talent transformation company that offers a wide range of courses, including CISSP training online with a comprehensive CISSP study guide.