The Information Technology Infrastructure Library (ITIL) is a bastion of professional excellence, imparting refined methodologies for delivering impeccable IT services. Its systematic approach to IT service management (ITSM) has garnered global acclaim, solidifying its position as an indispensable certification in the realm of technology professionals.
In the dynamic world of ITIL, where evolution is the norm, an essential shift has emerged in the paradigm of certification renewal. The prevailing concept of a lifetime ITIL certification has transitioned into an era marked by periodic renewal.
PeopleCert's latest update
PeopleCert has announced the launch of a new CPD, i.e., Continuing Professional Development program that would allow "all candidates with a PeopleCert Global Best Practise certification to choose to renew within three years of their original certification dates." Since ITIL certifications were previously indefinite, this drastically alters the status of trained professionals.
PeopleCert's website states that "candidates who choose not to renew their certification within three years of the award date will still be included on the Successful Candidates Register (SCR), but a note will be added to their record to indicate that their certification is not aligned with current certification requirements."
According to the Institute, the new program is created to help professionals stay on top in the busy labor market by supporting their ongoing professional development. The institute says that continuous learning and certification are necessary to stay competitive, show commitment to upskilling future and present employees, as well as boost the personal brand.
Understanding the ITIL 4 Certification Renewal Process
For those seeking clarity amidst this transition, a concise overview of the renewal process is paramount:
Pre-June 30, 2020 Certification: Irrespective of the original certification acquisition date, renewal must be accomplished before July 1, 2023.
Post-June 2020 Certification: Individuals falling within this category are mandated to renew within three years from the date of their certification award.
To facilitate ITIL 4 certification renewal, consider the following pathways:
Knowledge Reinvention – Retake the exam

This pathway is more than simply a rerun or repetition. It is more of an invitation to delve again into the complexities of IT service management, enabling you to strengthen your knowledge of ITIL's fundamental principles. When you retake the exam, you renew your certification and your dedication to excellence, signaling your willingness to meet the growing demands of the digital landscape.

Expertise Expansion – Take more courses

These courses are more than just certifications; they are intensive adventures into the domains of IT service management. Every course serves as a stepping stone, preparing you to face complicated issues with confidence. You're not just renewing a certification when you enroll in these advanced courses; you're reinforcing your skills, allowing you to emerge as a leader in the ever-changing IT industry.

The CPD Trajectory

Another alternative is becoming accessible for individuals who support continuing progress (after March 2023.) This path allows you to renew your certification by actively acquiring and documenting CPD points. Each point is an indicator of your passion and contributes to the renewal. By earning these points along your path, you redefine certification renewal, converting it into a dynamic presentation of your continuous professional progress.
Understanding CPD points
CDP, i.e., Continuing Professional Development (CPD) toolset, is your guide for professional advancement. They are a quantitative indicator of your dedication to lifelong learning, progress, and flexibility. Each CPD point reflects an investment in your knowledge, a concerted attempt to keep current in a rapidly changing field.
Acquiring CPD points means participating in several approved professional development tasks. These tasks could include anything from attending conferences, seminars, and webinars to contributing to strategic leadership in the IT service management sector.
Use a basic three-step cycle:
Assess & plan: Determine your requirements and goals.
Acquire Skills: Select tasks that relate to your goals.
Apply and assess: Keep track of your efforts and results.
Breakdown of CPD Requirements:
Completing 20 points in a year, 5 through Professional Experience, 15 through Professional Education, and 15 from Community Service. Each point is equal to an hour, ranging from 30 minutes to 15 hours.
Professional Experience (5 points):
This dimension recognizes the value of practical application. Engaging in tasks, projects, and activities that directly relate to IT service management grants you 5 points. It's a reflection of how real-world experience fortifies theoretical knowledge.
Professional Education (15 points):
The thirst for knowledge finds its home here. By enrolling in courses, workshops, and training sessions, you accumulate 15 points. This segment champions the pursuit of academic enrichment, fostering a deep understanding of ITIL principles.
Community Service (15 points):
True growth extends beyond oneself. Active involvement in the IT service management community, be it through forums, discussions, or thought leadership, contributes 15 points. This underscores the significance of knowledge-sharing and collaboration.
The Time Factor of CPD Points
In the realm of CPD, time is a currency that measures your dedication to growth. Each CPD point signifies an investment of time, ranging from as little as 30 minutes to a substantial 15 hours. This flexible time spectrum accommodates the demands of diverse professionals, ensuring that CPD requirements remain achievable yet meaningful.
Here's a breakdown of how you can accumulate CPD points:


CPD Points Tracker
To provide a visual overview, here's a sample table illustrating how CPD points can be earned: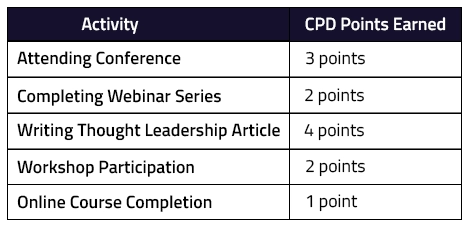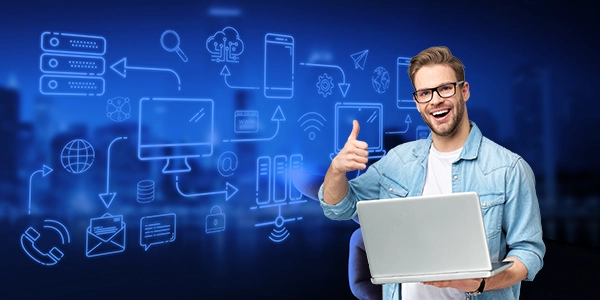 Explore an Article: How important & relevant is the ITIL certification for the future?
Implications of Lapsed ITIL Certification
Even in instances where certification renewal proves elusive, your legacy remains intact within the annals of the Successful Candidates Register (SCR) and the Candidate Verification Service. However, an annotation will accompany your record, signaling the requirement for renewal.
Exploring the Fundamentals of ITIL
The ITIL 4 framework constitutes a profound engagement with contemporary digital technologies, masterfully harnessed to optimize IT service management and drive business strategy. Anchored by the latest incarnation, ITIL version 4, this framework builds upon prior iterations, rendering comprehensive, practical, and proven guidance.
The versatility of ITIL 4 is discernible in its compatibility with traditional service management functions, such as incident management and continuous improvement. Furthermore, it harmonizes seamlessly with transformative technologies like Cloud, Automation, and AI. The framework's adaptive nature extends to DevOps, Lean, and Agile integration. It serves as the bedrock for the international standard ISO20000 and finds application within numerous service management software platforms.
Each module of ITIL 4 is accompanied by an expansive core guidance publication and a universally recognized professional certification, a testament to its pervasive impact on professionals worldwide. Esteemed organizations, including industry giants like Spotify and Vodafone, have harnessed ITIL 4 to elevate operational efficiency and customer satisfaction.
Conclusion
This guide serves as an illuminating voyage through the intricate realm of ITIL and its pivotal role in catalyzing your professional growth. As the ITIL 4 certification renewal landscape undergoes transformation, armed with insights from this discourse, you stand poised to embrace the future with confidence. By navigating the evolving terrain of ITIL, you not only stay ahead of the curve but actively shape it to realize your full potential.
Embrace the power of ITIL 4, where knowledge bridges evolution and success is the ultimate destination.
ITIL 4 Foundation Certification
An immersive experience that introduces a comprehensive operational framework, facilitating seamless product and service creation, delivery, and continuous improvement, fueled by cutting-edge technology.
Get ITIL Certification from Cognixia
Improve your skills and future career prospects with ITIL 4 certification at Cognixia!
Cognixia is the world's leading digital talent transformation company, committed to helping you shape your future & career by providing insightful digital technology training and certifications. We are here to give you the best online learning experience possible by expanding your knowledge through immersive training sessions and increasing your skill set.
We are an AXELOS Authorized Training Organization (ATO) that offers learners a complete portfolio of ITIL online training & certification programs. Our ITIL 4 Foundation certification course is considered one of our portfolio's most sought-after online training programs.
With Cognixia's ITIL 4 Foundation certification program, you get the hands-on practice that helps you clear the main ITIL certification exam effortlessly. Not just that, with our ITIL training course, you get the perk of lifetime access to the training's learning material & video lessons via our LMS.