Cloud computing has proved to be quite a disruptor in the world – disrupting industries and enabling innovations that could not be imagined before. Although the technology has been evolving continuously for many years, its interaction with the rapidly growing data and analytics spectrum makes it quite clear that this year would witness many more disruptive opportunities. In this post, we explore some of the latest trends in the industry.
GREATER EMPHASIS ON CLOUD SECURITY AND RESILIENCE
Embracing the cloud has opened up countless new opportunities for enterprises but at the same time it has also opened up multiple vulnerabilities for them, making them susceptible to nasty cyberattacks. Moreover, some compliances and regulations differ from territory to territory that needs to be adhered to & followed. In the coming years, there would be a greater focus on cloud security and building resilience of the systems, as it would be increasingly indispensable to do so.
RACE TO ACQUIRE DATA
The battle for acquiring more and more data is a continuous one. Cloud Service Providing giants like Microsoft Azure and Amazon AWS are always on a run to get the companies to transfer their data load into their ecosystems and not only to increase their internal data assets. These cloud platforms are always actively capturing the humongous amounts of data that keep getting generated and then use it in various ways.
In the world we live in, data often is compared to the natural resources of a country – that is how significant data has become for companies. This makes it easier to understand that if a service provider is striving to become imperative for a company, then it has to have the capacity to offer some valuable data or even more valuable insights derived from it.
People have accepted the need for building an enterprise data lake in the cloud. This option has gained popularity because of its ability to provide cheap storage options. These storage options are extended by the CSPs with no additional capital expense of hosted solutions.
Companies that are already working with the cloud and have transferred their data load to its environment are readily accepting the idea to imbibe non-traditional data sources in scalable platforms. This can encompass things right from IoT assets to social media metrics. The basic idea behind this exercise is to harness a seamless analytics view of a company's resources and clients.
ENTERPRISE CLOUD MOVEMENT
The movement is getting bigger by the day and is not just limited to start-ups anymore. Today, large enterprises have transferred almost their complete infrastructures and data ecosystems into the cloud environment. The basic idea behind this is to offer a better in-store experience for customers, thus helping them in reaping the benefits of the advancements in manufacturing and other industries.
Companies with the most traditional approaches who are not game for anything new have also opened up to the idea of cloud computing and its ability to minimize costs and risks. It gets quite challenging to fight this thought because the CIOs of companies are constantly thinking of the future and ways to mitigate the huge unsustainable overhead.
Having an understanding of cloud deployment costs and its consistent expansion capacity would enable IT, leaders, to depend on powerful analytics solutions which are on hand always. If the primary motive for adopting this technology is to reduce costs and utilize the resources efficiently then it becomes important for the CIOs to be able to verify that they are getting those benefits.
Cloud analytics services with the ability to identify and supply usage and billing data will enable IT, leaders, to spot the significantly costly services and put a check on budget overruns. All of this could be executed by using a mobile device while doing your work.
SIMPLIFIED CLOUD MIGRATION
Since self-service data integration and data prep solutions have become a reality, the probability of quick and easy transfers of data to a cloud environment by an individual doesn't seem farfetched either.
Simple solutions which would allow reducing the complex nature of data integration, staging, and transformation and focus mainly on enabling businesses to shift their data to preferred cloud databases and warehouses are in the offing.
MOVE BEYOND ONE CLOUD, GO MULTI-CLOUD
Hybrid cloud has already become a popular option for enterprises, the focus is expected to increase on multi-cloud in the future, as one cloud is no longer enough for the diverse enterprise requirements. Multi-cloud offers greater security and flexibility to enterprises, which is the need of the hour. It also lets enterprises be less tied down and highly dependent on just one cloud platform, while also allowing them to reduce the possibility of system errors and reduced downtime. This also fits very well with the widespread trend of building containerized applications.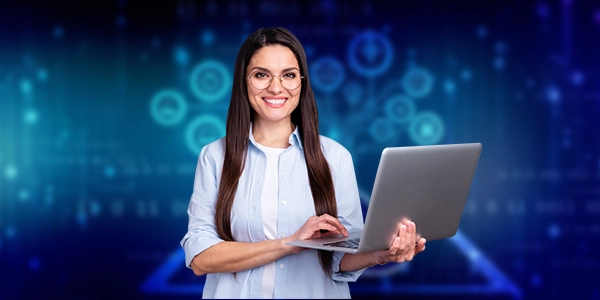 Read a Blog Post:
How to navigate through complex cloud infrastructures under the widening skills gap?
CLOUD POWERED BY AI AND ML
Artificial intelligence and machine learning are everywhere. Cloud platforms routinely deploy artificial intelligence to perform loads of tasks, both routine and otherwise. In the future, this is only going to increase. Artificial intelligence and machine learning give cloud service platforms to offer more efficient and more cost-effective solutions for enterprises and users.
It also helps the cloud platforms to capture and analyze the immense amounts of data that get generated on the cloud platforms every minute. Artificial intelligence and machine learning are here to stay and it is going to be a big trend in the world of cloud computing.
LOW CODE AND NO CODE CLOUDS
With low code and no code solutions, anybody can build and develop on the cloud, anybody can use available data to solve the problems at hand without having to go through the elaborate and complex task of learning how to code and test. People are beginning to use these low-code and no-code development solutions to accomplish a wide range of tasks – from building websites, automating spreadsheets, building web applications, and so much more. Cloud platforms that begin offering these no-code and low-code solutions in as-a-service mode are definitely set to gain a valuable edge in the market as there is a huge demand for these solutions. This demand is going to continue to soar in the future too.
Cloud computing is being widely adopted by the industry now and these trends are giving rise to the need for skilled professionals. These professionals who know their way around the cloud ecosystem are one of the most sought-after professionals in the IT spectrum.
Cognixia offers great training programs on Cloud Computing and AWS which educate the participants on the nuances of the cloud environment. The training prepares you to take up real-time cloud-based projects and steer your career in a successful direction. For further information, you can write to us.
Amazon Web Services (AWS) is dominating the cloud computing market. As more businesses migrate to the cloud, the demand for AWS solution architects grows. Architecting on AWS is a hugely profitable way to capitalize on market demand and implement your IT skills to high-paying roles. If you are an IT professional looking to advance your career, now is your chance to change gears and take it to the next level.
AWS provides all of the cloud's benefits, including flexibility, reduced time-to-market, and elasticity, among others. AWS outperforms other cloud service providers on the market in terms of both data availability and high transfer stability.
GET CERTIFIED IN AWS & UPGRADE YOUR SKILLS
Enroll in Cognixia's cloud computing with AWS training course and upgrade your skillset. You can influence your career and future with our hands-on, live, highly interactive, and instructor-led online course. You may get an advantage in this competitive market by providing an extremely user-friendly online learning experience. We will assist you in improving your knowledge and adding value to your talents by offering engaging training sessions.
Cognixia's AWS cloud computing certification course discusses the basics of AWS & cloud computing, then moves on to more advanced concepts, like service models (IaaS, PaaS, SaaS), Amazon Private Virtual Cloud (AWS VPC), and more.
This online AWS cloud computing course will cover the following concepts:
Introduction to AWS & Cloud Computing
EC2 Compute Service
AWS Cost Controlling Strategies
Amazon Virtual Private Cloud, i.e., VPC
S3 – Simple Storage Service
Glacier
Elastic File System
Identity Access Management (IAM)
ELB (Elastic Load Balancer)
Auto Scaling
Route53
Cloud Formation & Cloud Former
Simple Notification Service (SNS)
CloudWatch
Relational Database Service (RDS)
CloudFront
Elastic Beanstalk
CloudTrail
AWS Application Services for Certifications
PREREQUISITES
All you need to know to enroll in this course is basic computer skills. Some experience of Linux would be advantageous, but it is not required.
The course is perfect for network engineers, system administrators, and aspirants who have a solid understanding of coding principles or procedures and wish to further their expertise.
Fresh graduates with a rudimentary understanding of coding can also enroll in this course and advance their careers.
Reference blog: Check Out The Cloud!!