As IT & cybersecurity are becoming more engaged in contracts, project managers who want to enhance project performance should consider using ITIL®. In today's era of budgetary constraints, delayed projects, & continual employee cutbacks, project managers are looking for new ways to run their projects. Working on a project with IT departments requires more than just fundamental technical knowledge. Project managers must concentrate not only on technology but also on people and processes.
ITIL has become the most extensively accepted approach to IT service management and applies to any Project Manager operating with IT services on a project.
Here's an overview of ITIL and its significance in improving project performance.
What is ITIL?
ITIL, i.e., Information Technology Infrastructure Library, is a framework or set of approaches for managing IT services. The cohesive set defines a variety of processes, duties, checklists, and operations that are not industry specific and can be utilized to create a seamless integration with a company's strategy while remaining consistent and delivering value. Implementing ITIL has numerous advantages because it can significantly enhance service levels in the IT industry.
ITIL terms:
Due to the various terms involved, ITIL may be difficult to grasp for some. Some acronyms & abbreviations may confuse even the most senior and well-trained employees. Below are the top five ITIL terms:
Service Management – A set of specialized organizational capabilities for providing customers with value in the form of services.
Change Management – The process of controlling the lifecycle of all changes to make beneficial changes with minimal disruption to IT services.
Asset management – It's a broad activity or process that tracks and reports on the value and asset ownership all through their lifecycle. Service asset & configuration management, software asset management, and fixed asset management are other terms for the same thing.
Configuration Management – The practice of ensuring that the assets necessary to provide services are correctly controlled and that reliable and accurate information about those assets is accessible when and where it is needed. This information provides data about how the assets were set up as well as asset relationships.
Incident Management – The procedure in charge of overseeing the lifetime of all events. Incident management guarantees regular service functioning is resumed as soon as feasible while minimizing the business effect.
ITIL Certification for Project Managers
A project manager is in charge of efficiently managing the project and the team working on it and successfully directing it and delivering the intended outcomes. A leader is supposed to lead from many angles, not just one. If the manager can only easily oversee the commercial part of the project but lacks technical competence, cracks will appear sooner than intended. Before reaching a resolution or making any project-related decisions, they should be able to integrate project management and technical expertise.
In recent years, various approaches have offered customers the ability to make modifications to the project or make some type of adjustment at any stage of the project. In reality, some of the terminologies have been changed throughout time. 'Project' typically meant developing a new service or product from the ground up. However, in today's world, a project may refer to any alteration or modification necessary for a product. The modification is handled as an independent entity and is worked on until it is completed. A project manager would be able to adapt to the abrupt shift with confidence and without worry with the aid of an ITIL certification. ITIL can assist the management in developing strategies, developing plans to include the change, working on the design, and overlooking technical aspects without depending on someone else. It can save the firm both time and money.
ITIL enhances vendor communication
Every project has hardware and software needs for which there are internal and/or external vendors. While a competent team member can deal with or interact with the vendors, the project manager is not recommended to be oblivious to the contact between the vendor and the relevant team member. The vendor is only responsible for deliveries; the organization's official can ensure that the needs specified by the project & its team are met on time; nonetheless, the project manager is the only one who understands the actual criteria for the project at each stage.
If the design changes or a new technological development necessitates a different demand, the project manager must communicate effectively with the suppliers. Suppose a project manager holds an ITIL certification in several domains, such as Service Transition, Continual Service Improvement, Service Strategy, Service Design, and Service Operation. In that case, they can take the lead, take necessary measures, and produce a better conclusion when difficulty arises.
Service management for projects
Whether you're an IT Project Manager or not, you may frequently find yourself executing IT-related initiatives. These may take the shape of hardware, software, infrastructure, or service procedures as part of your initiatives. That implies you'll need to have a basic understanding of ITSM.
What is IT service management?
IT Service Management (ITSM) refers to an organization's activities, rules, and procedures for designing, planning, delivering, operating, and controlling information technology. ITSM focuses on internal and external customer demands while implementing change management & continuous process enhancement.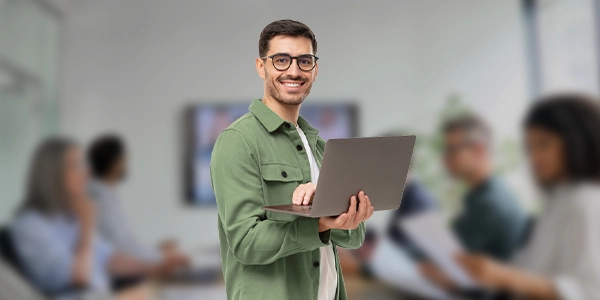 Importance of ITSM for project managers
ITSM implementation may assist any project in establishing procedures through organized delivery & documentation. IT teams may streamline operations and support with a process in place, resulting in lower costs and greater continuity. Most significantly, deploying ITSM enables IT insights to assist project stakeholders in taking action and making decisions. The advantages include the following:
Best practices-based process implementation
Greater awareness and comprehension of IT support & services
Helps IT to better understand and serve the requirements of the enterprise
Enhances assistance with regulatory and compliance issues
Minimizes the effect of events and downtime
Get ITIL Certification for better project management
If you want to improve your skills and future career prospects with ITIL 4 certification, Cognixia is here to help!
Cognixia is the world's leading digital talent transformation company, committed to helping you shape your future & career by providing insightful digital technology training and certifications. We are here to give you the best online learning experience possible by expanding your knowledge through immersive training sessions and increasing your skill set. Individuals and organizations can both benefit from Cognixia's highly engaging instructor-led courses.
We are an AXELOS Authorized Training Organization (ATO) that offers the learner a complete portfolio of ITIL online training & certification programs. Our ITIL 4 Foundation certification course is considered one of our portfolio's most sought-after online training programs.
The ITIL training via Cognixia is provided by the industry's most experienced, expert ITIL trainers and is delivered in line with the official AXELOS guidelines & curriculum.
With Cognixia's ITIL 4 Foundation certification program, you get the hands-on practice that helps you clear the main ITIL certification exam effortlessly. Not just that, with our ITIL training course, you get to have the perk of lifetime access to the training's learning material & video lessons via our LMS.
Learn and improve from the comfort of your home with our intuitive & comprehensive ITIL 4 Online Training.
This ITIL training course will cover the following concepts:
The concept of a service
Services, costs, risks. and service management
Service relationship management
The 4 dimensions of service management
Guiding principles of service management
Service value system
Service value chain
General management practices
Service management practices
Technical management practices