Individually, CPD will help you to stay current with best practices in your specific subject, assist your daily job, optimize efficiency, introduce new methods of working with your team, and advance your career. Investing in professional development as an employer helps you maintain engaged, ambitious teams while also improving internal procedures and outputs.
Why Continuing Professional Development (CPD) is important for professionals?
Continuing Professional Development (CDP) not only helps professionals to be more proactive and purposeful in their training but also enables them to show prospective employers their dedication to bettering themselves. In reality, employers value CPD just as much.
Indeed, organizations should provide opportunities for their employees to take advantage of CPD and the benefits it implies. Continual Professional Development may assist in enhancing an organization's productivity and efficiency, which can contribute to its continued growth and success by allowing people to learn and accept new skills and ways of thinking.
Furthermore, a learning culture inside an organization may go a long way toward engendering stronger loyalty from its employees, leading to higher retention.
CPD is fundamentally focused on improvement. It goes to reason that as a professional's abilities and knowledge grow, so will their worth to their company. As a result, CPD is as important to companies as it is to their employees.
Different types of CPD requirements
CPD requirements vary depending on the profession, industry, and the governing authorities in charge of defining professional standards. Let's look at some of the most common types of CPD requirements:
Mandatory CPD:

Some professions or organizations need you to meet CPD requirements. They require you to complete a set number of CPD hours or credits within a certain time. These restrictions are often proposed by regulatory bodies or professional groups to assure the continued progress of professionals in their particular fields.

Voluntary CPD:

CPD is not required here. However, many industries or organizations highly recommend it. Professionals still have the freedom to choose CPD activities that suit their professional goals as well as personal interests. Voluntary CPD allows you to take control of your career growth and adjust it to your own needs.

Specialized CPD:

Certain occupations require specialized skills or competencies in certain disciplines. Core CPD standards ensure that staff have the knowledge and skills needed to carry out key tasks effectively.

Continuous Learning:

Certain professions require specialized skills or competencies in certain disciplines. The core CPD standards ensure that employees have the knowledge and skills required to carry out core tasks effectively.
CDP requirements in ITIL
You must complete 20 points of activities related to your qualifications within twelve months. The Professional Experience category must earn five points, and the remaining 15 points can be earned by actions in the Professional Education, Professional Experience, and Community categories.
One point = one hour of effort/work.
You can log as few as 30 minutes, or 0.5 points, or as much as 15 hours, or 15 points.
To get 5 points for Professional Experience, you must describe 5 tasks you take on the job that are connected to the abilities and attitudes expected of your profession.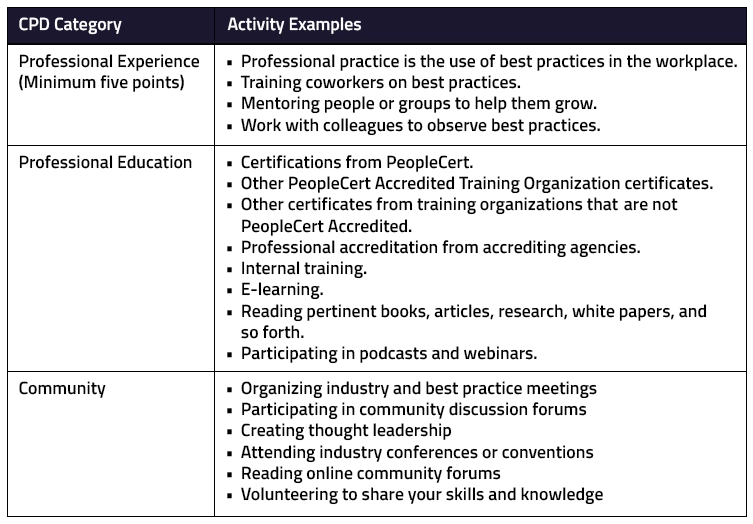 How many CPD hours should you submit?
You must submit at least 20 CPD points annually for each Product Suite over three consecutive years in a variety of CPD areas. By the date you initially passed your most current exam in the Product Suite, these points need to be turned in. For instance, if you took the exam on April 1st of the previous year, the 20 CPD points must be accumulated by April 1st of the following year.
These points must include at least five from the Professional Experience category. The final fifteen may come from any category.
How is CPD audited?
For its audit, Axelos selects a randomized sample of CPD submissions. If one of your CPD submissions is chosen for audit, a team member will get in touch with you to ask for proof to back up your CPD submission.
If the proof you offer is accepted, the audit will be successful. The points you claimed for your CPD submission will be canceled if the proof is regarded as unsuitable, and you may not be able to expand the renewal by the date of the certification by CPD submission if you are asked to provide more evidence or if you are unable to do so.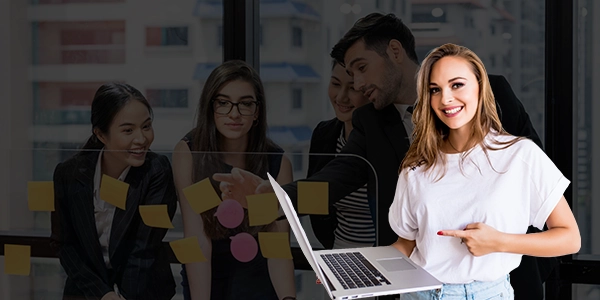 Explore an Article: How can you renew your ITIL 4 certification?
Benefits of meeting CPD requirements
Meeting CPD requirements offers numerous benefits to professionals. Let's explore some of the key advantages:
Up-to-date, applicable market knowledge, skills, topics, and learning can help you keep your edge in the marketplace.
Boost your chances for career advancement and keep a competitive edge in a tough job market.
Evidence of your commitment to upskilling should be visible to both current and potential employers.
Increasing effectiveness and output.
Boost your professional profile and personal brand.
Conclusion
CPD (Continual Professional Development) is an important element of your professional development, skills, and career development. Employees can keep up to speed with the latest trends, improve their skills and abilities, deliver high-quality services, and open new career prospects by attending CPD sessions. To make your CPD journey useful well, Understand the unique Continual Professional Development standards in your work and track and document your CPD activities good practice is important.
Remember that CPD is not just a checkbox exercise; There is a lifelong commitment to lifelong learning and professional development. Treat Continual Professional Development as an opportunity to broaden your horizons, challenge yourself, and grow professionally.
For professionals looking to enhance their IT service management skills, Cognixia provides the ITIL 4 Foundation certification course. This ITIL online training offers a comprehensive understanding of ITIL concepts, practices, and principles, enabling professionals to improve service quality, customer satisfaction, and organizational efficiency. Invest in your professional growth today with Cognixia's ITIL 4 foundation course and embark on a rewarding CPD journey.
We are an AXELOS Authorized Training Organization (ATO) that offers learners a complete portfolio of ITIL online training and certification programs. Our ITIL 4 Foundation certification course is considered one of our portfolio's most sought-after online training programs.
The ITIL training via Cognixia is provided by the industry's most experienced, expert ITIL trainers and is delivered in line with the official AXELOS guidelines and curriculum.
With Cognixia's ITIL 4 Foundation certification program, you get hands-on practice that helps you clear the main ITIL certification exam effortlessly. Not just that, with our ITIL training course, you get the perk of lifetime access to the training's learning material and video lessons via our LMS