ITIL 4, the most recent version of the IT Infrastructure Library, has transformed the way businesses manage their IT services and procedures. It offers organizations a set of best practices and recommendations for aligning their IT services with business objectives by providing a complete framework for IT service management. Organizations across numerous industries have widely implemented ITIL 4 since its launch, and its influence has been tremendous.
What ITIL 4 has done so far for organizations, highlighting the important advantages and outcomes.
Enhanced Service Delivery and Customer Satisfaction

One of ITIL 4's key aims is to increase service delivery and customer satisfaction. Organizations have been able to optimize their service management operations by implementing ITIL 4 practices, resulting in faster response times, less downtime, and increased service quality. Organizations may ensure quick resolution of issues and minimize disruptions to business operations by implementing efficient problem management, incident management, and service desk operations. As a result, customer satisfaction has grown dramatically, leading to better connections with clients and stakeholders.

Improved IT Operations and Efficiency

The need for effective and optimized IT operations is emphasized in ITIL 4. Organizations have simplified their IT operations, reduced unnecessary tasks, and improved operational efficiency by applying ITIL 4 practices. Implementing standardized procedures and workflows has resulted in better resource utilization, lower costs, and more production. ITIL IV also encourages the use of automation and self-service capabilities, allowing organizations to offer services more effectively and with less human error. As a result, the IT infrastructure is more agile and responsive, facilitating corporate development and innovation.

Agile and Resilient Service Management

In today's fast-paced business environment, organizations must be agile and resilient to handle frequent changes and difficulties. ITIL 4 provides a framework for organizations to adopt an agile mentality and incorporate agile practices into their service management strategy. Organizations may speed service delivery, reduce time-to-market, and enhance responsiveness to changing business demands by implementing agile approaches such as DevOps and continuous delivery. ITIL IV also emphasizes the need for resilience, assisting organizations in developing resilient systems and processes to tolerate interruptions and recover rapidly from incidents.


Better Decision Making through Data-Driven Insights

Data is essential for good decision-making, and ITIL 4 recognizes this. Organizations have access to important data and indicators linked to service performance, customer happiness, and operational efficiency by using ITIL 4 practices. Organizations may obtain insights into their IT operations, find areas for improvement, and make data-driven choices to optimize their service management processes by utilizing this data. ITIL 4 also encourages organizations to utilize key performance indicators (KPIs) and service level agreements (SLAs) to monitor and assess service performance, allowing them to track their progress and constantly improve their IT services.

Increased Collaboration and Communication

Successful service management requires good cooperation and communication among stakeholders, particularly IT teams, business divisions, and customers. ITIL 4 supports a collaborative culture and encourages organizations to build strong communication links across departments. Organizations that have implemented ITIL 4 practices have been able to break down silos, promote cross-functional cooperation, and develop a shared understanding of goals and objectives. This greater collaboration results in better coordination, faster issue resolution, as well as better overall service delivery.
How ITIL influences businesses
ITIL 4 has had a tremendous influence on organizations, assisting them in achieving a variety of advantages and outputs. ITIL 4 has altered the way organizations manage their IT services, from improved service delivery and customer happiness to higher operational efficiency and cooperation. Organizations that have implemented ITIL IV practices have seen faster service delivery procedures, decreased downtime, and increased service quality, resulting in greater levels of customer satisfaction.
Furthermore, ITIL IV has aided organizations in improving their IT operations and overall efficiency. Organizations have optimized resource utilization, decreased costs, and enhanced productivity by standardizing procedures, reducing redundancies, and using automation and self-service capabilities. This efficiency enables organizations to properly utilize their resources, promoting corporate development and innovation.
Another key benefit achieved by organizations from ITIL 4 is data-driven decision-making. Organizations may make educated decisions, discover areas for development, and constantly improve their IT services by utilizing these insights. KPIs and service level agreements (SLAs) are critical tools for monitoring and assessing service performance, allowing organizations to track progress and take proactive measures.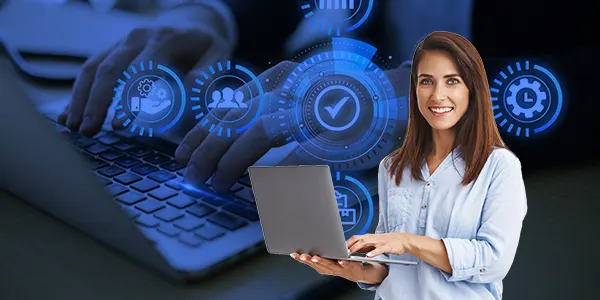 Read a Blog Post: What is Value Stream Mapping?
Conclusion
Finally, ITIL 4 has developed a robust framework that has helped organizations optimize their IT service management practices and reap major benefits. ITIL 4 has given organizations with the tools and direction they need to connect their IT services with business objectives, from improved service delivery and customer happiness to increased operational efficiency and agility. Organizations can negotiate the intricacies of the current digital ecosystem and generate success in a quickly developing business environment by harnessing data-driven insights, promoting collaboration, and embracing resilience. ITIL 4 is a useful tool for organizations wanting to optimize their IT operations, offer high-quality services, and maintain a competitive advantage in today's technology-driven world, thanks to its comprehensive approach and emphasis on continuous development.
Get ITIL Certification for Better Business-IT Management
Improve your skills and future career prospects with ITIL 4 certification @ Cognixia!
Cognixia is the world's leading digital talent transformation company, committed to helping you shape your future & career by providing insightful digital technology training and certifications. We are here to give you the best online learning experience possible by expanding your knowledge through immersive training sessions and increasing your skill set. Individuals and organizations can both benefit from Cognixia's highly engaging instructor-led courses.
We are an AXELOS Authorized Training Organization (ATO) that offers learners a complete portfolio of ITIL online training & certification programs. Our ITIL 4 Foundation certification course is considered one of our portfolio's most sought-after online training programs.
The ITIL training via Cognixia is provided by the industry's most experienced, expert ITIL trainers and is delivered in line with the official AXELOS guidelines & curriculum.
With Cognixia's ITIL 4 Foundation certification program, you get the hands-on practice that helps you clear the main ITIL certification exam effortlessly. Not just that, with our ITIL training course, you get the perk of lifetime access to the training's learning material & video lessons via our LMS.
Learn and improve from the comfort of your home with our intuitive & comprehensive ITIL 4 Online Training.
This ITIL training course will cover the following concepts:
The concept of a service
Services, costs, risks. and service management
Service relationship management
The 4 dimensions of service management
Guiding principles of service management
Service value system
Service value chain
General management practices
Service management practices
Technical management practices