Businesses must constantly upgrade their procedures and systems to remain competitive in today's fast-paced business world. The practice of continually assessing and improving an organization's goods, services, and operations to maximize efficiency, productivity, and quality is known as continuous improvement. Change may be difficult to accomplish in a business, especially when it includes people, procedures, or technology. This is where organizational change management (OCM) comes into play in efficiently managing changes.
Organizational change management (OCM) is a systematic strategy for managing and executing organizational changes. It is concerned with preparing and assisting employees in adopting new procedures, systems, or technology while reducing resistance to change. OCM is a methodical approach to change management that includes analyzing the effect of the change, designing resistance-management measures, communicating the change, and educating personnel. Organizations may guarantee that changes execute efficiently and effectively, resulting in long-term gains using a systematic change management approach. In the following sections, we will go through the function of OCM in continuous improvement in greater depth.
Understanding Continual Improvement
Continual improvement is a process that aims to enhance the efficacy and efficiency of an organization's operations, products, and services continuously. The idea is to create little changes that lead to greater success over time. Continuous improvement is not a one-time event but rather a method of thinking that gets established in the culture of a business.
Dr. W. Edwards Deming, a statistician and quality specialist, pioneered the notion of continuous improvement. He believed organizations should focus on improving quality, lowering costs, and increasing productivity to remain competitive. Continual improvement is a cornerstone of many quality management standards, including ISO 9001, which mandates enterprises to design and sustain a continuous improvement program.
The Role of OCM in Continual Improvement
OCM is critical to continuous improvement because it ensures companies manage the changes properly and efficiently. OCM assists companies in embracing change and incorporating it into their culture. When a company implements a new process, system, or technology, OCM ensures that employees are properly trained, informed, and supported during the transition.
OCM also aids in the identification and management of change resistance. Change resistance is inevitable, but if businesses do not handle it adequately, it can hinder the effectiveness of the change endeavor. OCM aids in the identification of causes of resistance and the development of methods to overcome them.
OCM contributes to the long-term viability of modifications. A transformation that you cannot sustain will eventually fail. OCM assists in ensuring that changes ingrain in the company's culture properly and become a part of how things work.
The Benefits of OCM in Continual Improvement
The benefits of OCM in continual improvement are numerous. Here are a few:
Faster modification implementation

Changes are implemented more quickly with the aid of OCM. When handled successfully, employees are more likely to welcome and swiftly adapt to changes. This results in speedier change implementation, allowing firms to reap the advantages of the change sooner.

Enhanced employee buy-in

OCM aids in increasing staff buy-in. Employees are more likely to support a change if they are involved in the process. This results in a more engaged staff that sees the initiative through to completion.

Low resistance to change

OCM aids in the reduction of resistance to change. When businesses manage resistance to change successfully, they may overcome it. This results in a more seamless transition and a higher possibility of success.

Sustainability

OCM contributes to the long-term viability of modifications. Changes become a part of how things are done when ingrained in the organization's culture. This results in long-term and sustainable transformation.
Implementing OCM in Continual Improvement
Implementing OCM in continual improvement requires a systematic approach. Here are the steps to follow:
Determine the Need for Change

Identifying the need for change is the first step in applying OCM in continuous improvement. This might be the start of a new process, system, or technology that the business wishes to deploy to increase efficiency or quality.

Create a Change Management Strategy

After identifying the need for change, the following stage is to create a change management strategy. This plan should include the breadth of the change, the resources needed, a deadline, and a communication strategy.

Evaluate the Change's Effect

Before implementing the change, examining its influence on the organization is critical. This involves identifying and understanding the stakeholders who will be affected by the change.

Create Change Resistance Management Techniques

Although resistance to change is natural, it might stymie the success of the change endeavor. It is critical to identify possible sources of resistance and devise ways to deal with them.

Convey/Communicate the Change

Communication is essential for effective change management. It is critical to convey the change to all stakeholders and give them the essential information to understand why the change is required and what it implies.

Workers require training

Training is required to ensure that personnel is prepared to embrace the change. Educating them with the information and skills they need to execute their responsibilities in the new environment properly is critical.

Observe and assess the change

It is critical to monitor and assess the success of the modification once you implement it. Evaluation involves determining if the change met its aims, detecting unintended consequences, and making revisions.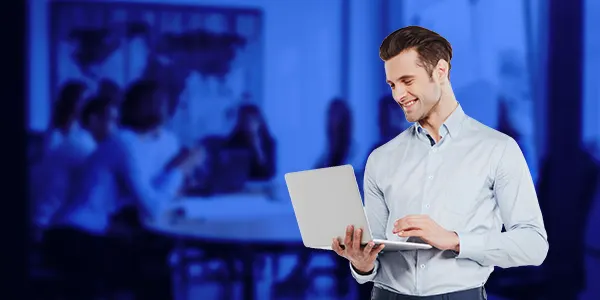 Read a Blog Post: Digital Transformation is more than just an IT decision
Conclusion
Continuous development is crucial to remain competitive in today's fast-paced corporate world. OCM is critical to continuous improvement because it ensures the efficiency of all changes. Organizations that embrace OCM may make changes more quickly, enhance employee buy-in, minimize resistance to change, and guarantee that changes are sustainable. Implementing OCM in continuous improvement necessitates a systematic approach that includes identifying the need for change, developing a change management plan, assessing the impact of the change, developing strategies to manage change resistance, communicating the change, training employees, and monitoring and evaluating the change. By following these procedures, organizations may guarantee that they are well-positioned to prosper in a continuously changing business climate.
Get ITIL Certification for Better Continuous Development
Improve your skills and future career prospects with ITIL 4 certification at Cognixia!
Cognixia is the world's leading digital talent transformation company, committed to helping you shape your future & career by providing insightful digital technology training and certifications. We are here to give you the best online learning experience possible by expanding your knowledge through immersive training sessions and increasing your skill set. Individuals and organizations can both benefit from Cognixia's highly engaging instructor-led courses.
We are an AXELOS Authorized Training Organization (ATO) that offers learners a complete portfolio of ITIL online training & certification programs. Our ITIL 4 Foundation certification course is considered one of our portfolio's most sought-after online training programs.
The ITIL training via Cognixia is provided by the industry's most experienced, expert ITIL trainers and is delivered in line with the official AXELOS guidelines & curriculum.
With Cognixia's ITIL 4 Foundation certification program, you get the hands-on practice that helps you clear the main ITIL certification exam effortlessly. Not just that, with our ITIL training course, you get the perk of lifetime access to the training's learning material & video lessons via our LMS.
Learn and improve from the comfort of your home with our intuitive & comprehensive ITIL 4 Online Training.
This ITIL training course will cover the following concepts:
The concept of a service
Services, costs, risks. and service management
Service relationship management
The 4 dimensions of service management
Guiding principles of service management
Service value system
Service value chain
General management practices
Service management practices
Technical management practices