In a world where long-standing business practices are now being challenged, words like agility & resilience are flung about like wildfire. This dynamic has resulted in the upsurge of companies such as Netflix, Amazon, and Uber, and also the downfall of others such as Kodak, who failed to recognize and adapt to market trends fast enough. If you're reading this and believing that it doesn't apply to you, you're unfortunately incorrect. Even historically stable sectors are now being affected in ways that necessitate adaptability and transformation to succeed.
The premise is that to be able to thrive in the market, businesses must master the power to innovate and push new services or products with the emphasis on agility as an essential success criterion. To compete with their competitors in the long run, these organizations must learn from previous mistakes and evolve according to the changing market conditions.
IT capabilities must evolve in tandem with organizational capabilities, and it is often required to reorganize or replace organizational structures, operations, or systems per changing market realities. However, there is still a demand for control & stability, which explains any remaining reluctance to embrace any changes in IT settings.
We have become increasingly reliant on technology. To do this, higher dependence on development, delivery, as well as quality improvement methodologies such as Agile, DevOps, & Lean has been required.
However, ITIL 4 also has a role to play in this growth.
Organizational agility is defined by the ITIL 4 Foundation as an organization's capacity to move and react rapidly, flexibly, but also decisively to facilitate better changes. This may include:
Strategy, techniques, or technologies necessitating specialized knowledge or organizational structure
Relationship changes between partners & suppliers
IT agility, therefore, is an assessment of how quickly an organization's IT infrastructure can adapt to external stimulation.
And building resilience in a company specifically looks at every aspect of the business & prepares it to succeed in times of challenge. This year has seen a lot of talk about resilience in terms of keeping workers and customers safe, allowing remote work, and preserving income. Let's talk about how ITIL 4 is an important part of every organization when it comes to guaranteeing business agility and maintaining a competitive edge.
How do achieve IT agility and resilience?
Once everyone is on board with the change, an evolving plan should be implemented to outline short- & long-term strategic goals. If you have a clear vision of where you want your systems to go, it becomes much simpler to choose the suitable possibilities that may bring you there when they arise.
To begin developing the plan, the company must first consider some of the major issues that are fueling the use of adaptability in the first place:
Are systems inextricably linked and resistant to change?
Do testing difficulties, and integration dependencies hamper deployment timelines?
Knowing what motivates the changes helps in making goals clearer and more realistic.
Most of the time, re-purposing well-designed elements & systems can be a rapid & consistent solution to cover the many issue sectors. However, if IT infrastructure is inflexible, it is always a stumbling roadblock—the digital era cannot wait for old processes to obtain and provide underlying resources to support software.
Cloud migration, infrastructure automation, SRE techniques, and CI/CD technologies may all help developers achieve the flexibility & self-service capabilities they need to access the infrastructure they need on demand.
With their 'command – and – control,' hierarchical organizations might wind up slowing down decision making & resource allocation. The same may be said about conventional change advisory boards (CABs), which slow down decision-making.
It is preferable to transform to matrix structures capable of fast allocating or reallocating resources to priority demands. Furthermore, permanent, uncomplicated multi-competent teams allocated to work solely on a product can give the autonomy required by both quicker judgments and fast features/solutions.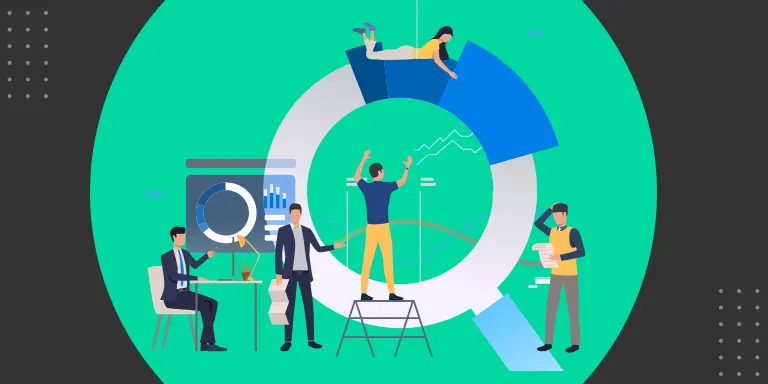 Read a Blog post: Decentralizing IT for a digital-first approach
Dimensions of resilience
Protect and expand the top line:

Better sales choices, targeted marketing, and tailored customer experiences are all driven by integrated data.

Create agile operation:

Dynamic data enables companies to detect and respond to changes in real-time.

People:

Data accessibility enables employees to work intelligently and more freely.

Increase the speed of data & digital platforms:

Continuously accessible and fault-tolerant information based on cloud infrastructure keeps businesses running, whereas fully functional datasets enable quick innovation.

Improve cybersecurity:

Data security is critical for resilience, and data gives actionable insight for better cybersecurity.

Improve your financial situation:

Cash management as well as other financial liquidity strategies, are influenced by data.
Increasing knowledge vs. tribal allegiances
While organizations have adopted several complementary methodologies and frameworks, not everyone thinks that way. Development and operations mindsets might still conflict.
So, how could IT professionals avoid becoming trapped in one technique – or adhering to one best practice "tribe" –to build deeper understanding and skills for the benefit of themselves, their employees, and their organization?
Rather than insisting on a single solution, consider the problem you're attempting to address for your consumers.
When you determine what needs to be done, you may choose from a variety of tools to achieve that; nevertheless, this takes a thorough awareness of all of the tools accessible.
If you set yourself up in one way of thinking, it's a good idea to learn about other teams and how they function, ask questions to acquire various viewpoints, and develop a better understanding of what your consumers want.
Maintaining an inquisitive mentality is critical because, as stated by the ITIL 4 framework, you cannot co-create value until you comprehend more than a single perspective.
Get ITIL Certification from Cognixia
Every year, the ITIL® certification is ranked as one of the highest-paying IT certifications. And this isn't just another number to memorize; it's a reality. ITIL® certified workers are highly sought after in the job market. Obtaining ITIL certification will undoubtedly add substantial value to your business.
If you want to enhance your skills & career prospects with ITIL 4 certification, Cognixia is here to help!
Cognixia is the world's leading digital talent transformation company, dedicated to assisting you in shaping your future and career via intelligent digital technology training and certifications. We are here to provide you with the greatest online learning experience possible by growing your knowledge and abilities through immersive training sessions. Cognixia's highly engaging instructor-led courses may benefit both individuals and corporations.
We are an AXELOS Authorized Training Organization (ATO) that offers the learner a complete portfolio of ITIL online training & certification programs. Our ITIL 4 Foundation certification course is considered one of our portfolio's most sought-after online training programs.
The ITIL training via Cognixia is provided by the industry's most experienced, expert ITIL trainers and is delivered in line with the official AXELOS guidelines & curriculum.
With Cognixia's ITIL 4 Foundation certification program, you get a hands-on practice that helps you clear the main ITIL certification exam effortlessly. Not just that, with our ITIL training course, you get to have the perk of lifetime access to the training's learning material & video lessons via our LMS.
Learn and improve from the comfort of your home with our intuitive & comprehensive ITIL 4 Online Training.
This ITIL training course will cover the following concepts:
The concept of a service
Services, costs, risks. and service management
Service relationship management
The 4 dimensions of service management
Guiding principles of service management
Service value system
Service value chain
General management practices
Service management practices
Technical management practices
The ITIL 4 Foundation course is strongly recommended for IT experts, service desk specialists, corporate executives, executive leaders, service management experts, Incident management staff, problem managers, business relationship executives, change managers, quality improvement specialists, and anyone interested or engaged in the application of ITIL® 4 concepts and practices.