Digital transformation is reshaping the market landscape and transforming business models. Surprisingly, this shift is driven not by corporations but by customers' ever-changing expectations. Customers today want personalized experiences, instant access to information, and effortless interactions across a variety of devices. Businesses must embrace technology and exploit data to provide excellent client experiences to satisfy these demands.
The global growth in digital transformation investment, Global digital transformation investment is expected to reach 3.4 trillion US dollars by 2026, demonstrates the pressure to adapt. The necessity for more rapid time-to-market, as well as the realization that digital transformation improves customer happiness and operational efficiency, are driving this investment. Despite this success, many businesses have yet to transition, prompting fears about slipping behind in a digital-driven world.
This blog will look at the idea of digital transformation and how it affects customer results. We will discuss how digital transformation initiatives can enhance customer outcomes and why companies must embrace this transformational path.
Enhanced Customer Experience
By using modern technology and data-driven insights, digital transformation enables organizations to provide great customer experiences. Companies acquire a better knowledge of their consumers' preferences, behaviors, and demands using tools like customer relationship management (CRM) systems, analytics, or artificial intelligence (AI). This allows for personalized and targeted interactions, proactive assistance, and seamless omnichannel experiences, which leads to increased customer satisfaction and loyalty.
A recent Salesforce research shows that 76% of customers want businesses to understand their requirements and expectations.
Improved Access to Information
Businesses can provide customers with simple access to data as well as self-service choices thanks to digital transformation. Customers can view product information, monitor orders, and resolve issues independently using strong web platforms or mobile applications, minimizing their reliance on traditional customer care methods. This approach to self-service empowers clients, improves convenience, and develops a sense of control and independence over their contacts with organizations.
Furthermore, digital transformation enables real-time data and analytics integration, allowing customers to receive up-to-date information about services, products, and promotions. This level of transparency increases consumer trust and allows for more informed decision-making.
Streamlined Communication
Digital transformation allows for more efficient and real-time communication between organizations and their consumers. Companies may communicate with consumers quickly by integrating chatbots, instant messaging, and social media platforms, addressing their questions, problems, and feedback in a timely way. This degree of response increases client happiness, trust, and brand reputation.
Furthermore, digital platforms allow businesses to efficiently obtain client feedback and insights, allowing them to enhance their products and services constantly. Businesses may establish deeper relationships and a loyal client base by actively listening to and responding to consumer input.
Personalized Product and Service Offerings
Thanks to digital transformation, businesses may use data analytics and AI-driven algorithms to build personalized product and service offerings. Businesses may modify their offers to match individual needs, predict future wants, and give customized suggestions by analyzing client data and preferences. This level of personalization not only improves the customer experience but also raises the possibility of upselling and cross-selling, resulting in increased income.
Statistics: According to an Accenture survey, 91% of consumers are more willing to buy with firms that give relevant offers and suggestions.
Agile and Innovative Solutions
Businesses that embrace digital transformation build an agile and inventive culture, allowing them to adapt quickly to changing consumer requirements and market trends. By embracing digital technology, businesses may swiftly create and deploy new products, services, and features. This adaptability allows businesses to remain ahead of the competition, deliver cutting-edge products, and more effectively satisfy client requests.
Furthermore, digital transformation stimulates experimentation and risk-taking, building an innovative culture. Businesses may develop unique and engaging consumer experiences by leveraging new technologies such as the Internet of Things (IoT), blockchain, and augmented reality.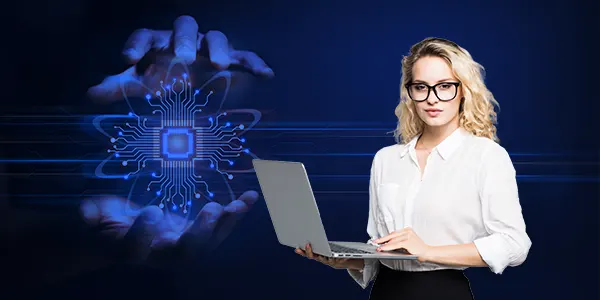 Read a Blog Post: What has ITIL 4 helped organizations achieve so far
Data-Driven Decision Making
Digital transformation programs create massive volumes of data that, when properly analyzed, may give useful insights to enterprises. Companies may make educated decisions to optimize their operations, develop their customer strategy, and offer better results by employing data analytics and business intelligence solutions. Businesses may use data-driven decision-making to understand their customers' preferences better, find areas for development, and improve their value proposition.
Businesses may obtain insights into consumer behavior, preferences, and trends by leveraging customer data. These insights may help firms manage resources more efficiently and make data-driven decisions that benefit customers by informing marketing campaigns, product development, and customer acquisition tactics.
ITIL and Digital Transformation
When businesses are in the digital transformation process, ITIL helps them manage risk and minimize disruptions. It ensures the stability and dependability of its IT services. This is important for businesses as they adopt new tools or technologies, take on agile methods, and embrace rising patterns in the digital world.
In addition, ITIL builds up a culture of continuous improvement and efficient use of resources. This is especially relevant in the case of digital transformation, where organizations need to optimize their IT capabilities to bring innovation and maintain competitive advantage. ITIL practices such as Service Portfolio Management, Incident Management, and Problem Management help organizations identify bottlenecks, proactively address problems, and leverage technology to deliver superior customer experiences.
By incorporating ITIL into a digital transformation strategy, organizations can benefit from a structured approach to IT service management, increased customer centricity, operational efficiency, and efficient change management. As organizations operate the complexities of digital transformation, ITIL serves as a valuable tool for aligning technology with business goals, streamlining IT processes, and delivering superior customer outcomes.
Get ITIL Certification from Cognixia
Improve your skills and future career prospects with ITIL 4 certification at Cognixia!
Cognixia is the world's leading digital talent transformation company, committed to helping you shape your future & career by providing insightful digital technology training and certifications. We are here to give you the best online learning experience possible by expanding your knowledge through immersive training sessions and increasing your skill set. Individuals and organizations can both benefit from Cognixia's highly engaging instructor-led courses.
We are an AXELOS Authorized Training Organization (ATO) that offers learners a complete portfolio of ITIL online training & certification programs. Our ITIL 4 Foundation certification course is considered one of our portfolio's most sought-after online training programs.
The ITIL training via Cognixia is provided by the industry's most experienced, expert ITIL trainers and is delivered in line with the official AXELOS guidelines & curriculum.
With Cognixia's ITIL 4 Foundation certification program, you get the hands-on practice that helps you clear the main ITIL certification exam effortlessly. Not just that, with our ITIL training course, you get the perk of lifetime access to the training's learning material & video lessons via our LMS.
Learn and improve from the comfort of your home with our intuitive & comprehensive ITIL 4 Online Training.
This ITIL training course will cover the following concepts:
The concept of a service
Services, costs, risks. and service management
Service relationship management
The 4 dimensions of service management
Guiding principles of service management
Service value system
Service value chain
General management practices
Service management practices
Technical management practices